Hi everyone and welcome to this week's edition of Thrifty Thursday, where I share my latest thrift store/yard sale/estate sale/swap meet finds.
After taking a break from thrifting last week while Phillip was on vacation with his brother in Florida, we're back in the swing of things! Our finds are beginning to pile up in the house a bit because we haven't made it down to our antique space in a couple of weeks. I was determined to get down there last Sunday, but the heat wave deterred me. It was in the nineties in Santa Maria, but Los Alamos, where the antique mall is located, was an unbearable 106 degrees! To top it off, the building the mall is in (an old train depot) has zero insulation and no air conditioning, so when the weather gets even remotely hot it becomes an oven inside. No thanks! I'm going to get there this weekend though!
Instead of going to the antique space, Phillip and I decided to hit up the swap meet Sunday morning. It's so much fun! It was pretty hot out but there was enough breeze to make it bearable. I love browsing around the stands and we always get amazing deals. There are tons of little food stands too with any kind of Mexican food you can think of. Next time I'm bringing my camera for sure!
Anyway, on with this week's finds:
The chalkware majorette figurine and the whale planter above are Family Thrift finds! I'm especially enamored with the whale!
These little birds were the first thing we found at the swap meet. They were five dollars for the whole set! I sort of have a thing for birds so I'll probably keep them and put them up in the house (at least for a while!).
These chairs were our next swap meet finds. They were also five dollars apiece. They're both headed for the antique mall (whenever we get our butts down there!).
Some fun barware! We got this groovy sixties pilsner glass at the swap meet too for 50 cents. It looks kind of like a Georges Briard piece to me, but there's no name on it so I'm not sure. The "Dog 'n Suds" beer stein is from the Goodwill.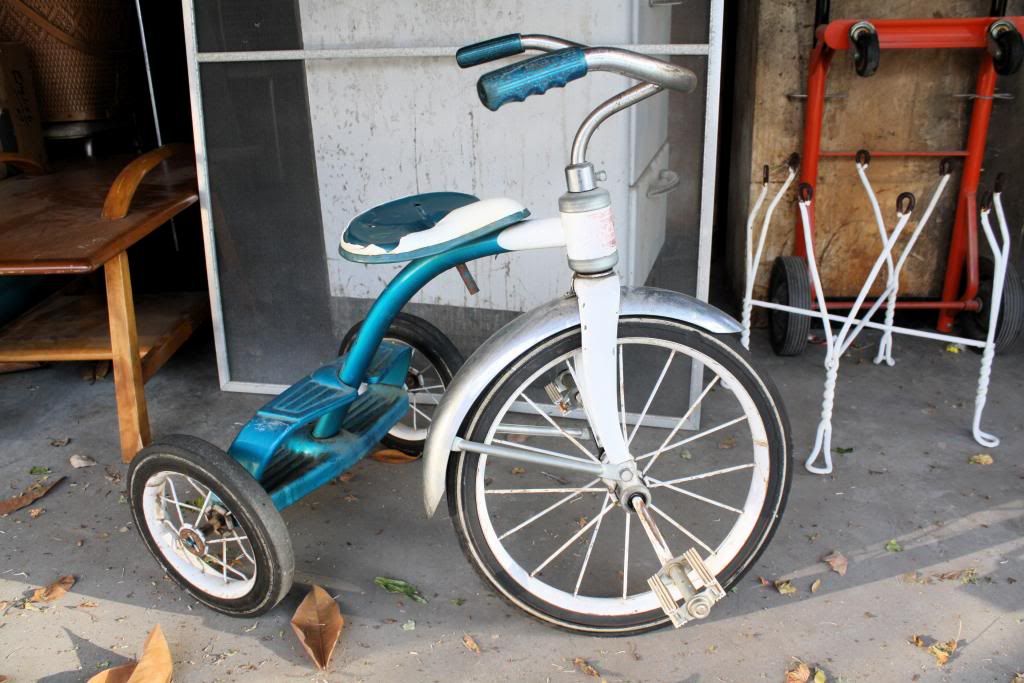 I found this vintage tricycle at Family Thrift (which is next door to my workplace) on my lunch break. It's too bad that the plastic on the seat is pretty much gone, but it was $7 so I thought I'd take a chance on it. Hopefully it'll get to our antique space this weekend!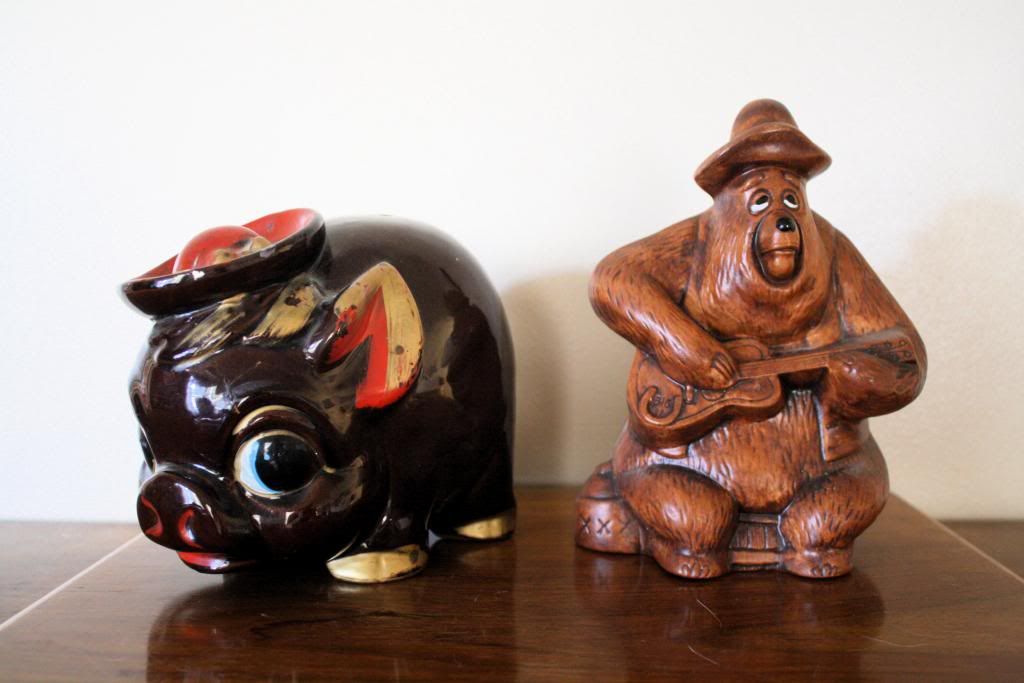 The piggy bank was another swap meet find ($3) and the Big Al bank was actually from an estate sale last weekend (I forgot to photograph it with the rest). Phillip is going to give it to his brother who loves the Country Bear Jamboree.
This little chicken casserole dish is so cute! I got it from Family Thrift. It has a chip in the lid, so I almost didn't buy it but then they offered me half off (which made it $2) so I took a chance on it. The little dish with the farm scene is from New Image and the back says "Brock of California."
This Christmas bell light thingy and the little deer are both from Family Thrift. The bell is going into a box until November or so, but I'm not sure whether I want to part with the deer!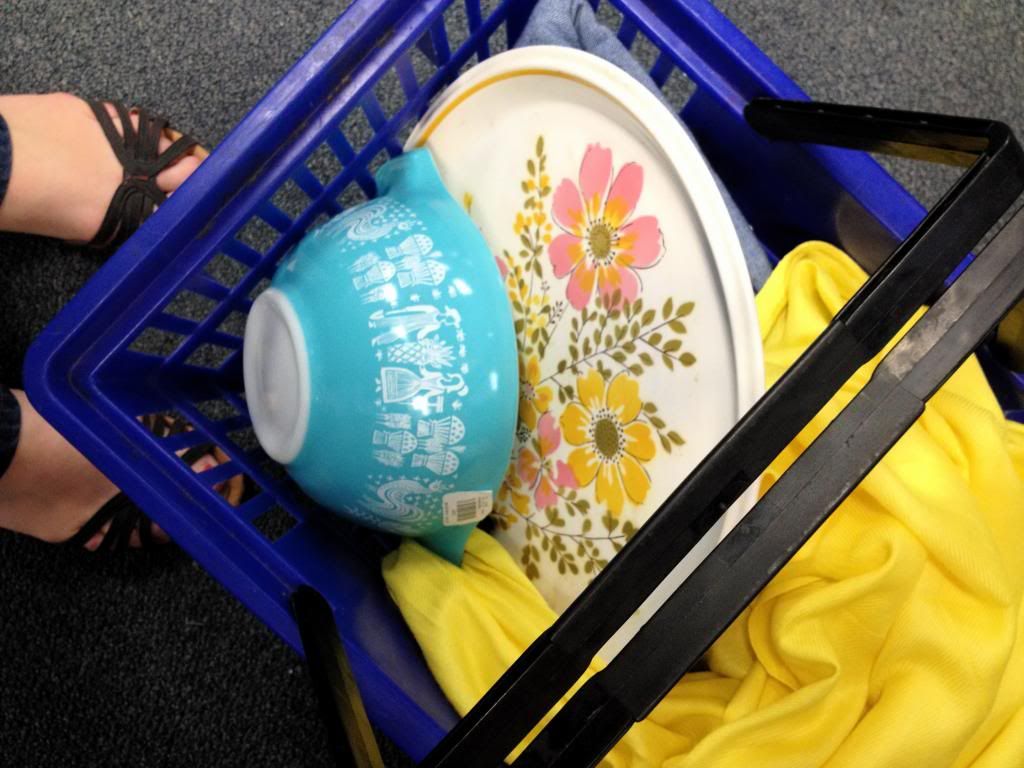 One of my favorite finds of the week, I found this Butterprint Pyrex bowl at the Goodwill in Atascadero for $2.25. I was stoked to find one at all and especially for the price! Usually if I find them at all they're asking at least $10! I also picked up this pretty floral Mikasa tray. I'll be keeping it for a little decorating project I'm planning.
By the way, Happy Fourth of July! I'll be enjoying my day off by relaxing and going to a family BBQ. What are your plans?
That's it for this week, thanks for stopping by! I'll be linking up at my usual haunts: Apron Thrift Girl, A Living Space, Sir Thrift A Lot, and Joyful Treasure Hunting. Head on over and check out all of the finds for this week!