I turned 29 last Wednesday! Boy, does time fly! I can't believe I'm in my last year of my twenties, but I have to say it really was a great birthday. Here's how it went:
First, I went to work where my boss had bought bagels for everyone! Each person gets to pick a special treat for their birthday and I had chosen bagels. It's a great little perk of working there. Later, I got a card signed by all of our participants and also one from my co-workers. Everyone had chipped in $5 and I ended up with $45 to spend!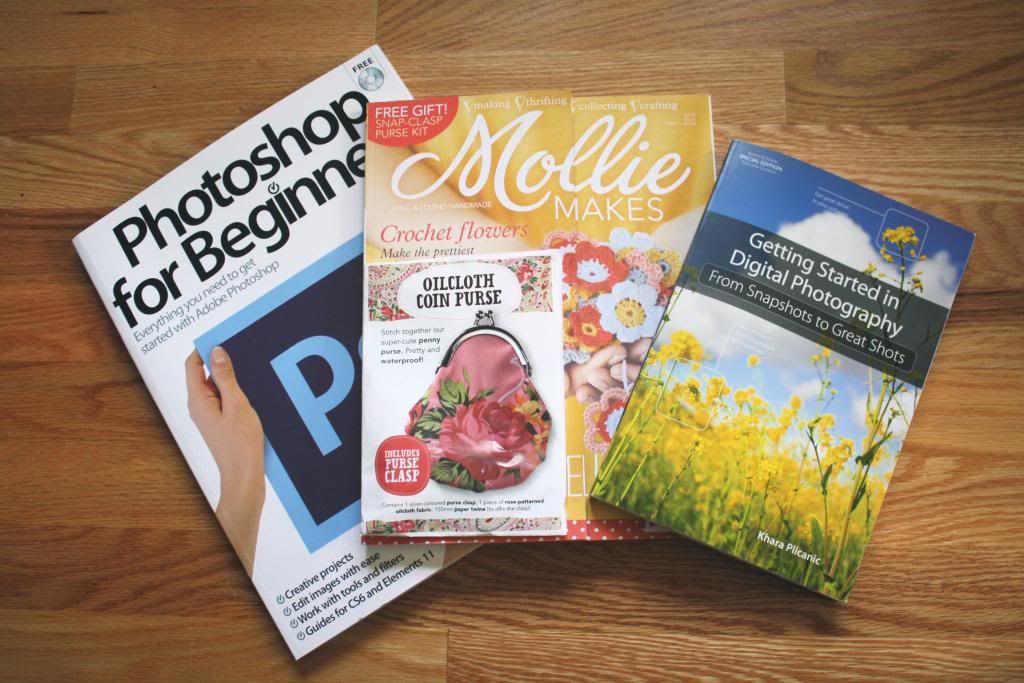 After work, I spent some time with my mom. We drove up to San Luis Obispo and looked around in some craft stores. She had already given me my birthday present a couple months ago- she bought me a nice Martha Stewart craft table (which is nice and high and perfect for cutting patterns out without stooping down). When I got there she gave me a few magazines, including Mollie Makes, which I always drool over but can never get myself to shell out the $15 for. She also got me a gift certificate for a facial and bought me this book on photography while we were out. What a nice mom 🙂

We met up with my friend Leslie for dinner at California Pizza Kitchen (always a good choice!) and then we browsed in the book store for a while. That's my idea of a great time downtown.

When I got home, Phillip and his mom gave me their presents. Phillip got me this amazing glassware set. I had found one glass a few weeks ago and was dying to find more, and he had come across a whole set while thrifting and snatched it up for me.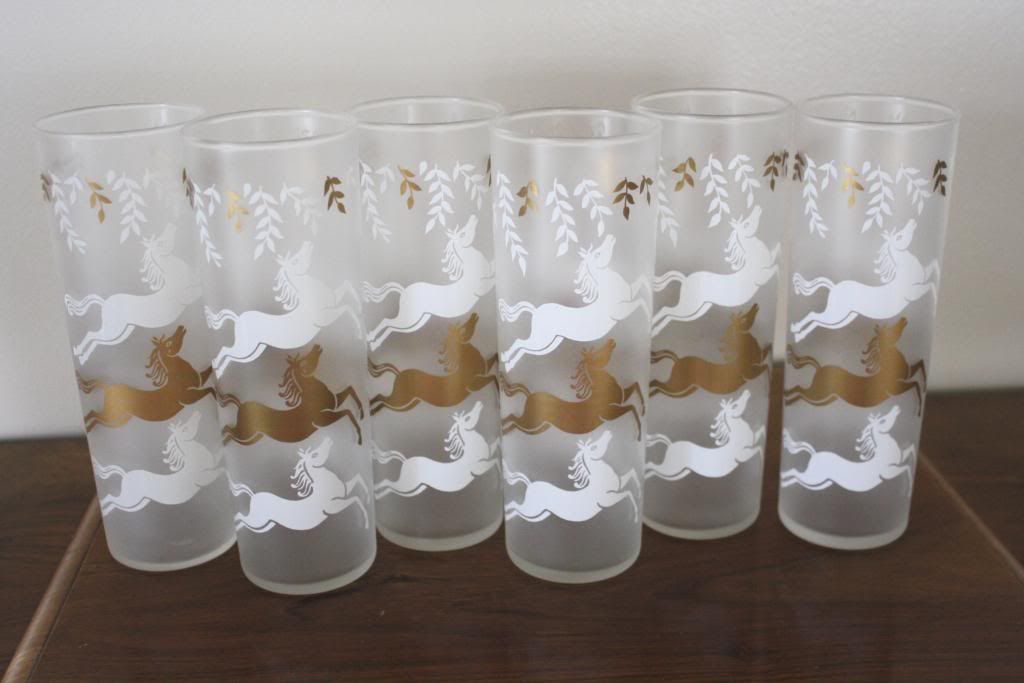 The craziest thing happened after I opened that present: I set the gift bag down on the ground and our cat, Ruby, proceeded to come and sniff it (as she does with everything). As she was doing that, she somehow got caught in the handle of the bag, got scared, and went tearing across the room at full speed, wearing the bag of glasses like a cape. Phillip ran after her and got the bag off of her, and we fully expected to find it full of shattered glasses. Miraculously, only one glass had broken, and since I had found that first one weeks ago I still have a complete set!

Phillip's mom got me a whole bowl set of the Butterprint Pyrex, as well as a couple of small casserole dishes. Now I'm on the lookout for a cute mid-century hutch to display my Pyrex collection in!



Phillip also got me some other fun things he picked up at thrift and antique stores. I may be the only person who isn't insulted when someone buys me presents at the thrift store!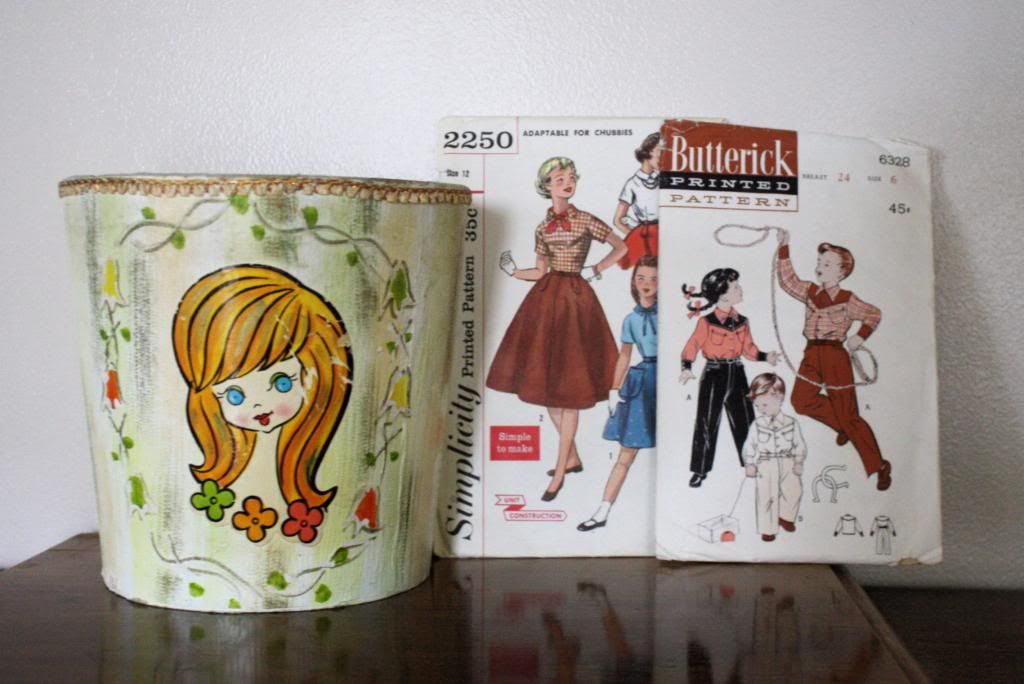 How cute is this little bucket? Phillip said the girl on the front looks like me, ha ha. He also got me these vintage sewing patterns that I saw at a local antique shop. The one that says it's "adaptable for chubbies" is hilarious.


Next, a Georges Briard casserole dish. We've been finding quite a bit of things by him lately (like the apple dish here) and I always love the graphics on them.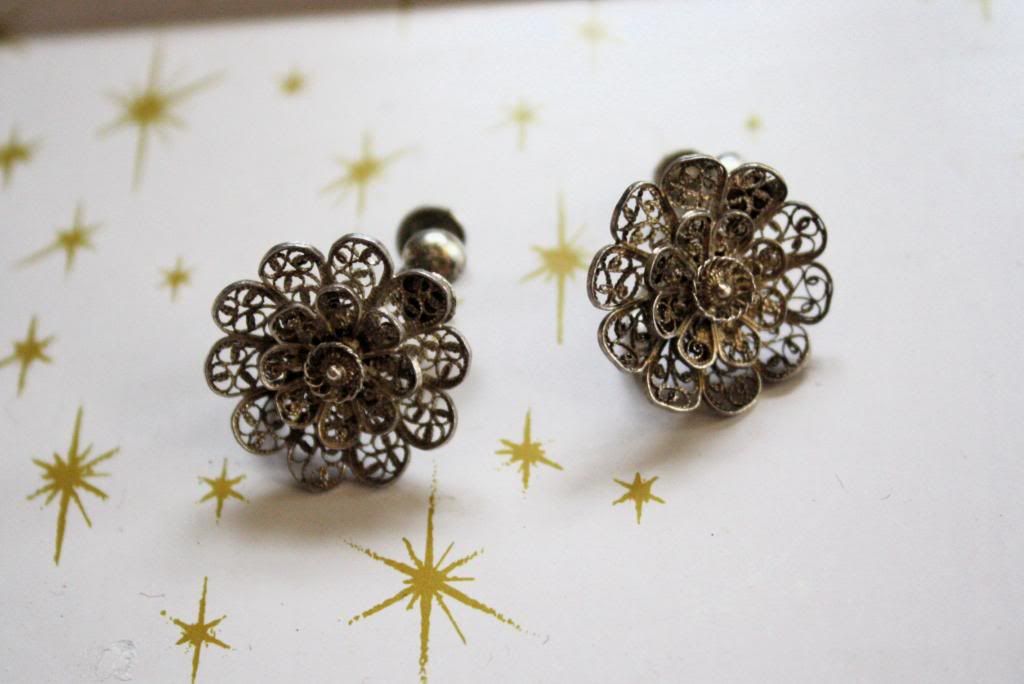 Lastly, these silver filigree earrings. They're so cute but since they're screw-backs they tend to slip off of my ears. I might try to get them converted to posts.

The next evening, we had a family dinner at McClintocks, a local resturant famous for their steaks. I don't eat steak often, so I figured it would be the prefect birthday treat! Unfortunately, it's also the kind of place where they embarrassingly serenade you and make you blow out a candle as they take your picture. They even made me do this trick where they pour water blindfolded into a glass on my head. Everyone else thought it was great, but I could have skipped it, ha ha. Here's our Polaroid from the night: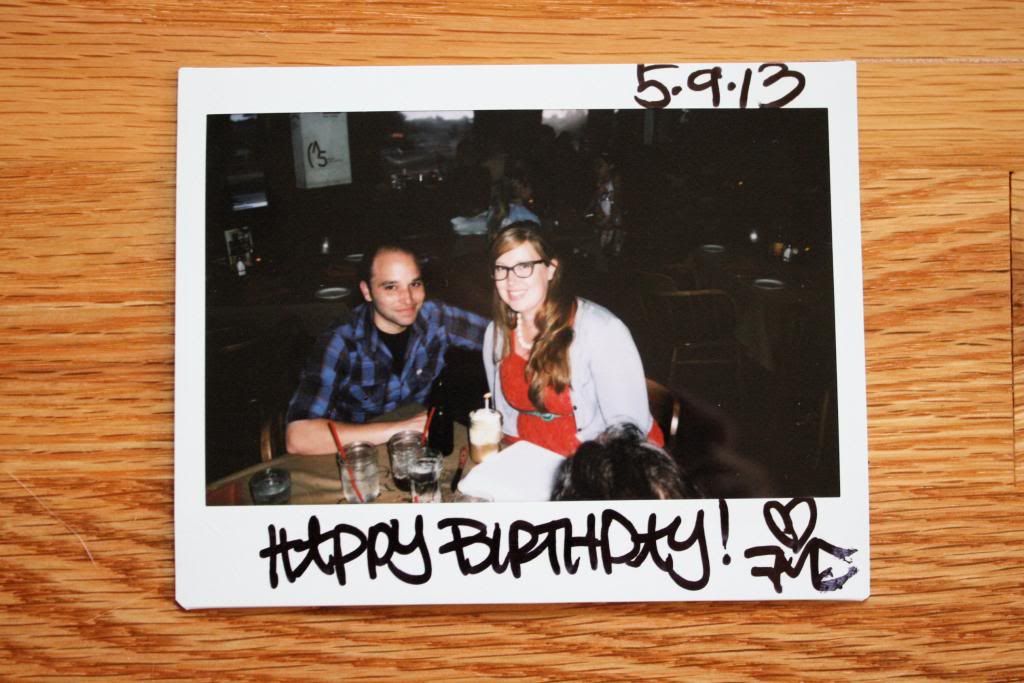 After contemplating for a while about what to do with my birthday money (savings? clothes? serger fund?), I decided to invest a little in my blog (one of my goals for this year), so I purchased the Blog (Design) Love E-course from A Beautiful Mess. I had been interested in it before but at the time didn't feel I could justify spending $34. Anyway, now I'm already really glad I bought it and my head is swimming with ideas for the design and future direction of this blog. The course has just the information I wanted and is written in a simple, step-by-step way that I feel I can handle (I'm not a computer wiz by any means!). I'm already drawing out my new design and I hope to get it up sometime next month! Stay tuned!

I'm also thinking about purchasing my own domain name. Any of you fellow blogger have thoughts/suggestions on that? Is it worth it?


I hope everyone is having a great week! I'm so relieved to finally be done with the craft fair (more on that soon!). I'm trying to get the house back in shape and then get to some more projects I've been dreaming up. I'm also anxiously awaiting the results of the Collete Patterns Laurel competition– the suspense is killing me!
Here's to a happy Hump Day! We're halfway through.