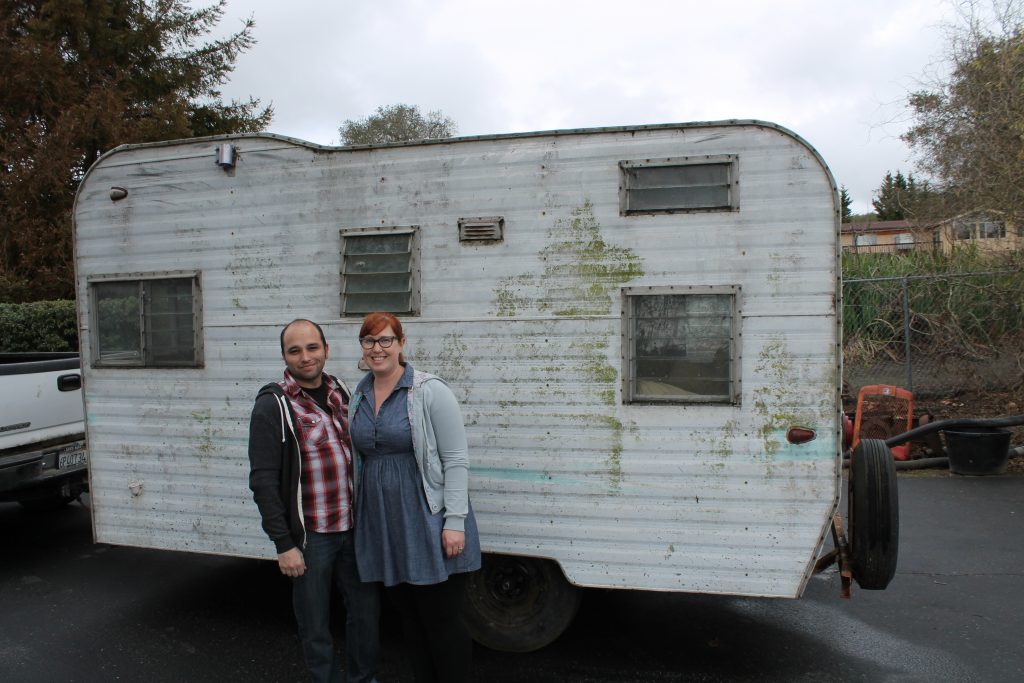 Hi all! Today I'm sharing the project that has been taking up most of my free time at the moment- fixing up our vintage trailer! We got the trailer about 3 years ago just a couple of months before our wedding- it belonged to a guy my dad did some work for and he wanted to sell it. We had been to a vintage trailer rally in Pismo Beach and were super into the idea of fixing up one of our very own. My parents bought it for us as a wedding gift. It's a 1965 Santa Fe and in researching it I found out that this "bump" model is relatively rare. At the time we got it we were working hard getting everything done for the wedding, so we parked it on my parent's property and didn't really do anything with it for 3 years. Once all of the wedding stuff was done it was nice not to have any major projects for awhile, but I realized that it was kind of just rotting away and getting infested with mice, so we decided that this was the year we would finally get it into shape. These first few photos are when we brought it home.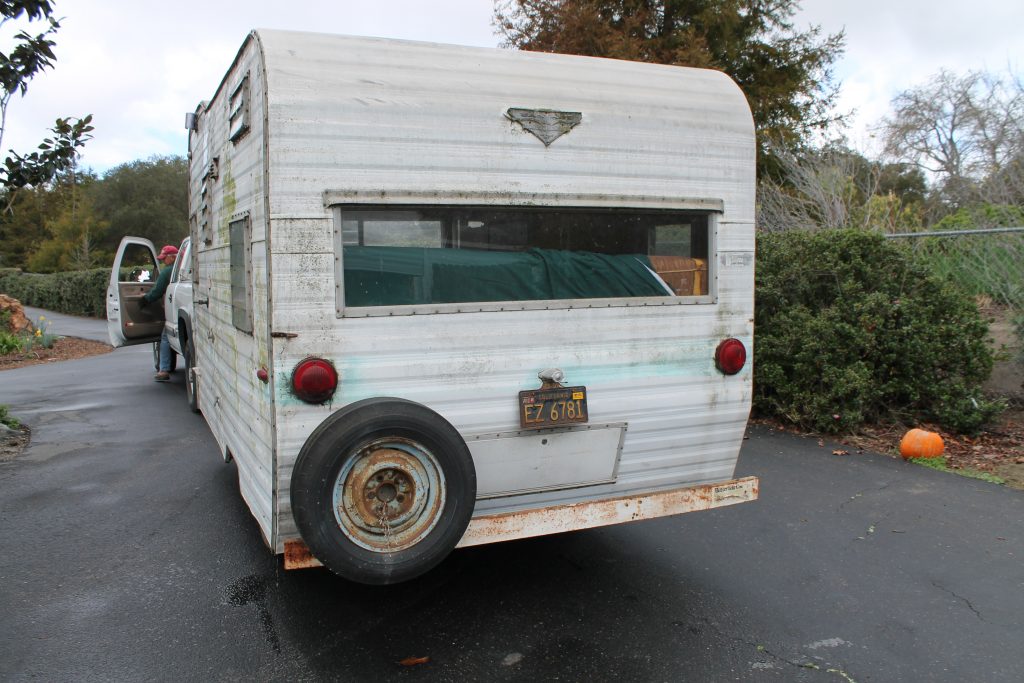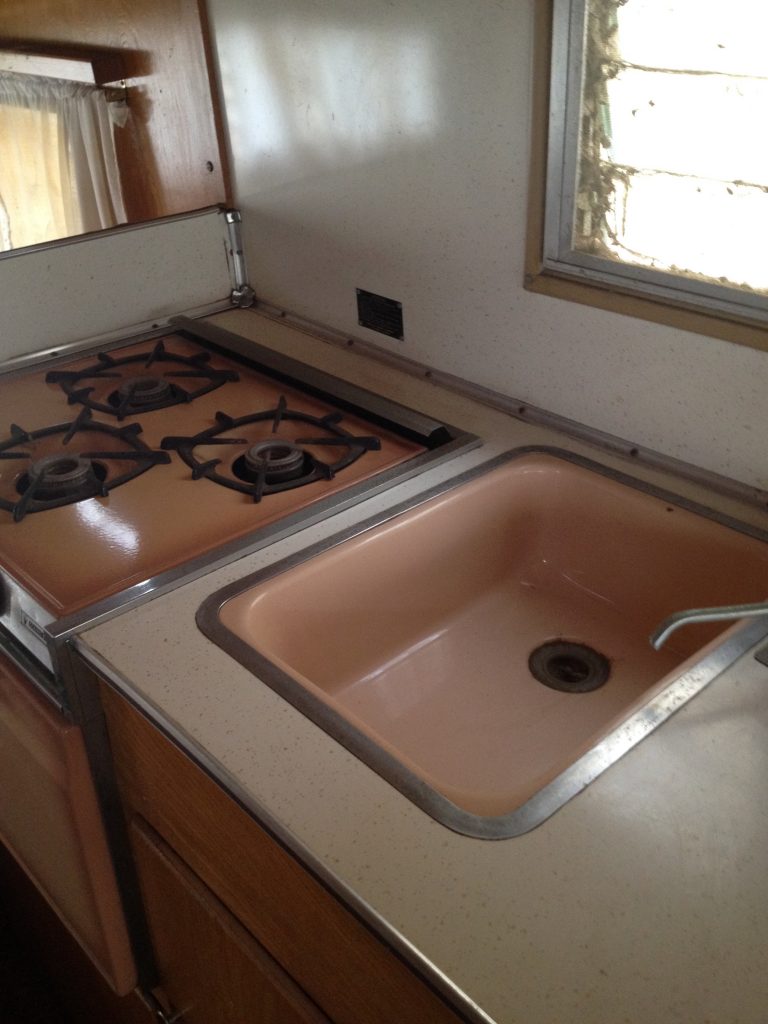 Keep it Original?
Once we got it, the debate has been how much we would keep original and how much to go our own way. Obviously we're kind of vintage nuts so we'd like to keep it fairly close to era-appropriate. The one definitely-not-era-appropriate upgrade we will make is to install a new vent with a fan- that trailer can get so hot and stuffy! We considered painting the wood paneling just to cover over the water damage, but we ultimately decided to try to replace it where it needs it and try to sand and re-varnish the rest. We are definitely keeping the appliances, which luckily seem to be in good shape. Obviously the floor needs to be replaced and we'll use era-appropriate vinyl composition tile. I'm going to make new curtains and upholstery and use all new foam for the dinette and bed/couch. As for the exterior paint job, the original was white with a turquoise stripe (you can still see a little bit of the paint clinging on). We may do that, but I'm also open to doing something completely different, so we'll see. That will be one of the last things to do, so we have time to mull it over.
So Many Mice!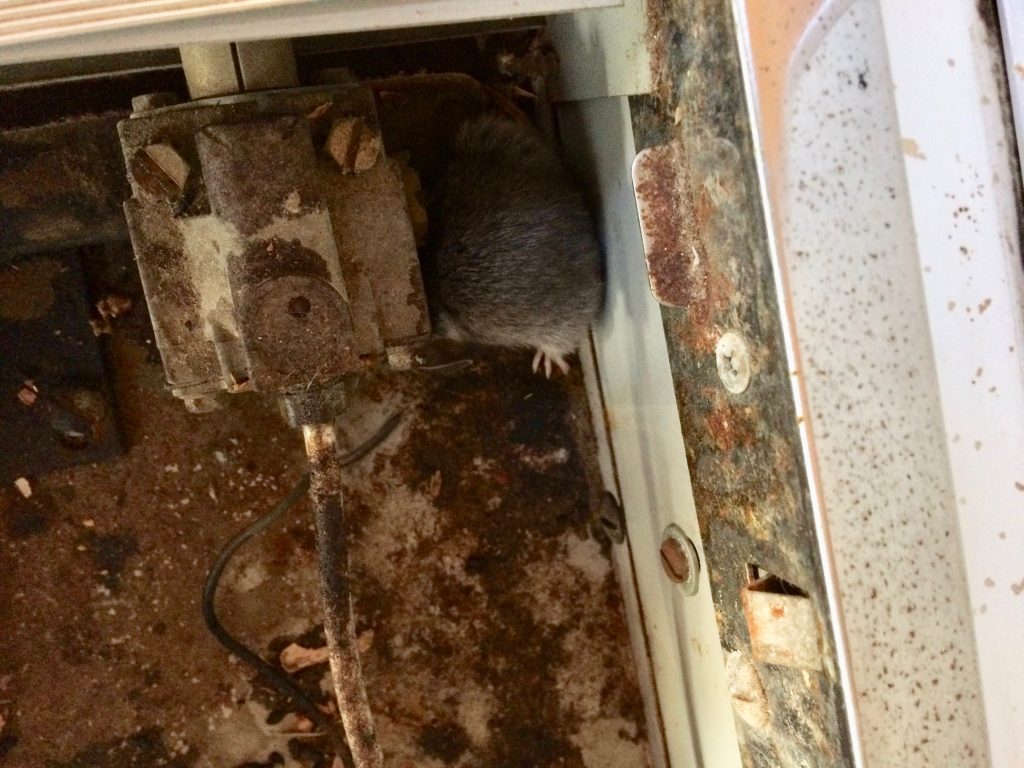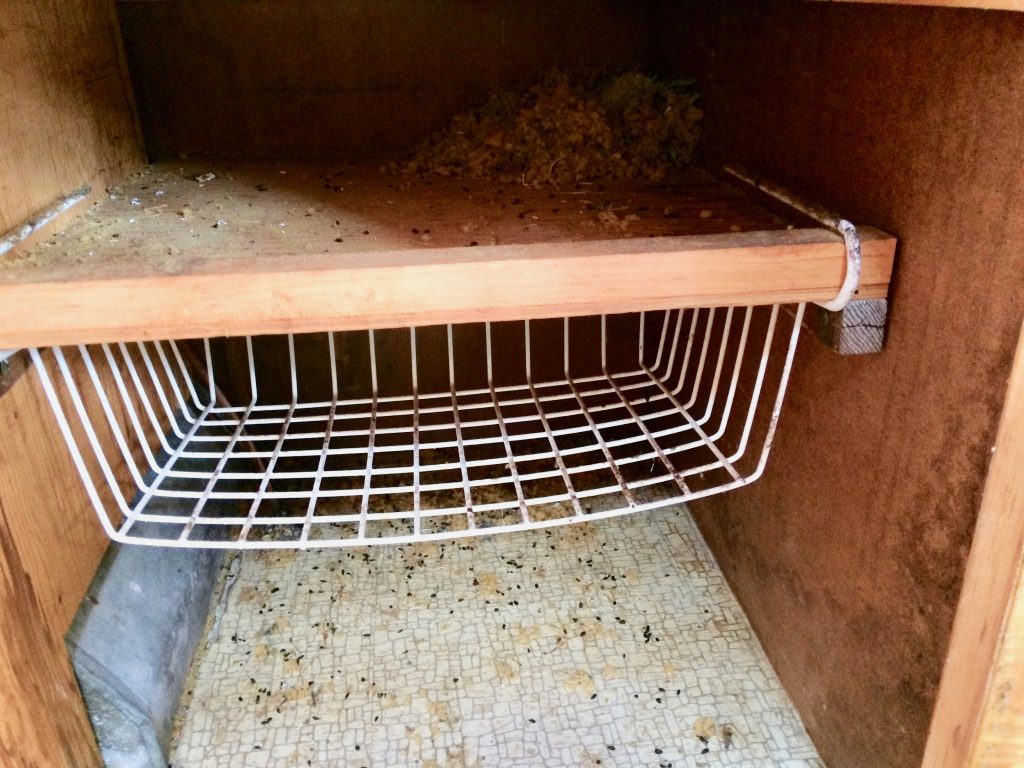 When we finally decided to start working on it a couple of months ago, it was super infested with mice- yuck! There were mouse poops, nests, and even a few live mice in there. I just started cleaning without realizing that I should have taken special precautions with mouse feces and then later had a complete freak-out moment and was convinced I had contracted Hantovirus. I'd just gone in a started sucking up everything with a shop vac (big no-no since you're supposed to avoid making the virus airborne!). Luckily I've been just fine and I'm pretty sure I'm in the clear at this point. If you have to clean up mouse feces make sure to wear a mask and spray everything down with bleach water before wiping it up.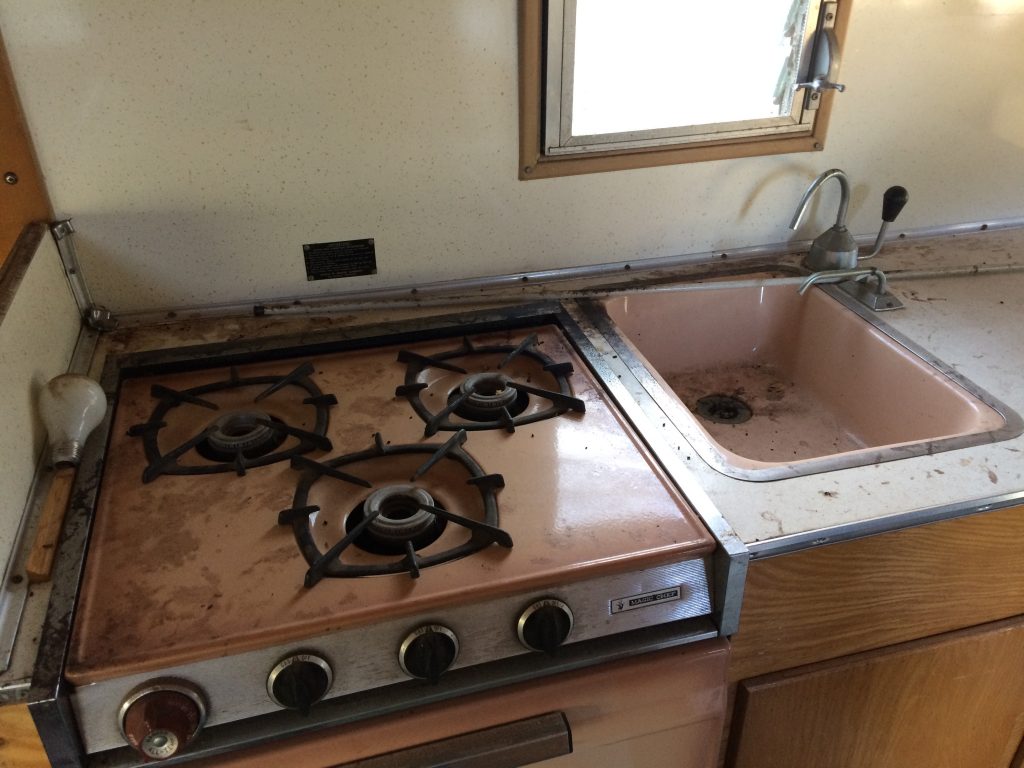 The Main Issues
As cool as our trailer is, it does have a few major issues that we'll need to address: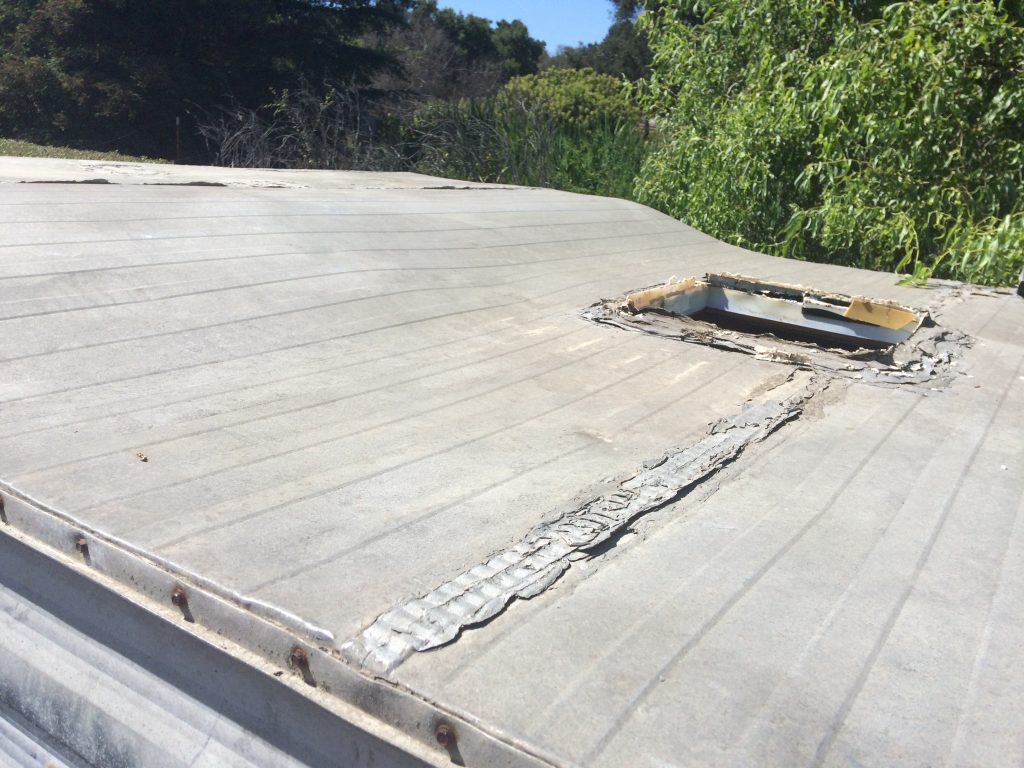 When we finally got on a ladder we realized that the roof is a hot mess where part was replaced and the previous owners tried to seal it with some goop. (It didn't really work). We'll need to replace it with new aluminum and put in a new vent.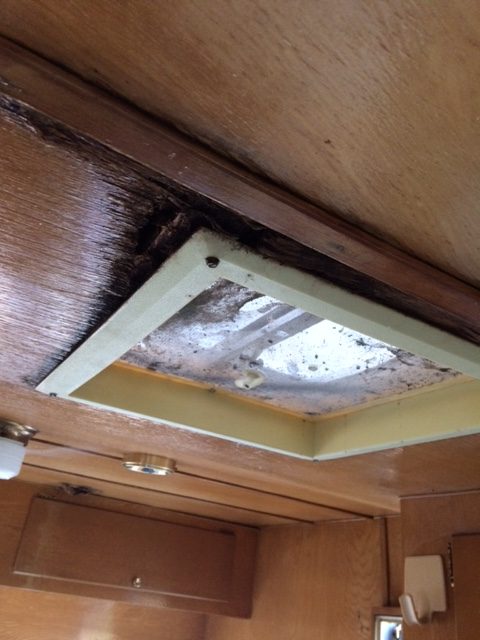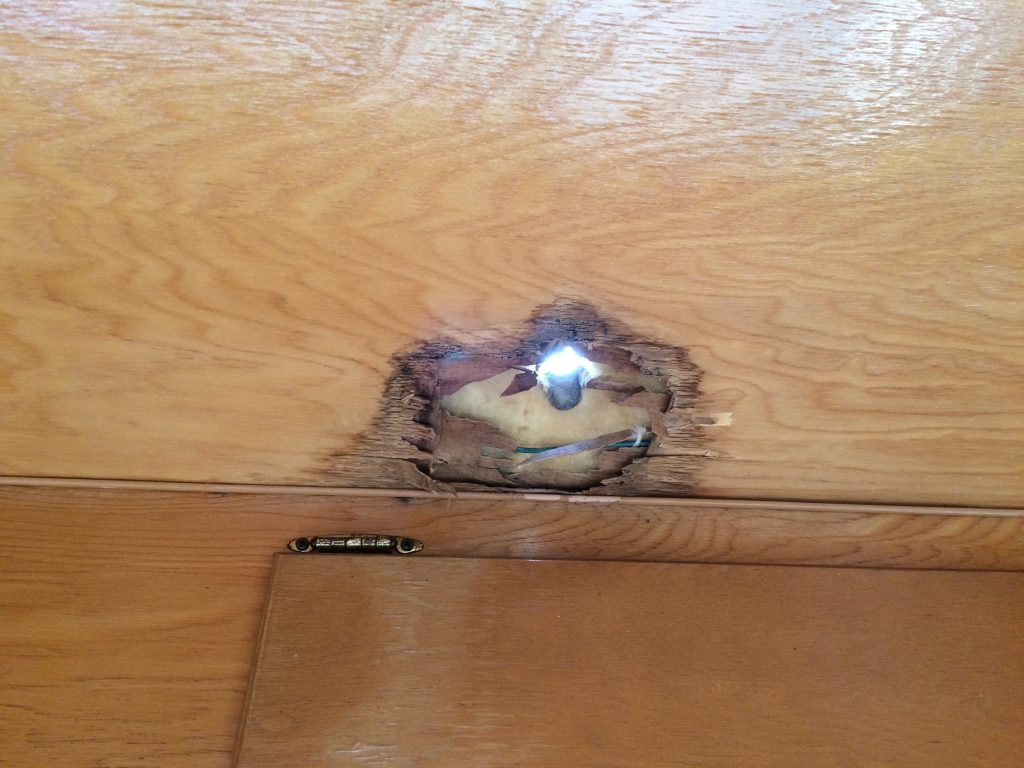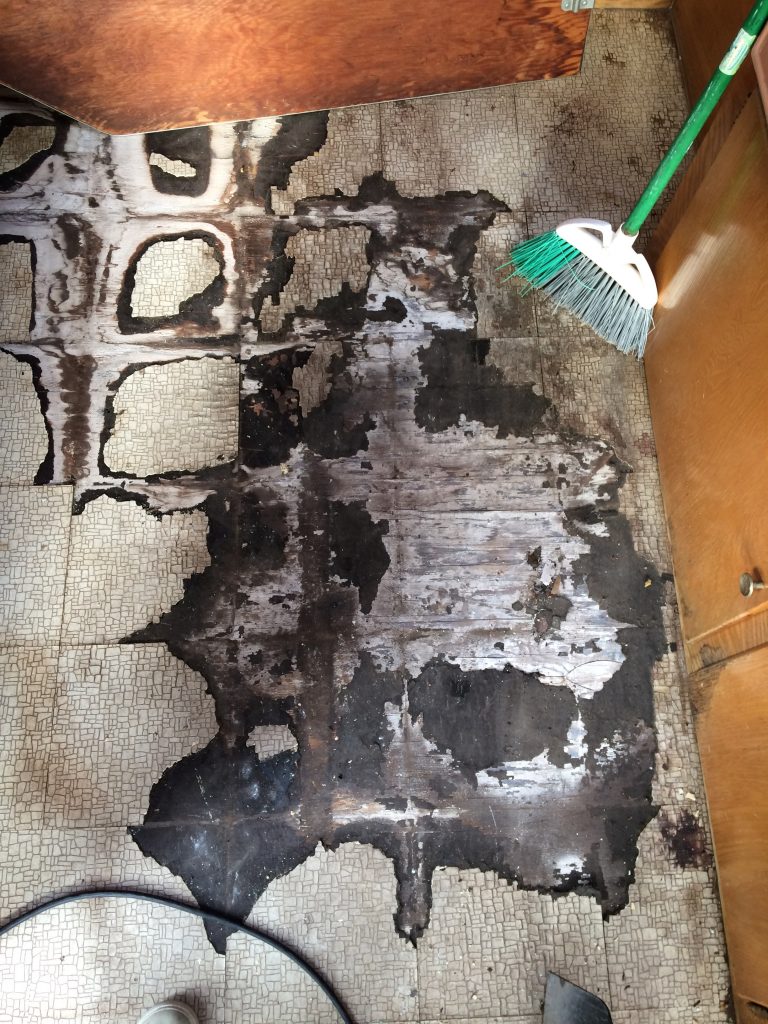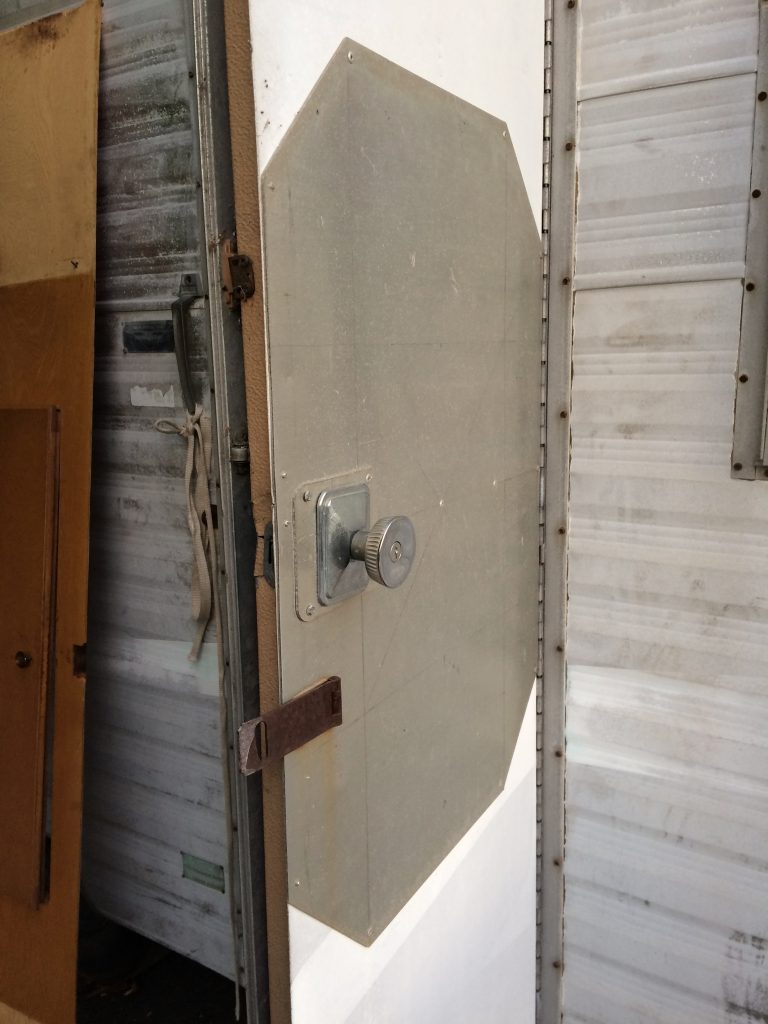 There were a few spots that leaked, so there's some damage to both the paneling and floor tiles. We are going to replace the floor and a couple of the pieces of the ceiling paneling. I would also like to try to put a new aluminum skin on the door and get rid of the ugly panel that was added in at some point. We don't have much experience with this kind of thing, but luckily my dad has helped us a lot and we've been watching lots of videos on Youtube and have joined a few vintage trailer Facebook groups to figure out what we need to do. It's amazing how many generous and helpful people you'll find if you just look, and we're excited to learn a lot of new skills in the process.
I'll post updates every so often with our progress, so make sure to check back if you're interested. Or, better yet, subscribe to the blog to receive all of the new posts as they come out.
Until next time!