Hi everyone and welcome to this week's edition of Thrifty Thursday, where I share my weekly thrift store/swap meet/estate sale finds.
Today I'm sharing a very special find, one of my favorite pieces and something I was looking for a very long time- a mid-century modern hutch to display my vintage dish collection! Here it is in our house with all of my dishes on it:
We had looked at several options at local antique stores and even a couple of estate sales, but none seemed quite right. Either they were too small and wouldn't hold that much, weren't quite the right style, or were just too expensive (we didn't want to spend more than about $300). Then I saw one in a Craigslist ad for an estate sale which seemed pretty nice and called to see if it was still available. It wasn't (had sold earlier that day), but the lady told me that there was another one available for $250 and sent me this photo of it: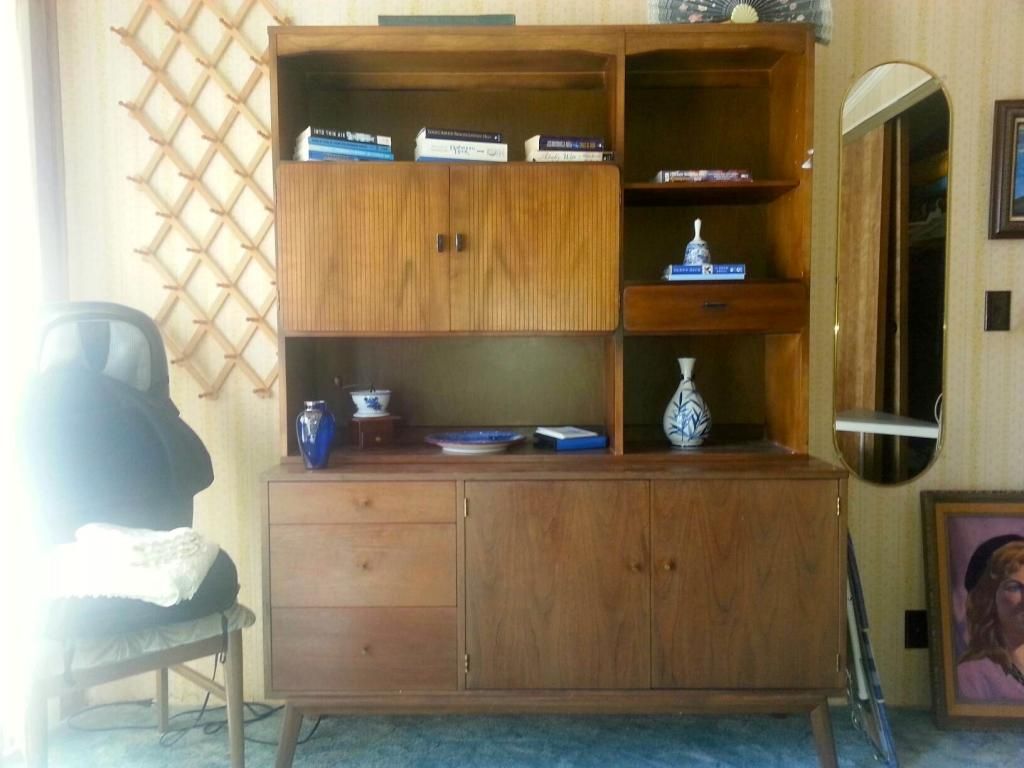 I loved the shape and especially that it looked like it was roomy enough to hold most of my collection, so my mom and I drove up to see it the next day (Phillip had to work). I ended up buying it, as you know, and we hauled it down in my mom's van. It's hard to see in the fuzzy photo above, but the wood was really dried out and discolored and the handles on the top part were black and really chippy. Also, we realized that the top and bottom didn't seem to be the same style. When Phillip saw it he wasn't so sure we should have bought it at all, but I went to work to prove him wrong!
First, I sanded down the chippy black handles and spray painted them bronze to match the lower hardware.
See how much better they look? To me, you can't even tell they were spray-painted.
Then I gave the whole thing a really generous coat of Pledge. And when that soaked in, I gave it another, until the whole thing looked darker and a uniform color. It looked 1000% better and Phillip felt a lot better about buying it, hooray!
The lady I bought it from also threw in this chair and some other stuff from the house for free (it was her 92-year-old mother's who had moved to a nursing home). I was glad that the money I spent on the hutch would go to someone who was still alive and could use it. I re-covered the chair seat with some fabric I picked up at Birch. I think it turned out pretty cute!
Anyway, the hutch is great and really spacious! I know it's going to be a great piece of furniture for years to come. Here are some more photos of it done up with my collections. I still keep re-arranging it every week or so!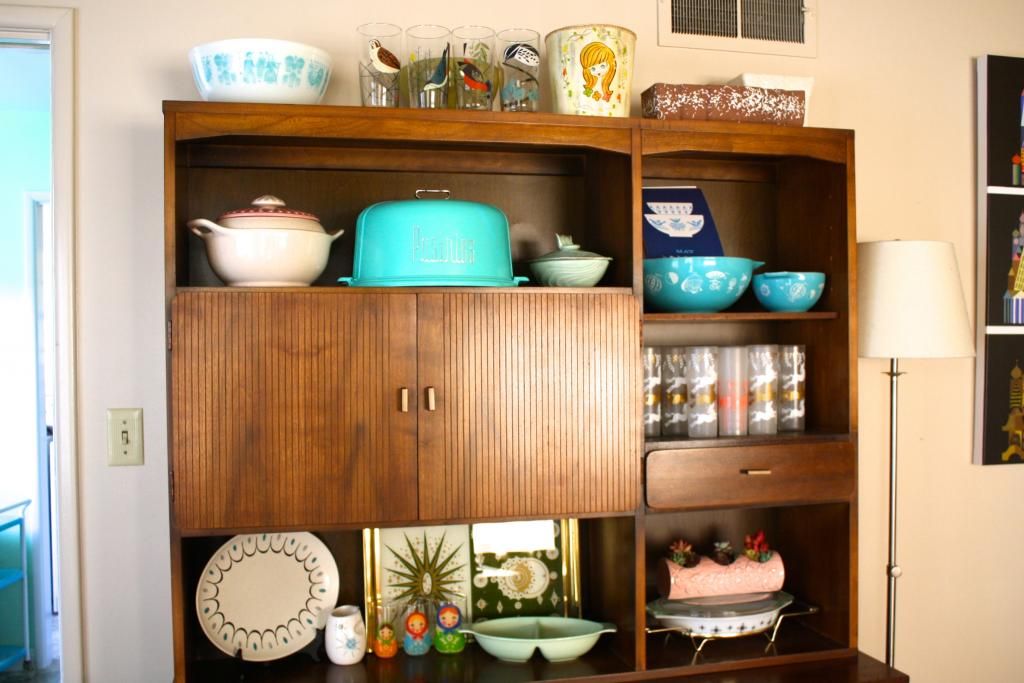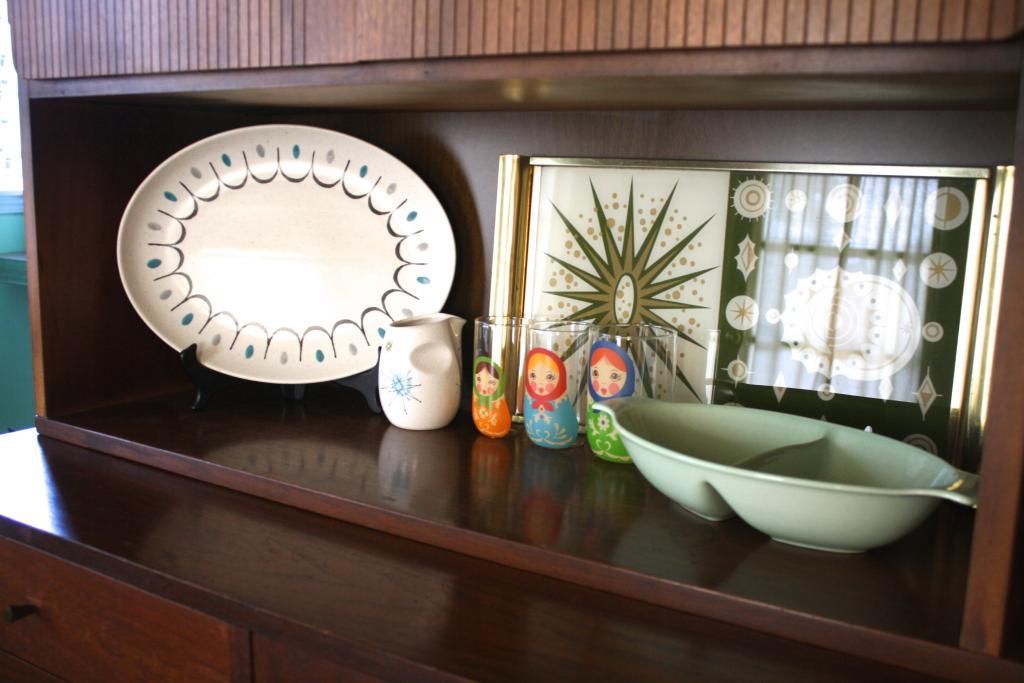 The upper cabinet stores my collection of speckled California pottery (a variety of makers I've picked up here and there) and some repro jadeite pieces.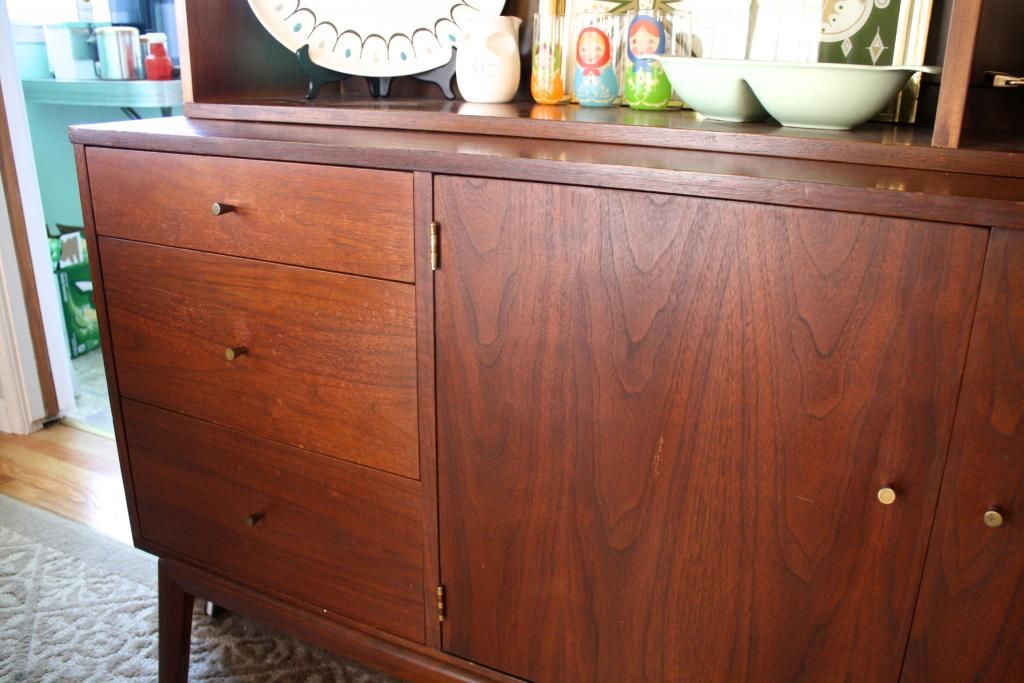 There's also tons of storage in the bottom. Currently it holds my Weilware dish collection:
Thanks for stopping by! I hope you enjoyed this week's Thrifty Thursday. Do you have any amazing furniture finds you've discovered at yard or estate sales or thrift stores?