Hi everyone and welcome to this week's edition of Thrifty Thursday, where I share my weekly thrift store/swap meet/estate sale finds.
The last couple of weeks have been somewhat hit-or-miss on the thrifting front. We found only a few items at the estate sales the weekend before last and we skipped them altogether last weekend  (yard sale) and the weekend before since we had to take Ruby to the vet bright and early on Saturday. She's had a cough the last few weeks and we're hoping it will clear up with some antibiotics they gave us. I'm hoping it clears up not only so she'll get better, but also so I can forgo having to squirt medicine into the mouth of a squirmy, unwilling cat twice a day!
I've decided to try something new with the Thrifty Thursdays: I've gotten emails from time to time from people interested in purchasing some of the items I post. I decided that, from now on, if something is for sale (and not way too big/heavy to ship), I'll give blog readers first dibs to purchase it before we send it off to the antique space. I'll post a price (not including shipping) with each item that's available, and if you're interested, just email me and I can calculate the shipping and send you a PayPal invoice.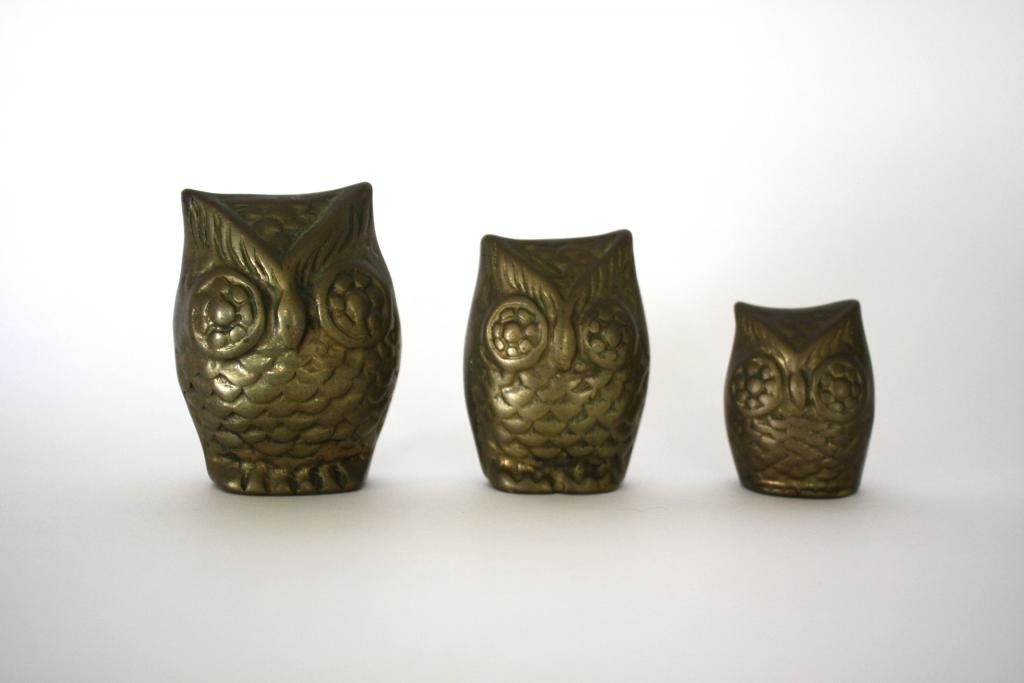 This trio of brass owls was a recent find from one of our local thrifts. I think they'd look adorable arranged on a shelf- with some plants, perhaps? They're for sale for $15 plus shipping.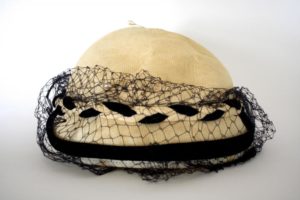 I lucked out and found this 1950s navy and ivory hat during the same thrifting trip. It's very cute, though it does have some rust staining near the bottom. If any of you vintage hat lovers are interested it's for sale for $10.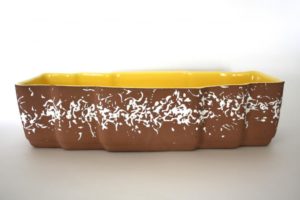 Phillip found me these two cool vintage planters at the swap meet. The first one reminds me of a banana split. I want to plant something in it but I'm afraid it would be impossible to see the cool yellow inside!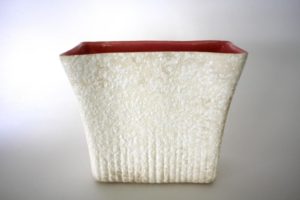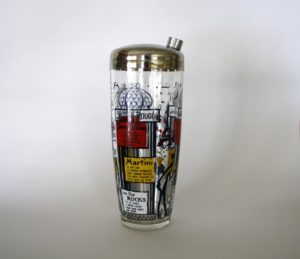 A french-inspired martini shaker, which is headed to the space.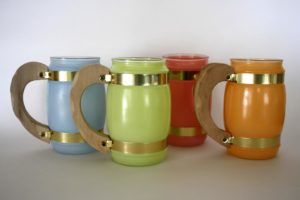 A set of "Siesta-Ware" mugs in amazingly good condition. They're also headed to the space.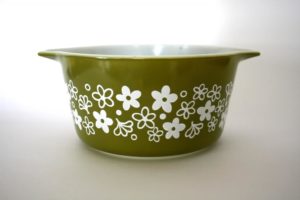 A piece of Spring Blossom Pyrex. It's not one of the most popular colors, but it was only $2 so I bought it just the same. I'll be putting this one in the space as well.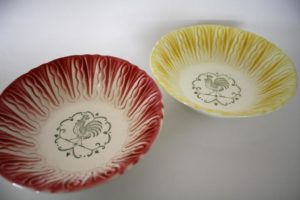 These two bowls were the only thing worth buying at a recent, rather disappointing estate sale. We already have a green one, so we might try all three as a set on Ebay or the antique space.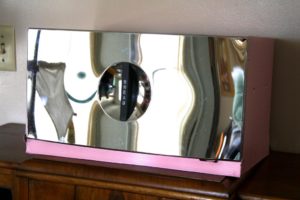 We got this bread box ages ago at one of the local thrifts and gave it a little makeover. The outside, which was originally a pretty uninspiring fake wood, is now a vibrant bubblegum pink. It's also bound for our space at the Depot.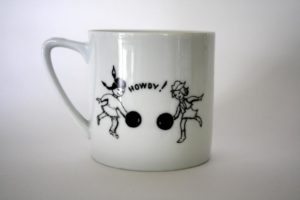 This mug is pretty interesting and unusual. I love the graphics on the font and the mysterious "Tulsa, 1970" written in the back. What was this made for, exactly? It's up for grabs for $5 plus shipping if you're interested.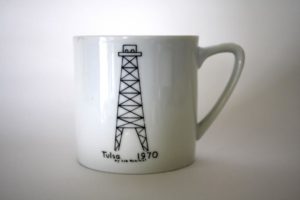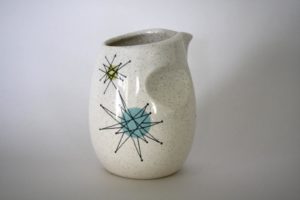 I was excited to find this Franciscan Ware Starburst coffee creamer. This pattern is so cool! Unfortunately, it has a big chip on the spout, but I couldn't leave it behind. I'll probably just keep it since it's unlikely to sell in the space.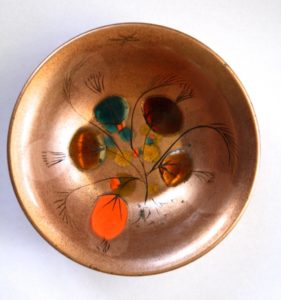 Another cool mid-century find is this little copper dish. The tag on the back is still intact and says "California Cloisonne." It's got a bit of damage near the rim (see top of photo) but it's up for grabs for just $16 plus shipping.
We'll that concludes this week's Thrifty Thursday. I'll be linking up at A Living Space, Sir Thrift A Lot, and Joyful Treasure Hunting, so head on over and check out everyone's treasures! By the way, does anyone have suggestions for some other fun thrifty link ups?