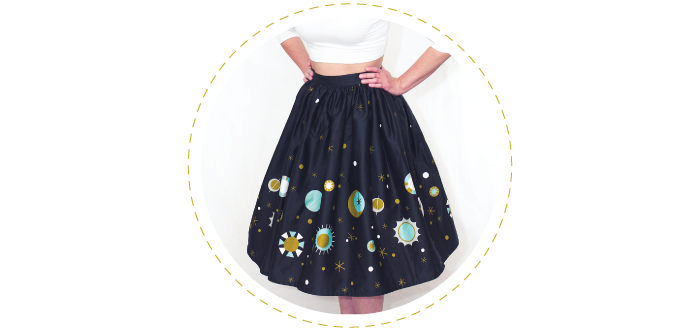 GATHERED SKIRT INSTRUCTIONS
 Your fabric comes pre-washed and ready to sew with.
The kit includes the skirt fabric, waistband fabric, invisible zipper, and button.
YOU'LL NEED:
• lightweight fusible interfacing (about ¼ yard)
• an iron and ironing board
• a fabric marker or chalk
• 3 yards of single-fold bias tape for hem
STEP 1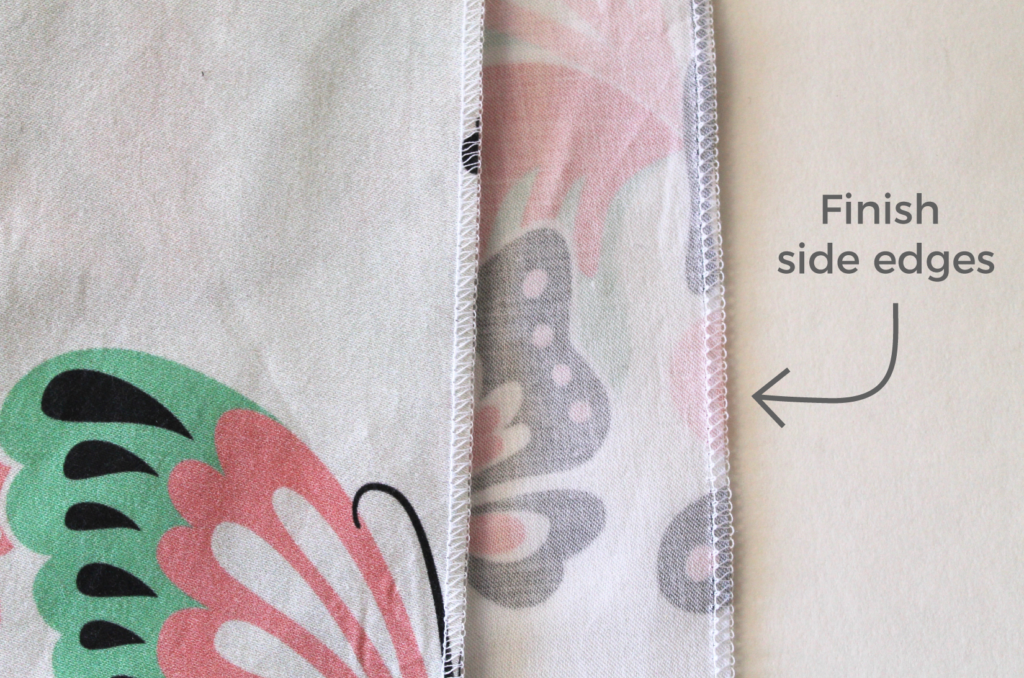 Helpful Hint:
• I used a serger, but you can finish your seams with a zig-zag stitch, pinking shears, or even bias tape.
• If you need to make your skirt much shorter you can either make a deeper hem at the bottom or take some fabric off the top so the border print is not cut off.
STEP 2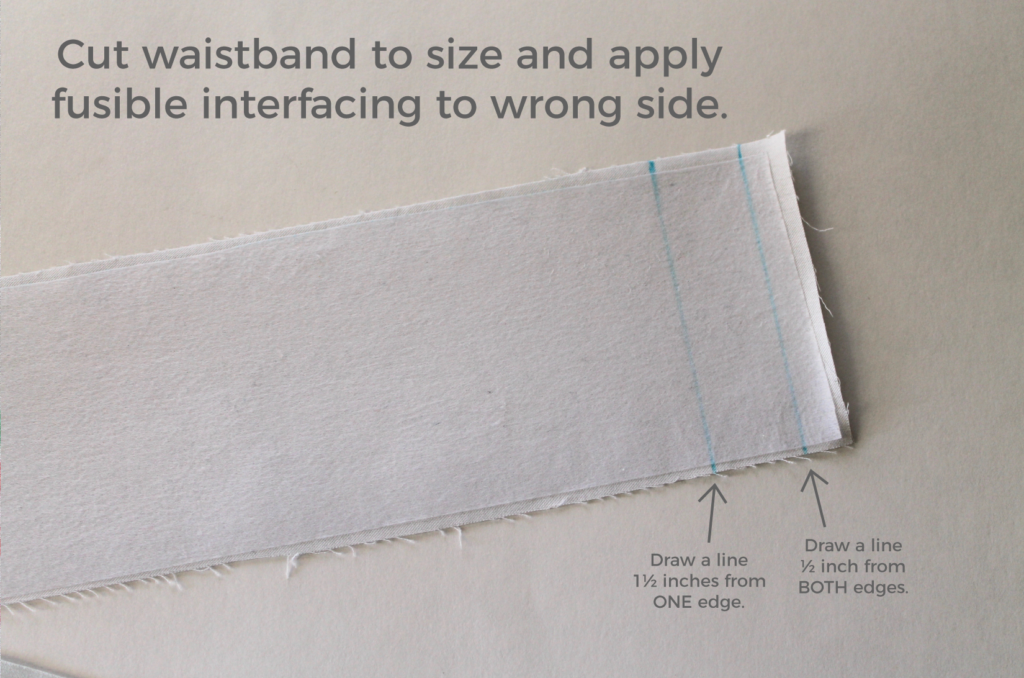 • To calculate waistband length: Measure your waist and add one inch for ease. Then add two more inches for button tab and seam allowance.
STEP 3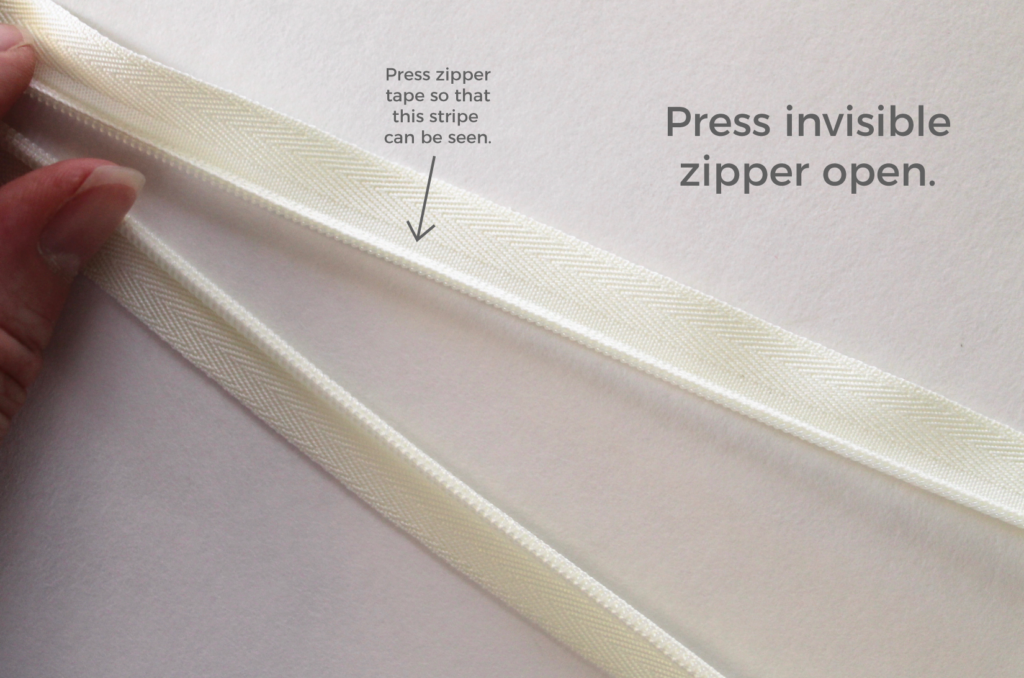 Helpful Hint:
• Use a warm, (but not hot) iron to press your invisible zipper open. You can melt the teeth if the iron is too hot.
STEP 4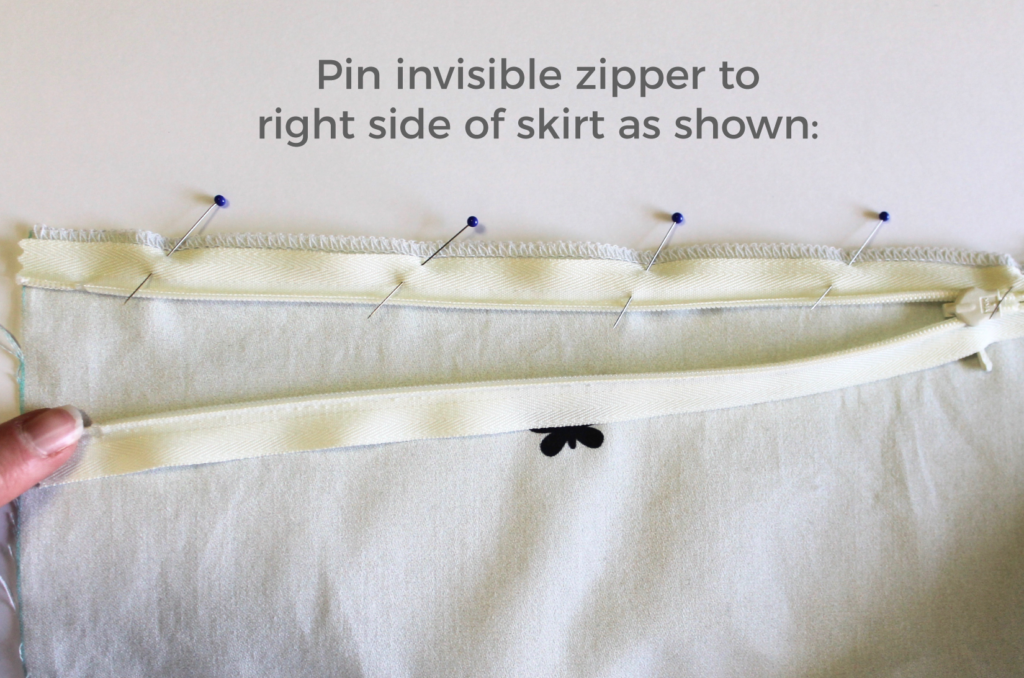 • Line up the top of the zipper tape with the top of skirt when pinning zipper on.
STEP 5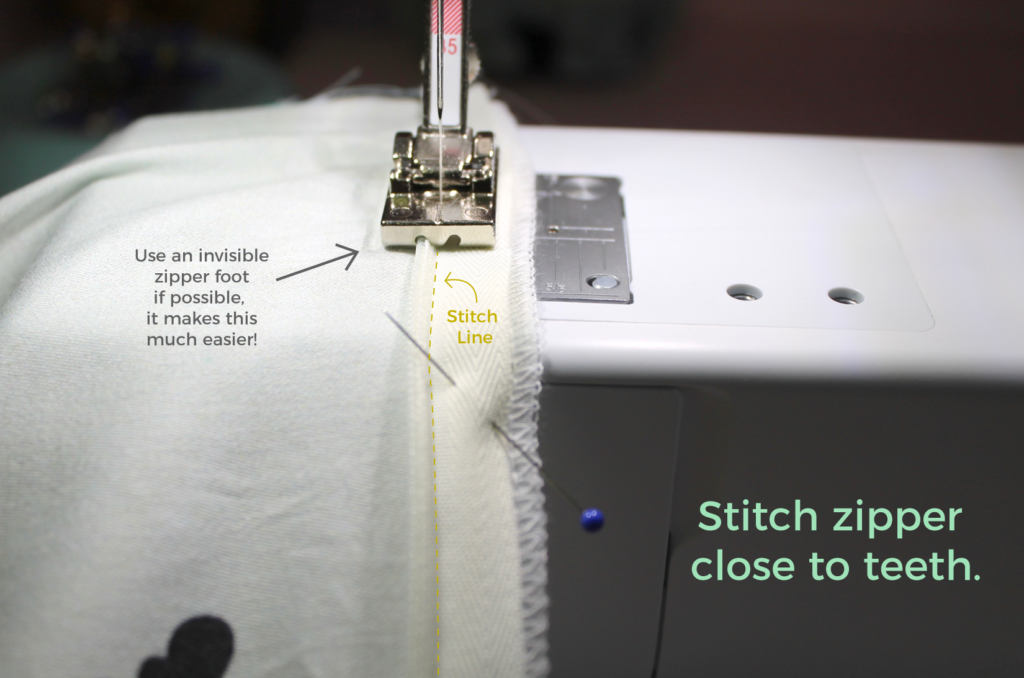 • Go slowly and don't forget to backstitch at the beginning and end of your seams.
STEP 6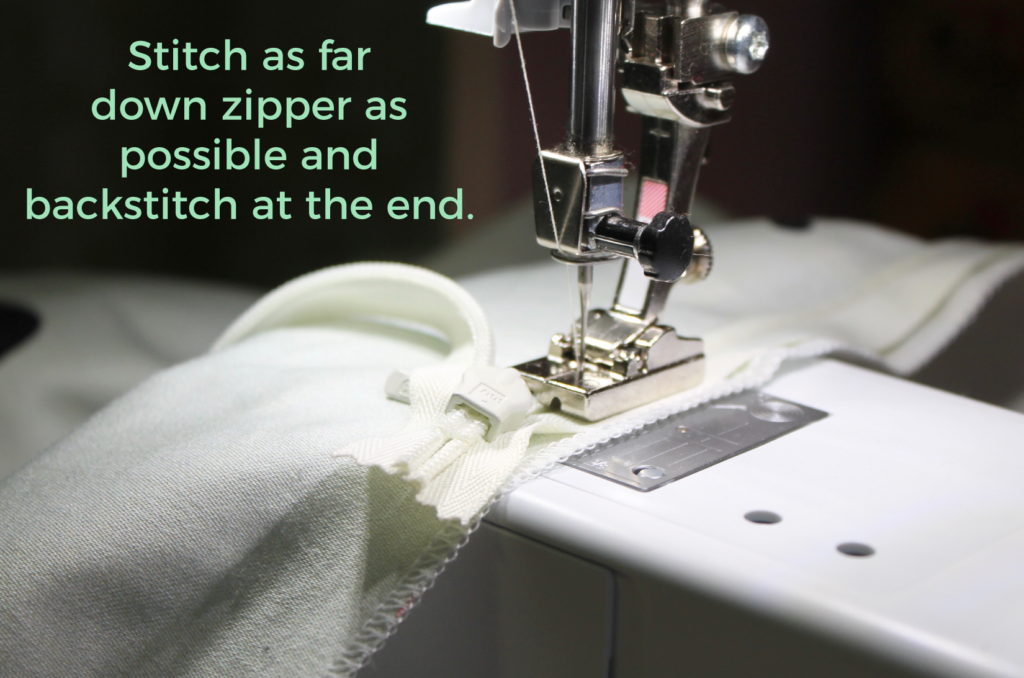 • You won't be able to sew all the way to the end- that's ok! Just go as far down the zipper as you can.
STEP 7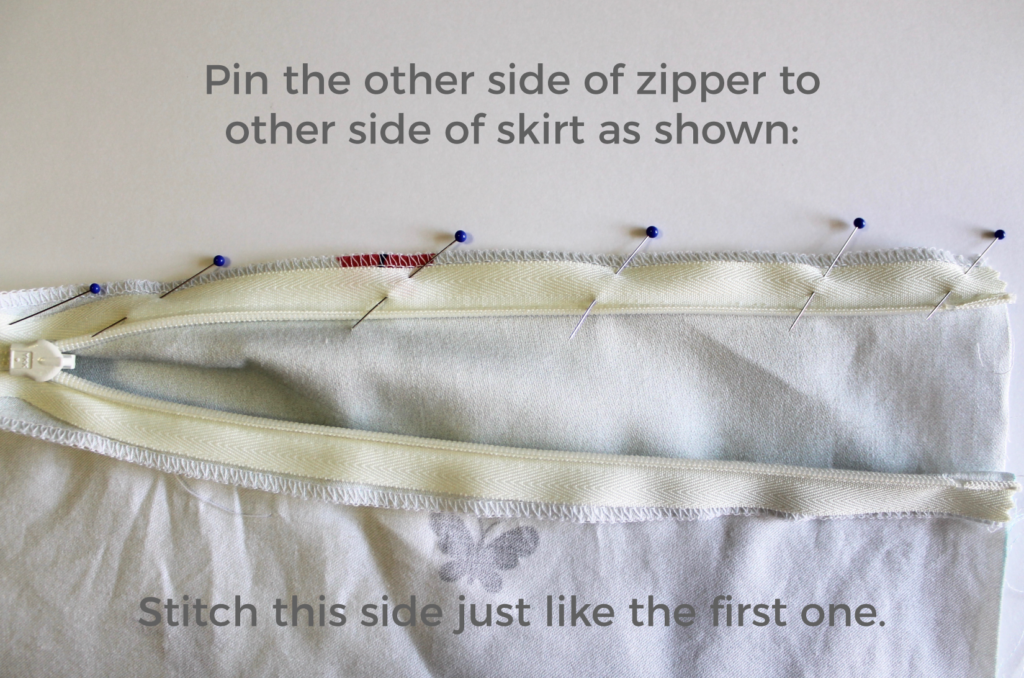 • It can be a bit confusing to insert invisible zippers at first so double-check that you've pinned everything correctly before you sew.
STEP 8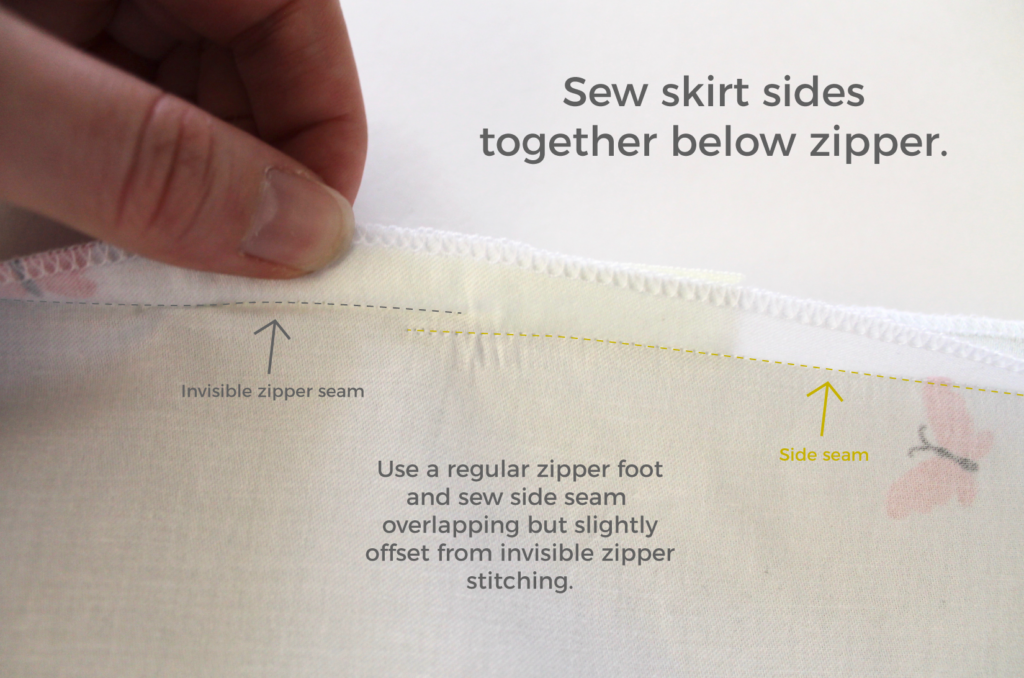 • Switch to a regular zipper foot to sew your side seam so you can get as close as possible to the teeth of the zipper.
STEP 9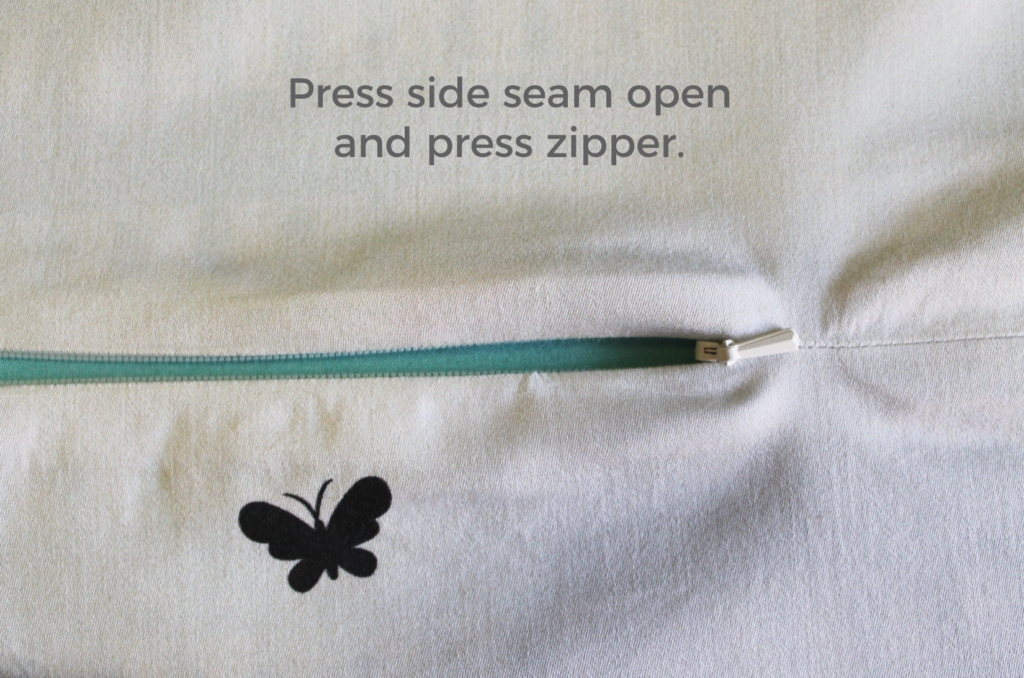 • Press lightly and use a bit of steam to help the invisible zipper blend in with your side seam.
STEP 10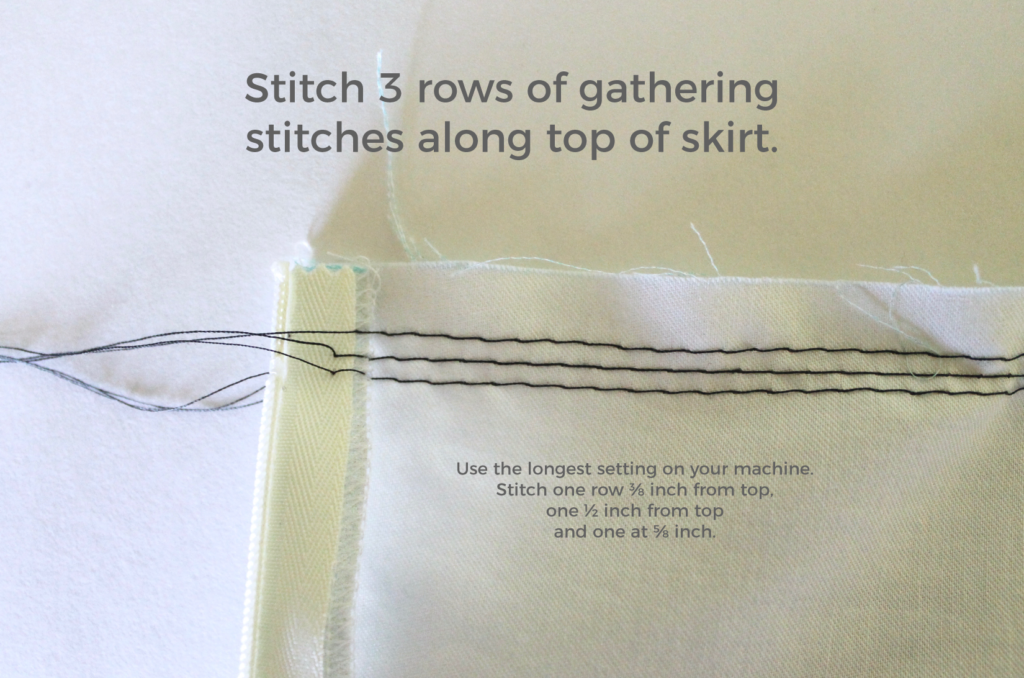 • I use three rows of  stitches because it helps make small, even gathers.
• Use a contrasting thread for your gathering stitches to make them easier to see when it's time to pull them out.
STEP 11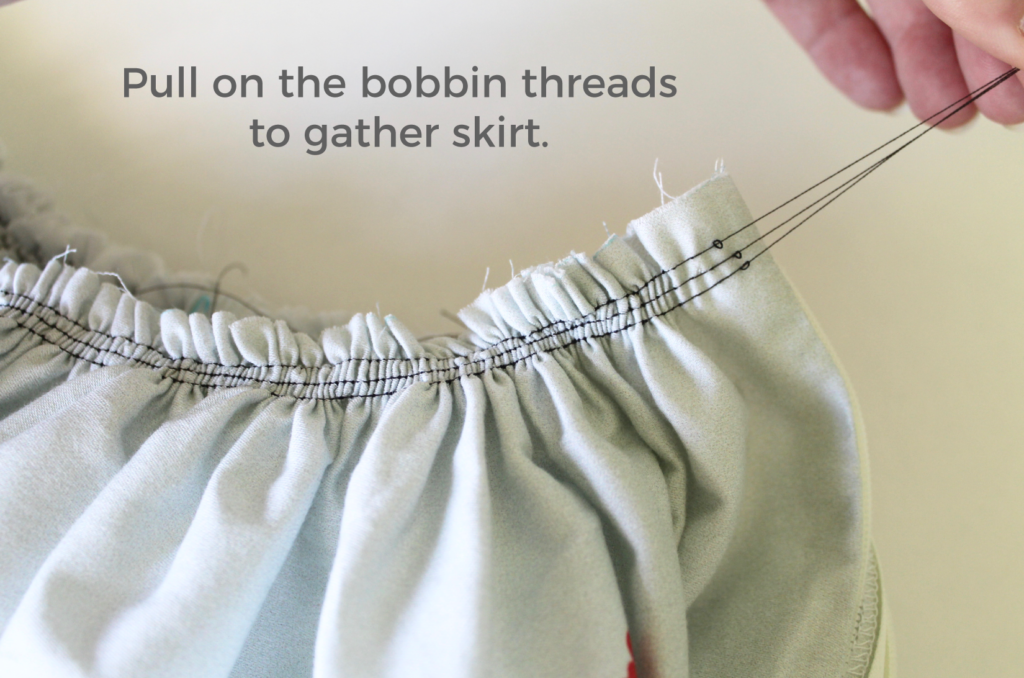 • Pull slowly when gathering so you don't break your threads. Slide the fabric toward the center from each side until the skirt is as wide as the waistband. You can trim off excess thread but leave at least 6 inches or so at all times.
STEP 12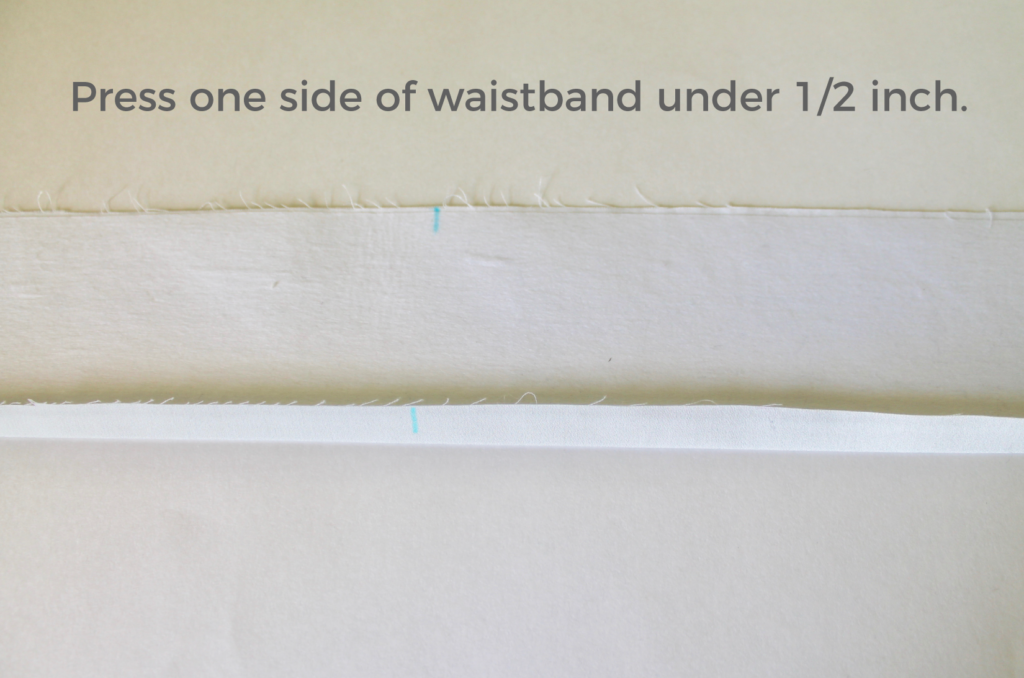 Helpful Hint:
• Make sure your center mark is still visible- it will help you pin your skirt to the waistband correctly.
STEP 13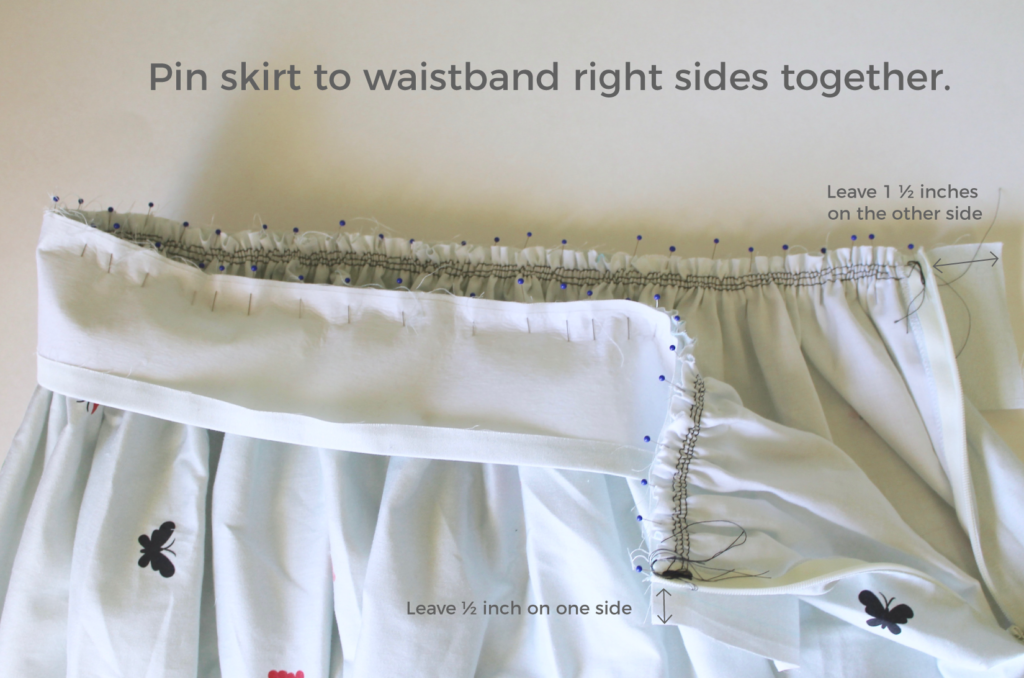 • Start by matching the side seam to your center mark.
• Don't be afraid to use lots of pins!
• Make sure your gathers are as even as possible.
STEP 14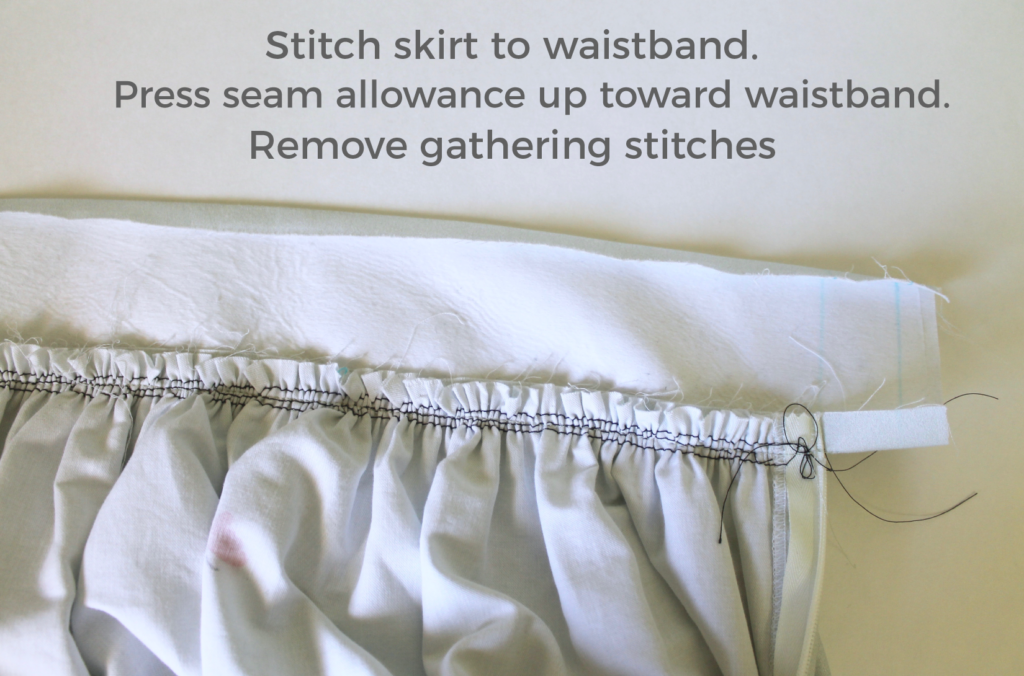 • Leave the gathering sititches in while you press.
STEP 15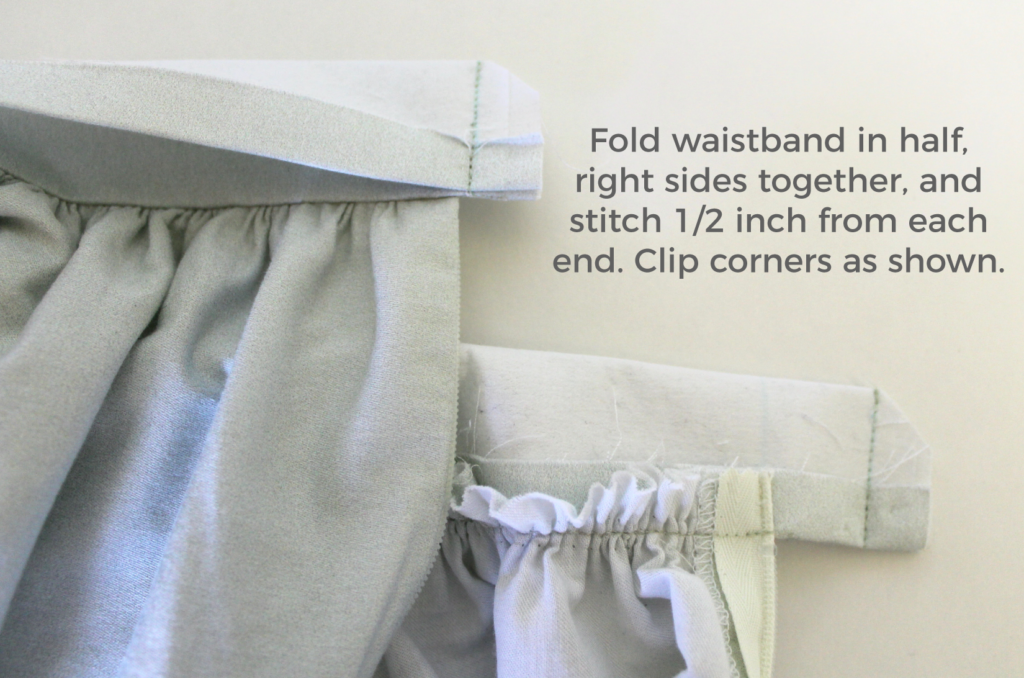 • Backstitch at each end
• Clip corners
• Use a point turner if needed
STEP 16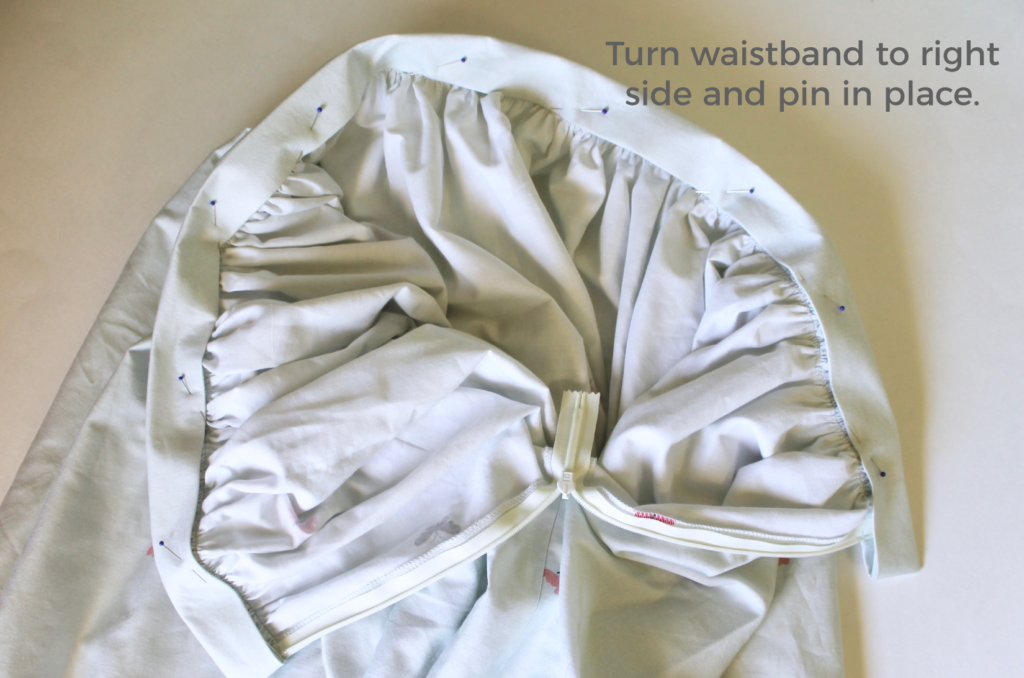 • If you keep getting poked with pins as you hand sew, try safety pins for this step.
STEP 17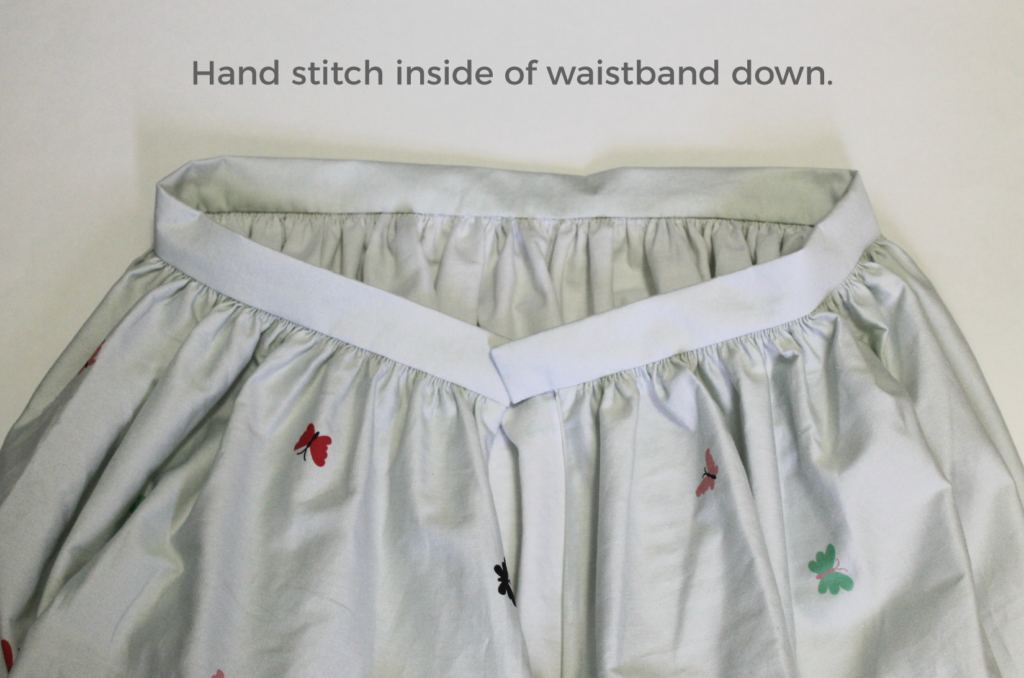 • You can use a whipstitch or a tunnel stitch to sew the waistband down.
STEP 18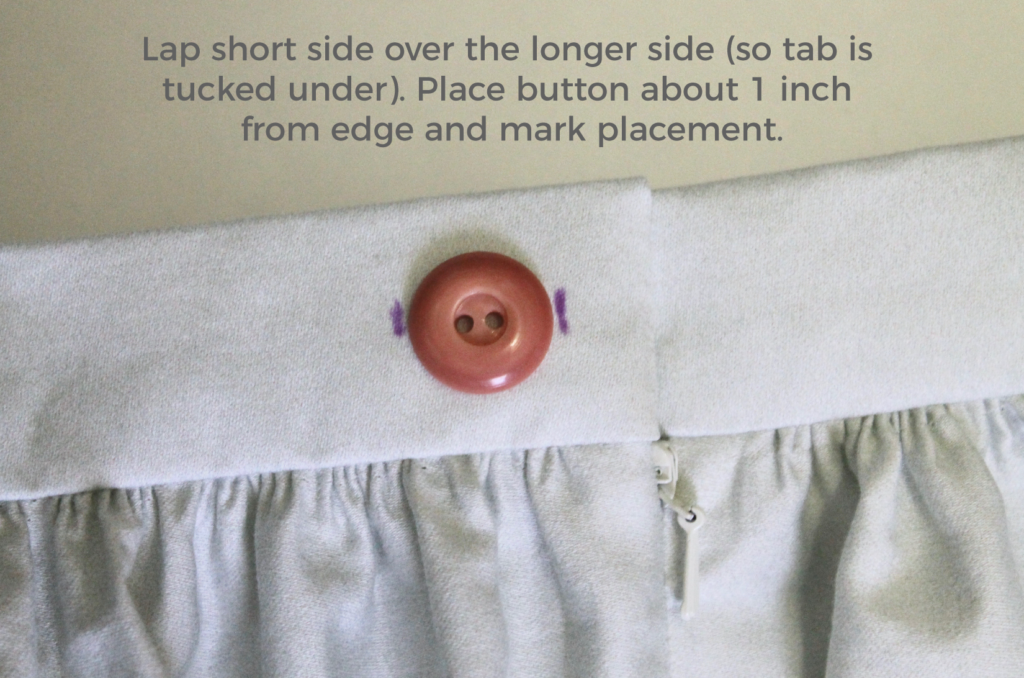 • Your button will end up centered over the mark on the right, so leave enough room from the edge. that the button isn't hanging off of the side.
STEP 19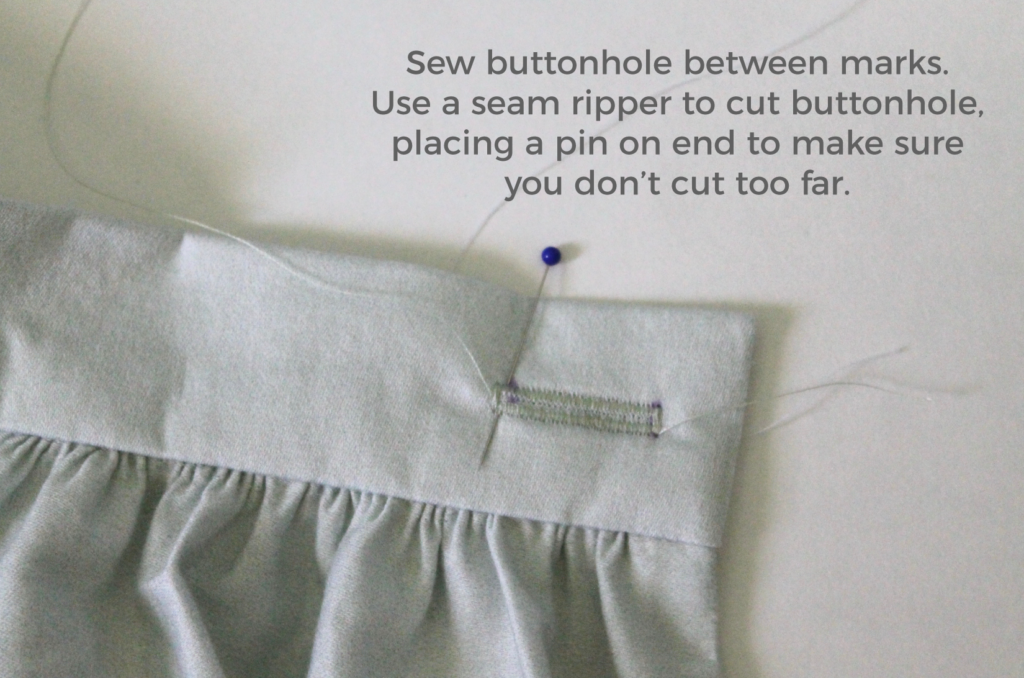 • Seriously, make sure to put a pin in the end of your button hole! Or you'll be very sad!
STEP 20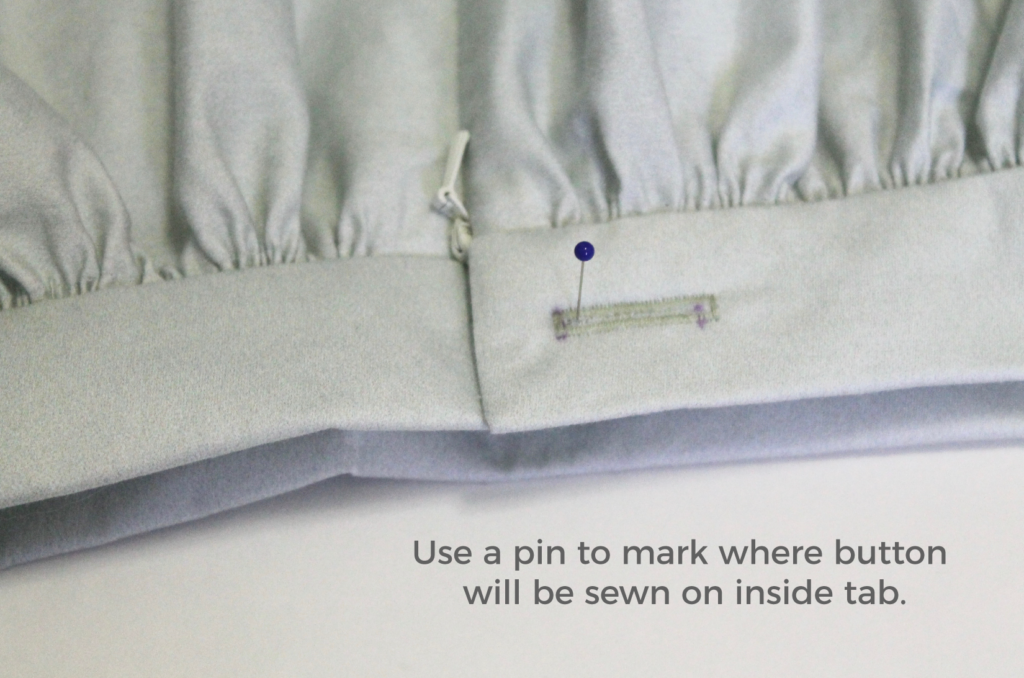 STEP 21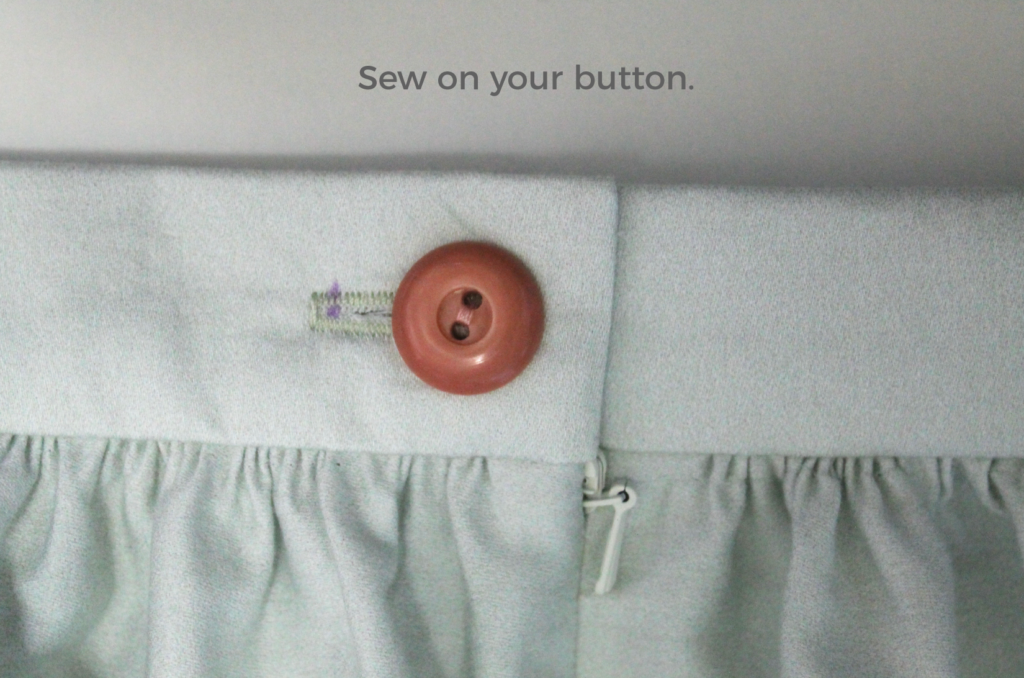 Helpful Hint:
• If you'd rather not use a button try a hook and eye- the flat kind used for pants and slacks work best.
STEP 22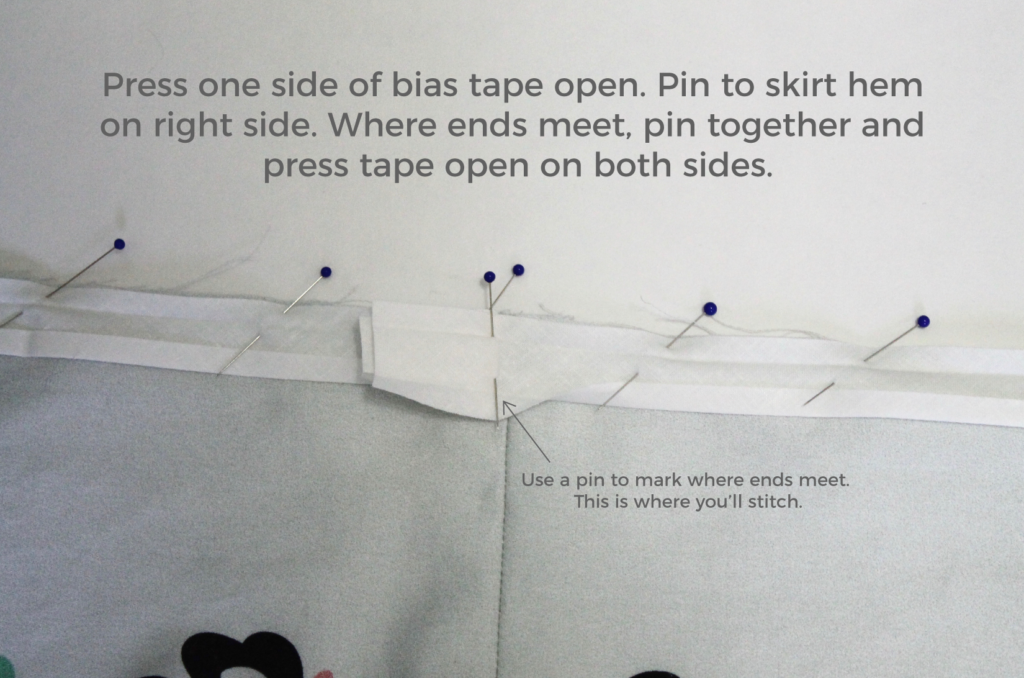 Helpful Hint:
• If you don't want to use bias tape, you can do a rolled hem instead.
STEP 23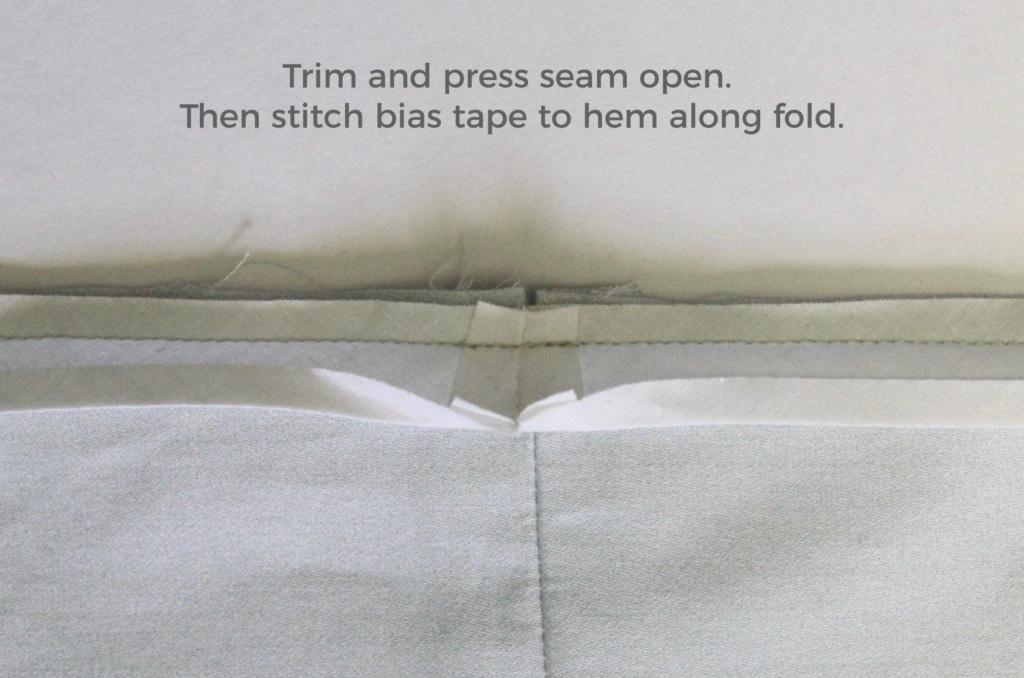 Helpful Hint:
• Press bias tape up on right side, and then down on wrong side and pin as you go.
STEP 24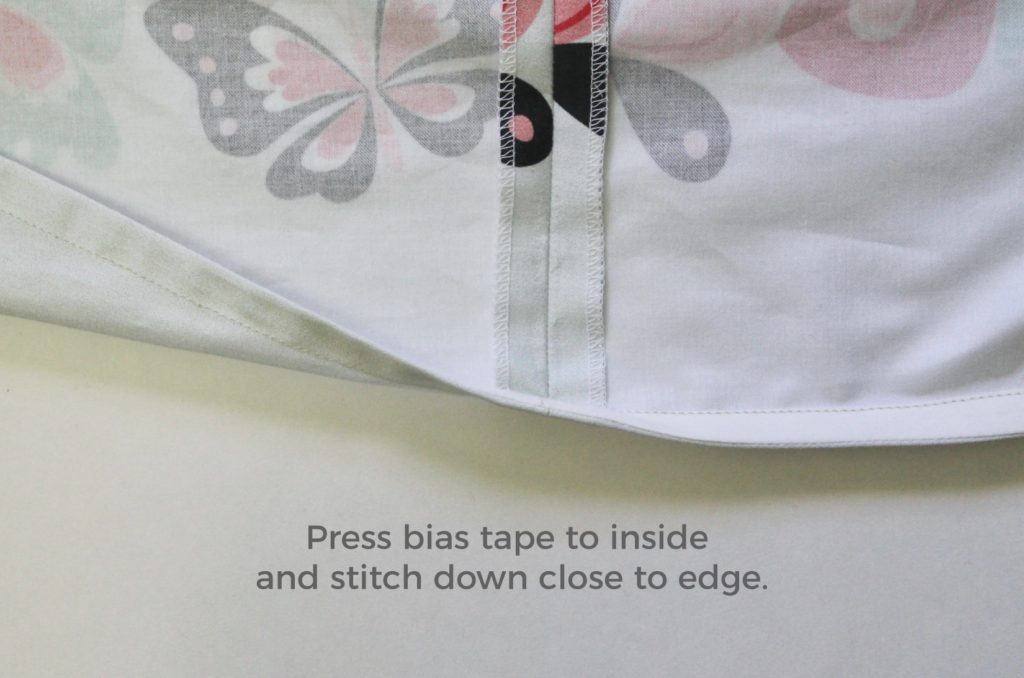 Helpful Hint:
• You can also hand sew the bias tape down or use an invisible hem stitch on your machine.
CONGRATULATIONS, YOU'RE DONE!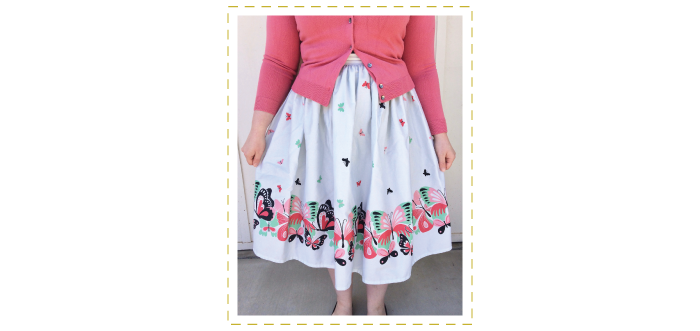 I hope you found this tutorial clear and instructive and that you enjoyed making your skirt. If you have any issues, please feel free to contact me and I'll do my best to help.
EMAIL:
mintgreensewingmachine@gmail.com
mintgreensewingmachine.com
mintgreensewingmachine.etsy.com