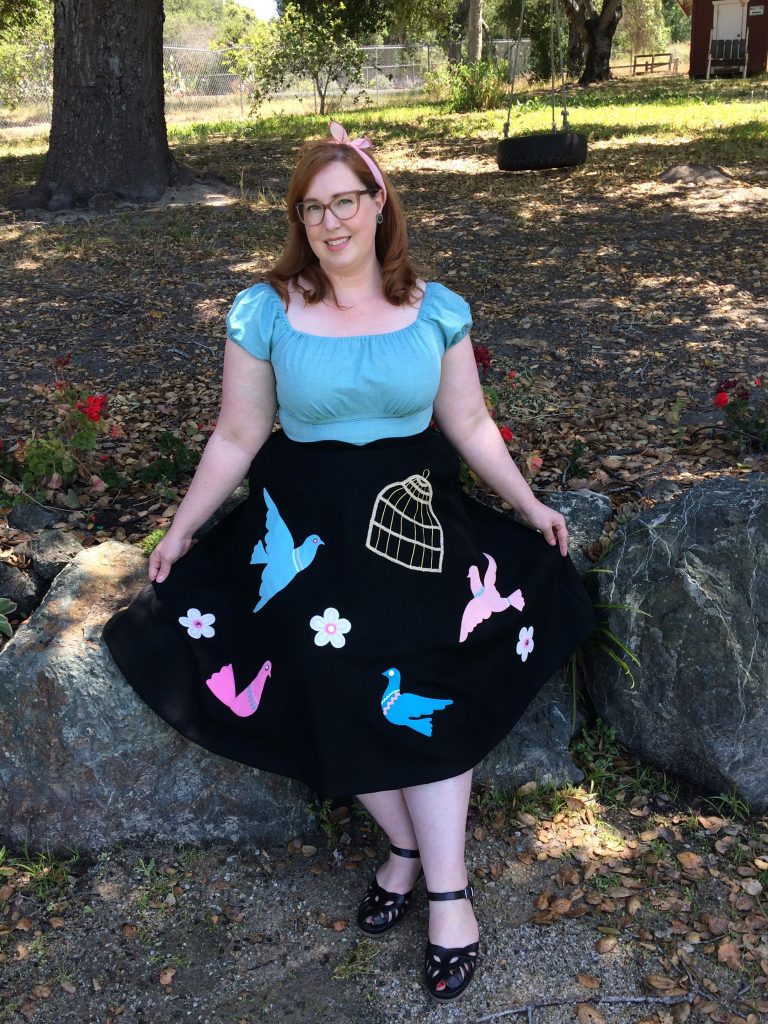 Hi guys! It's been awhile but I'm finally sharing one of the sewing projects I made right before our trip to New York City and Washington D.C. earlier this year. This is one I've had on my list for a really long time and I finally got around to making it! I used the pattern below, Simplicity 4884 for the bird designs but I used the modern re-issue Simplicity 8446 for the skirt itself. I had this really nice, thick black wool that I'd scored at a thrift store awhile back that was perfect for it. As I usually do, I went on a bit of a crazy last-minute sewing spree right before our trip, which is the reason why I sadly didn't get my Dress Like Your Grandma project completed. Oh well, there's always next year!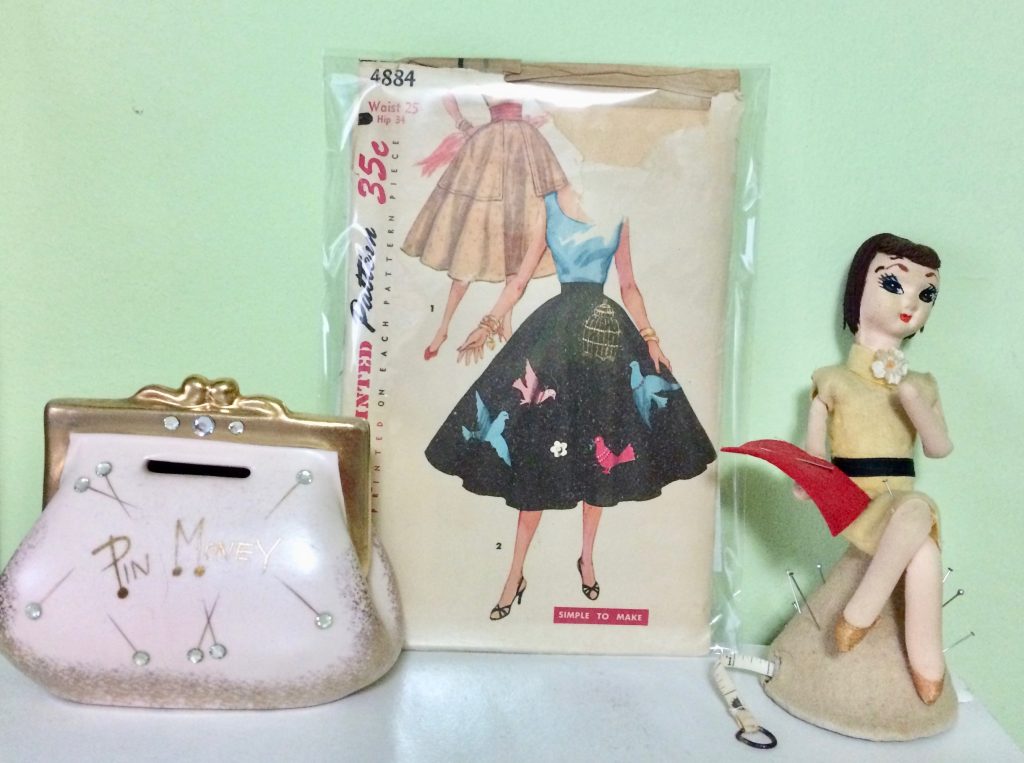 As you can see, this pattern is not a full circle skirt, it's a half circle so it's a slimmer silhouette. I like it fine, but I kind of wish I'd made it into a full circle for a bit more authenticity. But one really nice feature is that it has pockets! Hurray for pockets on skirts! I lined it with some cheap polyester "China Silk" from Jo-Anns just to make sure there was no itchiness from the wool. I hemmed it in my usual way with bias tape and hand-sewed it down to catch the lining fabric (a great technique one of sewing teachers taught me).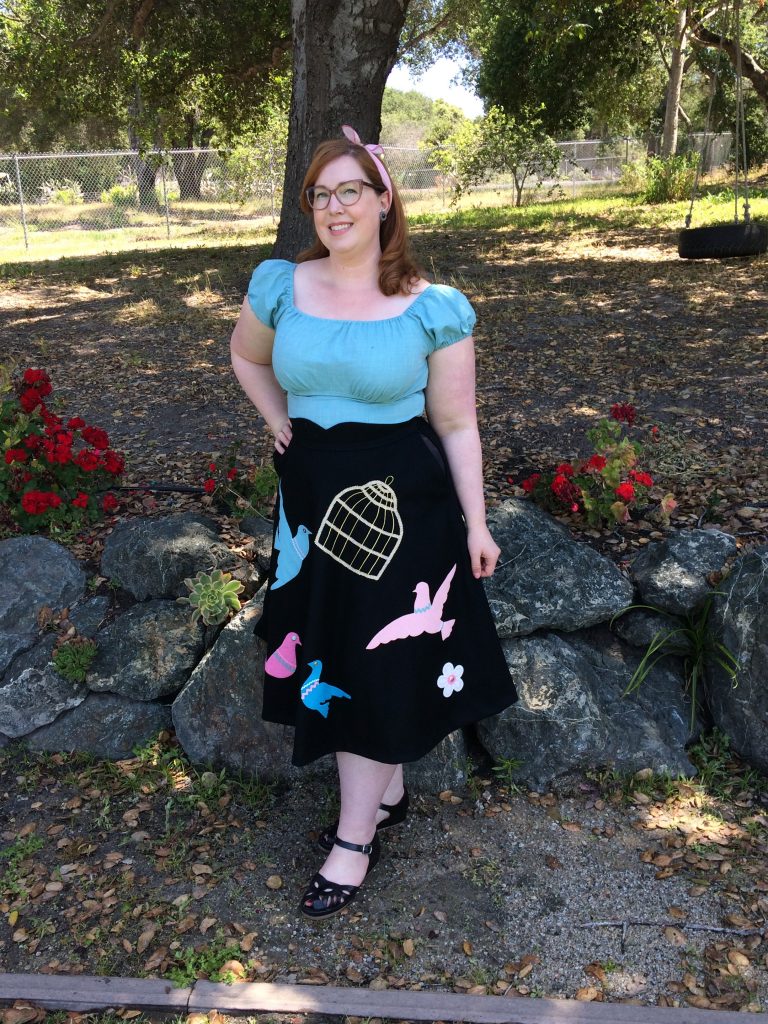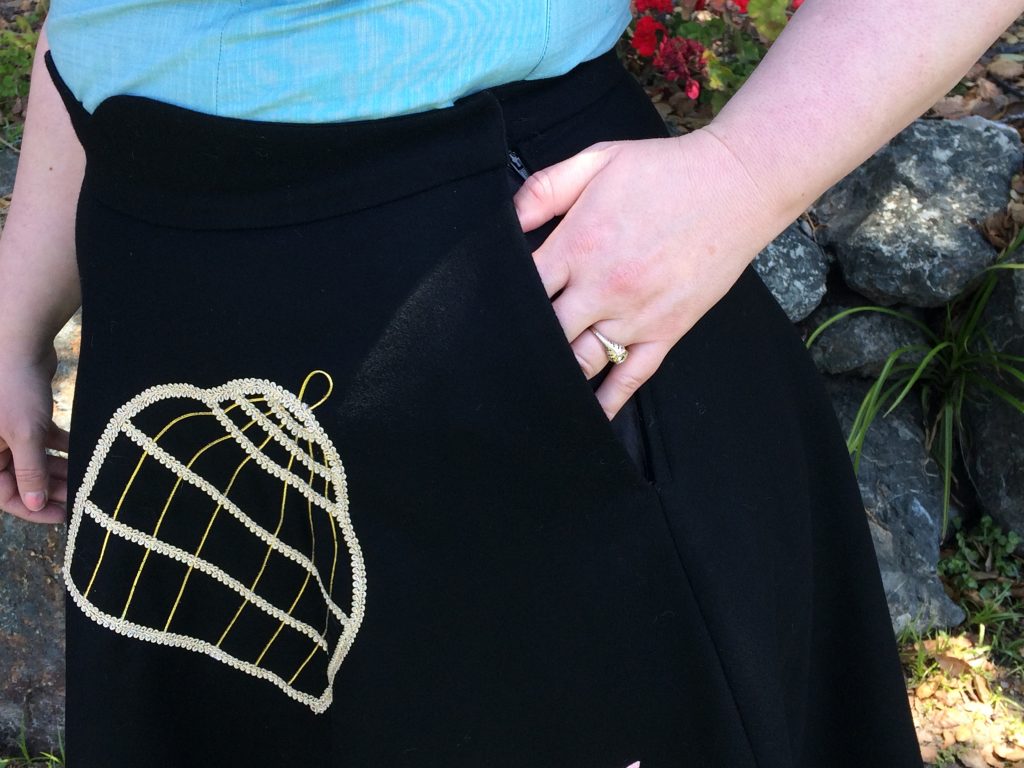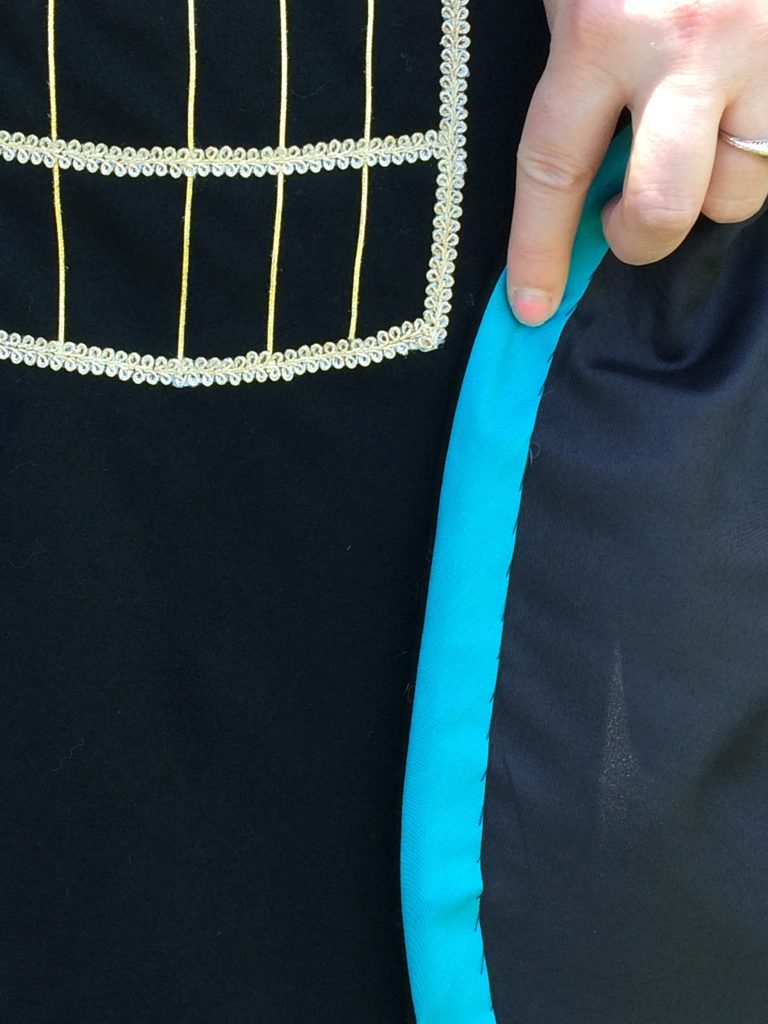 I used felt for the bird and flowers which I fused to the skirt using Wonder-Under and then carefully zig-zag stitched around the edges. I glued the rick rack and the sequins on to save time (I should have sewn them because as you can see my pink bird lost its eye!). I was also going to hand-embroider the feet on a couple of the birds but I ran out of time. Serves me right for waiting until the last minute I guess.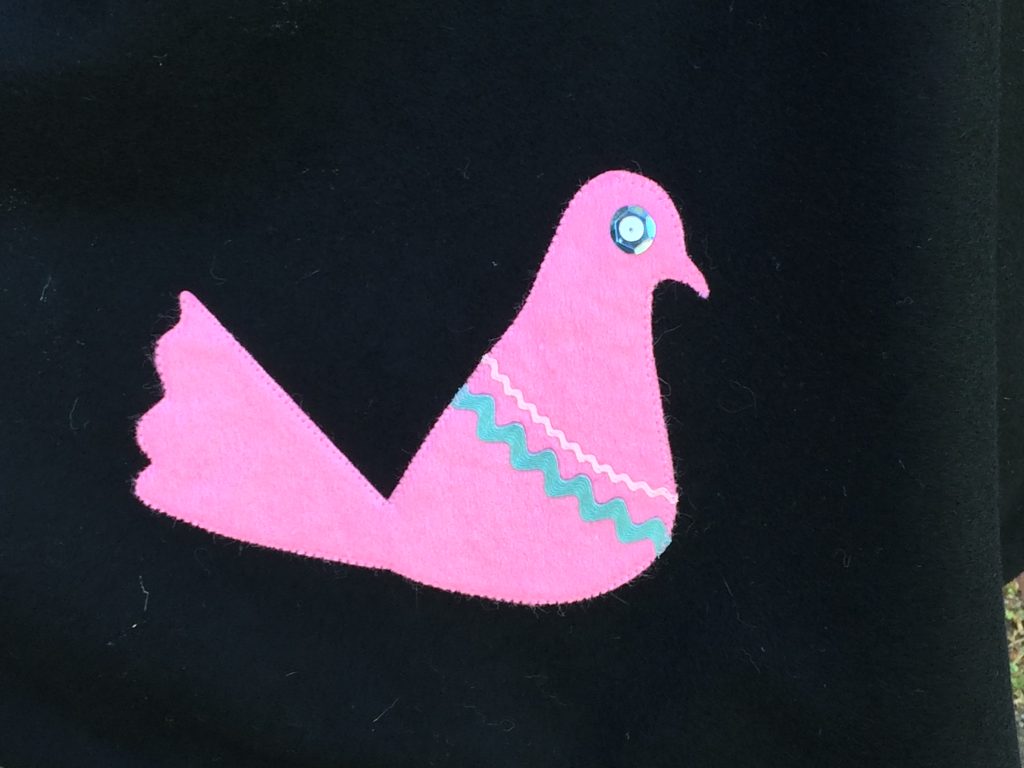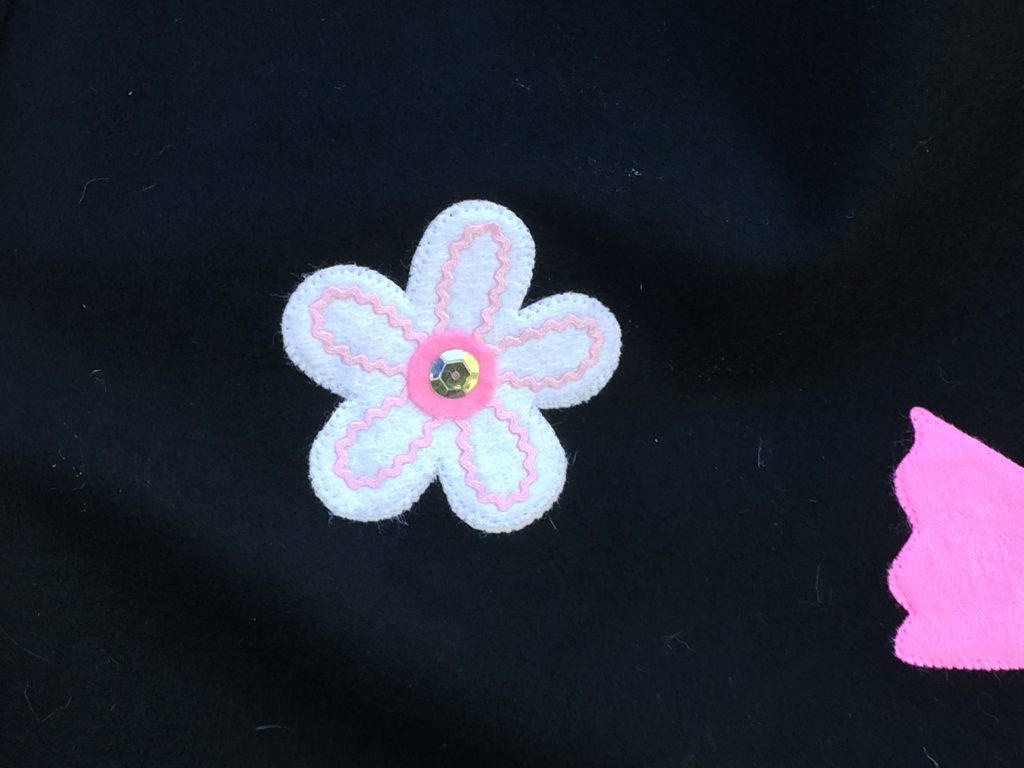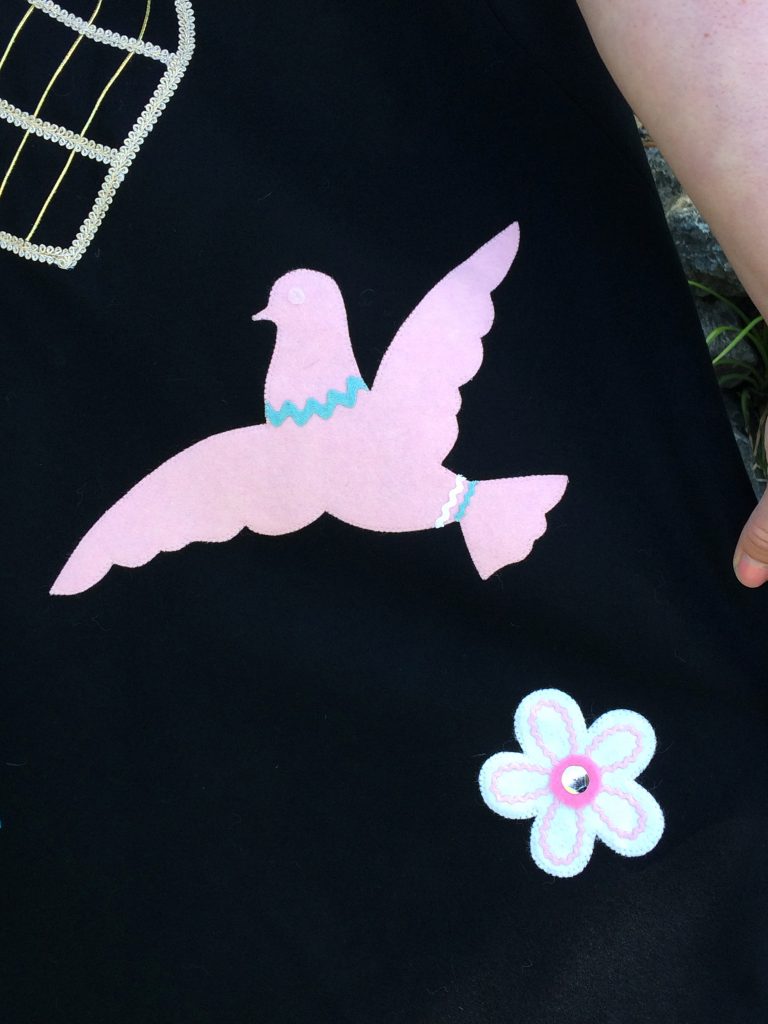 I had a real dilemma when it came to how I should apply the birdcage design. I was finding it difficult to get a clear mark with the chalk I had on the black wool and my transfer paper wasn't working at all. I finally decided I would trace the design onto a piece of medical table paper (I bought some on Amazon and I use it all the time for tracing patterns), I would pin my trims onto the paper, and then sew directly through the paper onto the skirt and then rip off the paper when I was all done. I used clear thread for the gold trims, which is like a very thin fishing line. You can see my process below: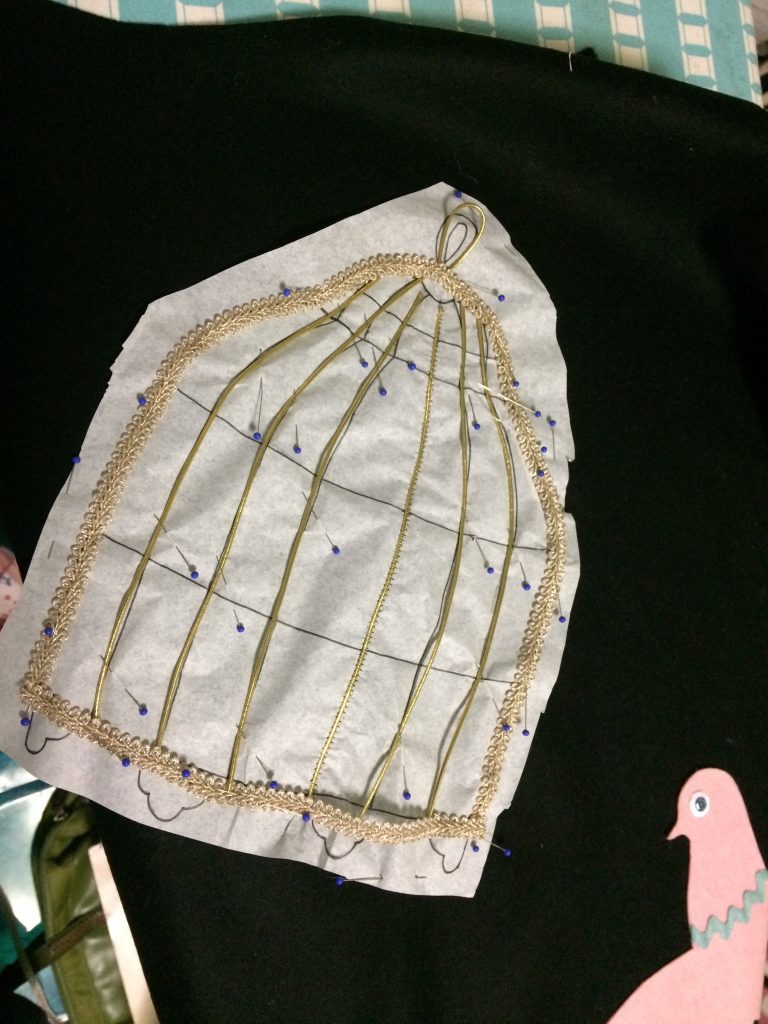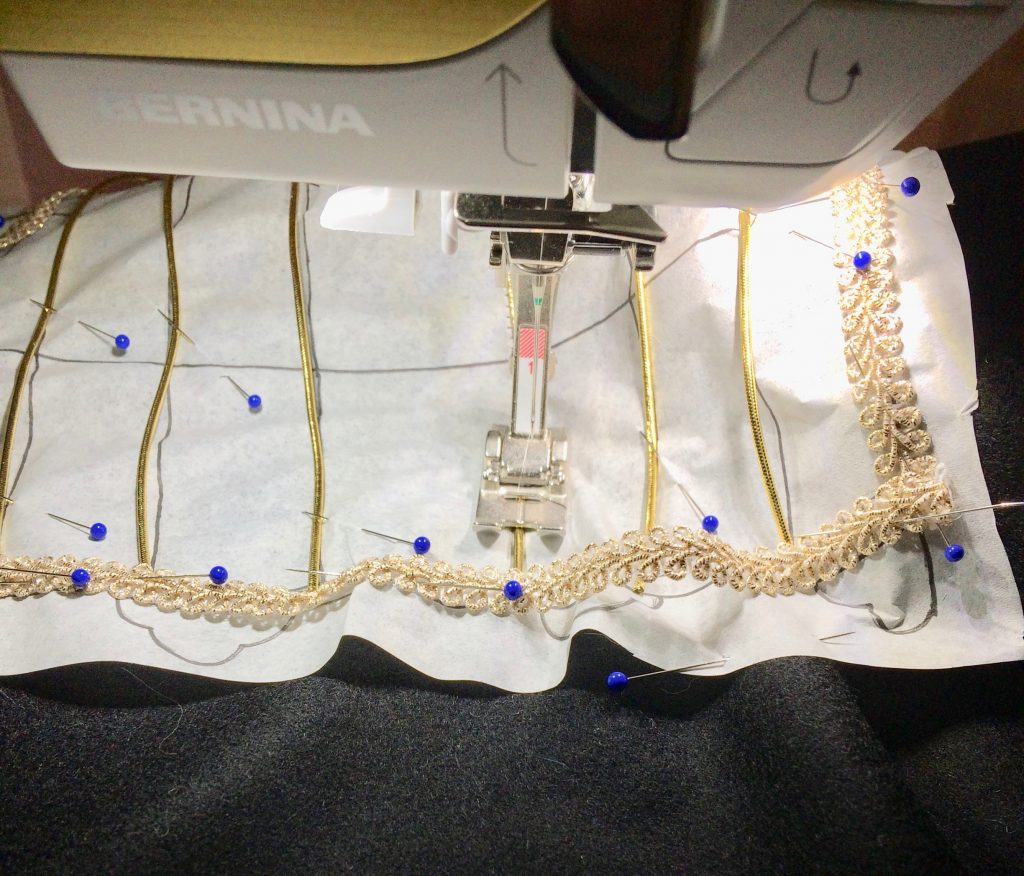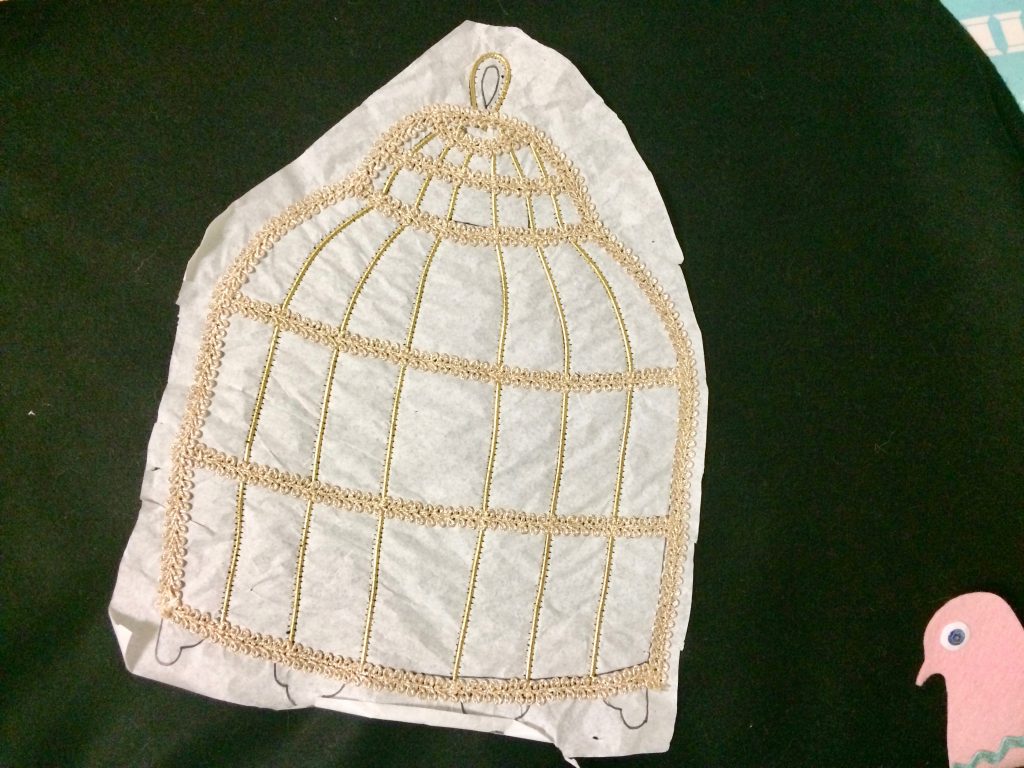 It seemed like a good idea and I was proud of myself for thinking of it … until I ripped off the paper and realized there were still tons if little paper bits stuck under the trims. It probably would have been fine it I had sewn straight seams, but the zig-zag caught a lot of paper, which I had to carefully pick out with tweezers and a dull needle (I stayed up really late a few nights). But hey, you live and you learn!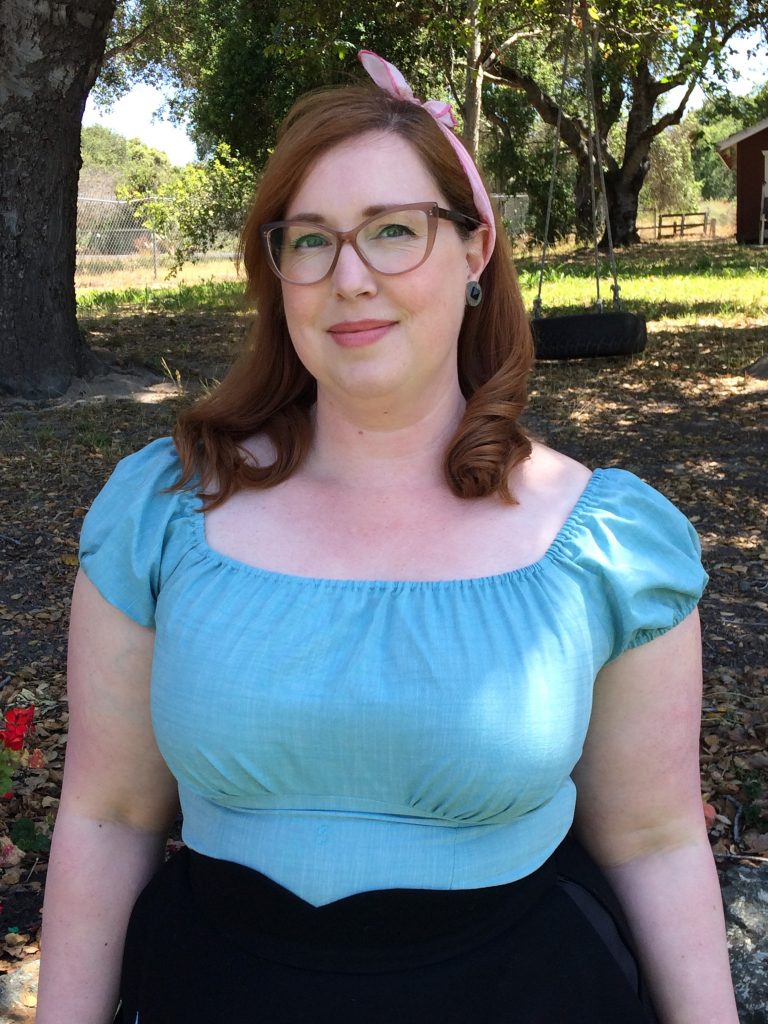 I also made the Rita Blouse by Charm Patterns to coordinate with the skirt. The sizing on these is nice because you can choose both your size and cup size (a great feature especially for the big-busted amongst us). I made a 14 D but I think I maybe should have gone for a DD because it's still a bit tight. I made this with the fabric I had left over from the Bow Dress I made a few years back. It was the perfect fabric for this project, but I didn't have a lot left to work with. After re-arranging my pieces like 10 times I barely squeezed the pattern pieces onto the remnant I had- it was a serious miracle! I should have taken a picture so you can see what a puzzle it was. The blouse came together really nicely once I had it cut out. It's pretty short though, so this is one I would only wear tucked into skirts.
Now for the deets:
Pattern: Simplicity 4884 (vintage), Simplicity 8446 (modern) and the Rita Blouse by Charm Patterns
Fabrics: Skirt: Black wool with felt birds and polyester "China Silk" lining.
Blouse: cotton and silk blend from The Fabric Store
Trims: Gold braids from Jo-Ann, rick-rack from my stash, and bias tape for hemming. Zippers for both skirt and top.
Size: Skirt: 18

Blouse: 14, D-Cup
Alterations: None
Skill Level: Intermediate (mostly due to the trims)
Thanks for stopping by!