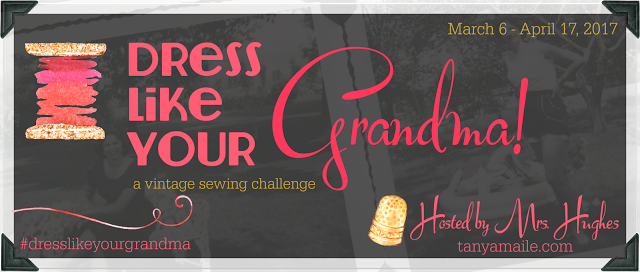 I just wanted to let you all know about a fun sewing challenge my friend Tanya is hosting on her blog, Mrs. Hughes. It's called the "Dress Like Your Grandma" vintage sewing challenge. Here's the idea:
"This is a vintage sewing challenge where family history can inspire your wardrobe. Take a photo of your grandma (or your grandpa, great-grandma, mom, aunt, someone else's grandma – you get the idea!) and re-create an outfit or piece that they are wearing. Many of us don't have vintage garments to remember our loved ones by or perhaps we can't fit into what they left behind. Re-create that image with vintage patterns, reproduction patterns or modern patterns. If your style is different from a family member's or you want to evoke a different era, find a vintage photo with a garment that suits you and re-create that. The idea is to study a vintage photograph and transform that photo into a garment or outfit that you've sewn yourself."
So much fun! I'm off to find some old family photos!