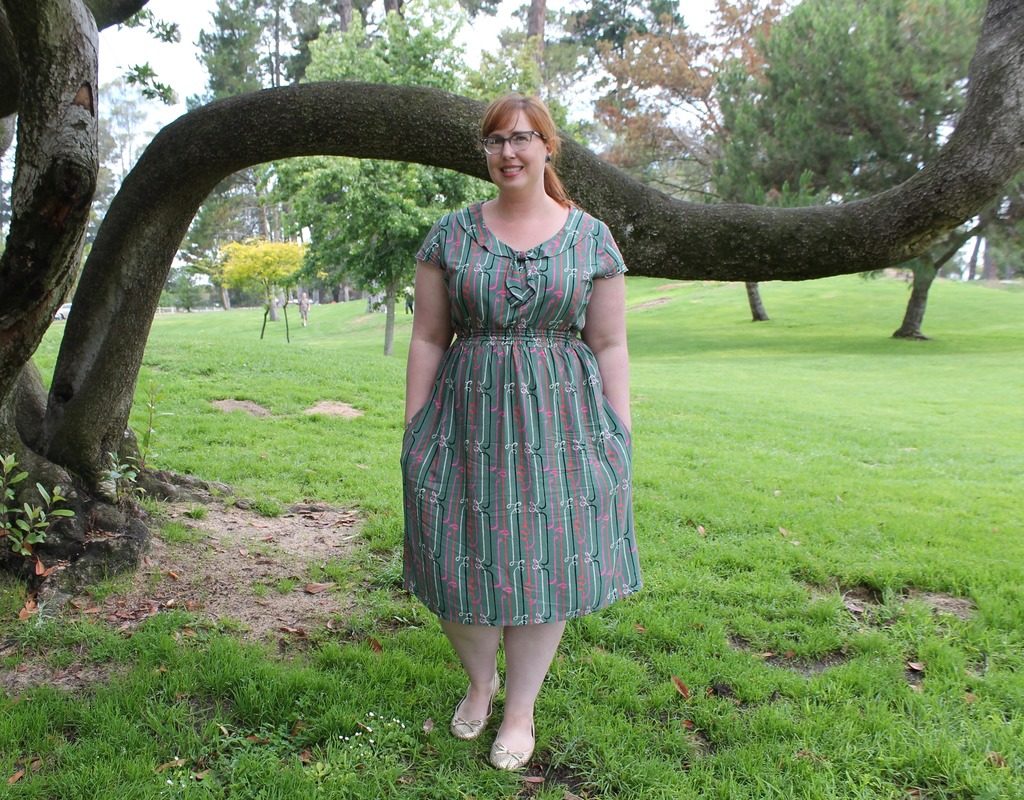 I made the dress in this really pretty rayon challis that I had gotten as a Valentine's day gift from Phillip a few months back. It's a Cotton and Steel print (unsurprisingly as I'm kind of obsessed with those). It was a great choice for this pattern and made for a super soft and comfortable dress. It's a little bit trickier to cut out than cotton because it tends to shift so I went heavy with the pins.
I did make a couple of alterations- you can probably tell that I shortened the sleeves by a lot. I played it fast and loose and didn't make a muslin beforehand but I usually try things on as I make them to see if I need to make any adjustments as I go.  I was finding the original longer sleeves were looking kind of frumpy and shapeless on me. I also tend to wear cardigans with my dresses and I wanted to be able to wear one without having the sleeves get all lumpy and bunched up underneath. Secondly, I added a few inches to the hem of the skirt (I always like my skirts to end an inch or two past me knees), and I added some fullness to the skirt. The original pattern has a pretty straight skirt while I wanted mine a bit more roomy to avoid any hip-clinging. One thing I found strange is how low on the skirt the pockets are placed (I'm not sure if it's obvious in the pictures). If I make this one again I'll definitely move them up at least 3 or 4 inches.
The sailor collar is definitely my feature of this dress. I did have a bit of an issue because when I went to attach it the collar piece was much longer than the neckline. I even checked to make sure I had cut out the right size piece (I had) so I'm not sure if it was a pattern issue or if the rayon just really stretched. I ended up having to un-stitch and take out about 3 inches at the back of the collar. So if you make it I would recommend pinning that on to make sure it fits before you sew the collar and undercollar together. The instructions that come with the pattern don't have as many illustrations as most commercial patterns, so certain parts can be a bit tricky to figure out.
Sew Liberated
actually provides tutorial videos for all of their patterns so that can really help if you get stuck on a certain step.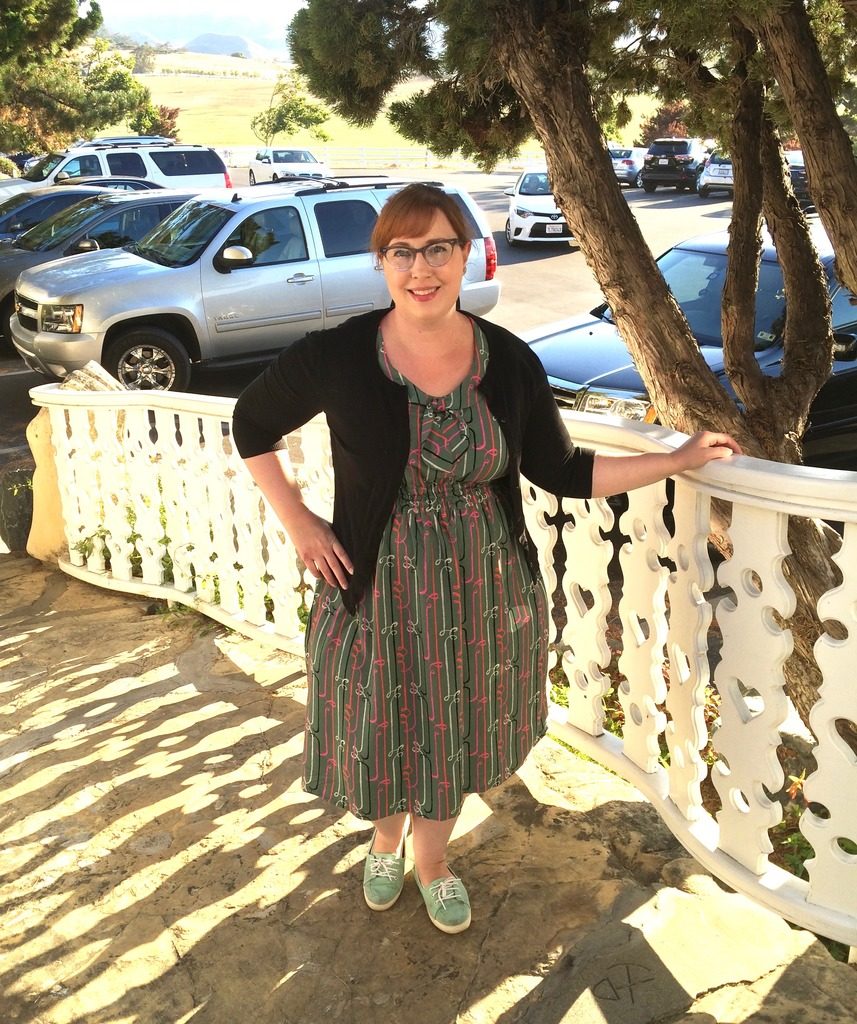 I ended up wearing this dress for the first time on a little trip we took for our first anniversary in June. This dress really went through the ultimate test of a day at a theme park (Universal Studios) and I'm happy to say it was comfy to wear all day, even in the nearly 100 degree heat! I definitely plan to make this one again.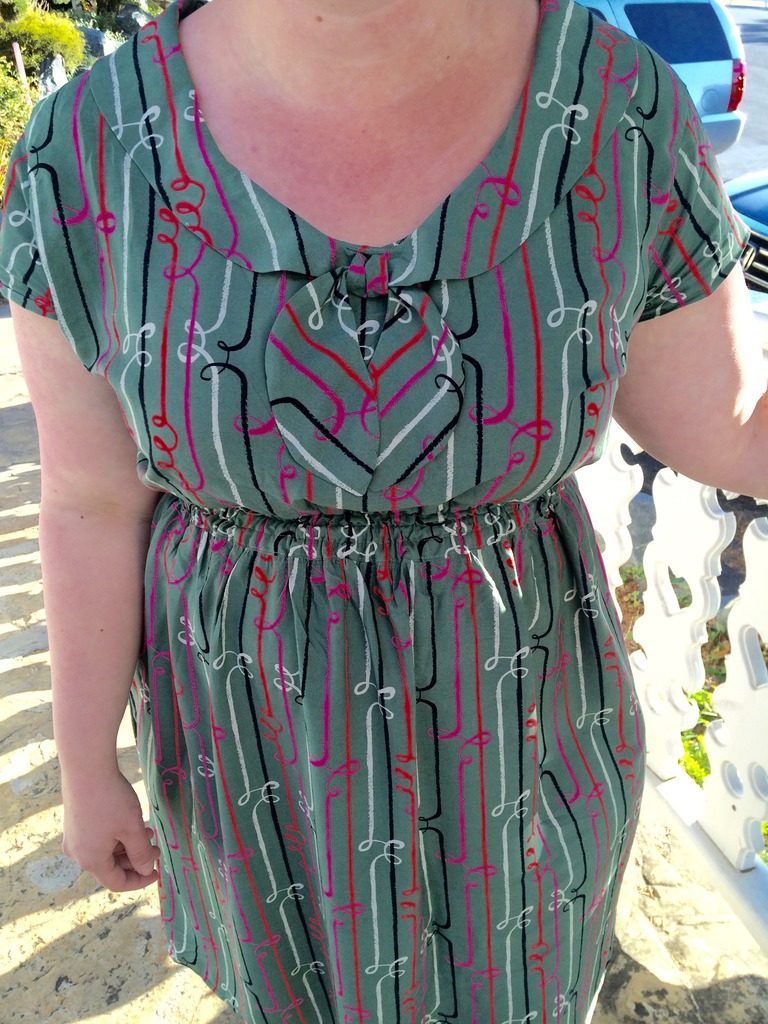 The essentials:
Pattern: Brynna Dress by Sew Liberated
 Size: 16
 Alterations: Added 3 inches to hem, some extra fullness to the skirt, and shortened the sleeves.
Trims: n/a
Skill Level: Beginner to Intermediate