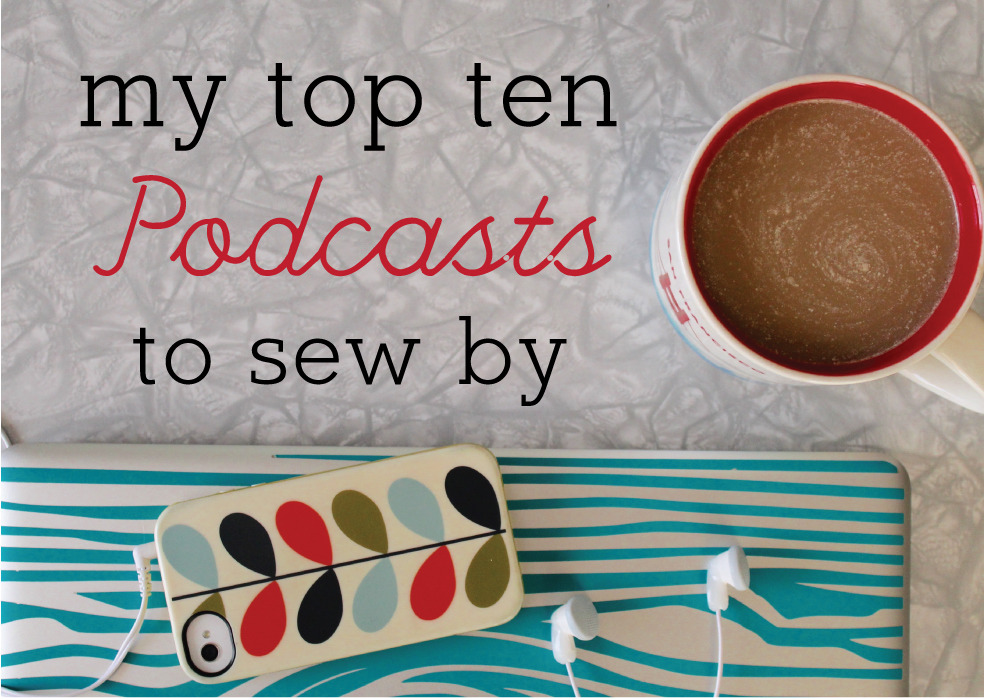 Ok, this is a bit of a departure for a sewing and vintage blog, but lately I've been really into podcasts. I especially like to listen to them when I sew (see, it is relevant!). They're a little more engaging than just listening to music, but I can still follow along and concentrate on what I'm working on at the same time. I'm always trying out new ones, but here are my current top 10 favorites (in no particular order):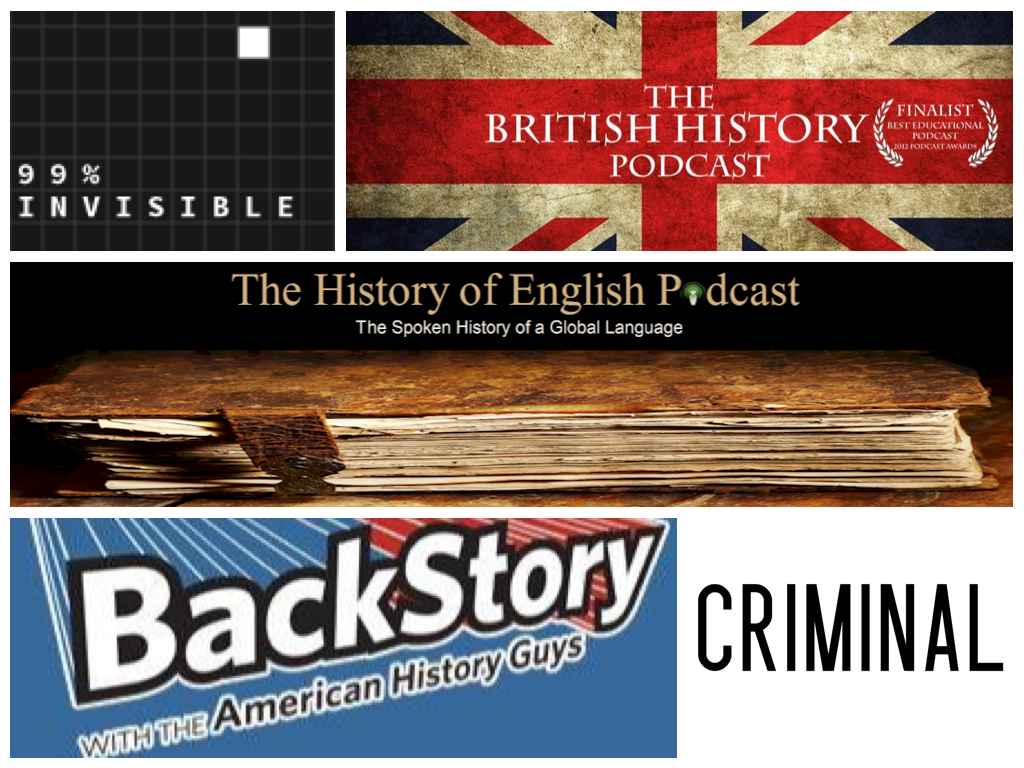 1.
99% Invisible
is a podcast focusing on design in society, and they cover a wide variety of topics- from sound design to self-driving cars.
2.
The British History Podcast
is (obviously) all about British history, but it really goes into detail far beyond what you probably learned in school (unless you're a British History major, of course). The narrator and researcher, Jamie, begins in prehistory and is currently around the 800s AD.
3.
The History of English Podcast
has some overlap with the British History Podcast but is focused on the history of the English language (which I find super fascinating). It discusses the origins of English all the way back to the Indo-Europeans and gives a lot of really great information about evolution of the language and the origins of words we still use today.
4.
Backstory
is another history podcast (can you tell I love history?) but it's focused on various topics in American history, with three historians giving insights and stories from different centuries. Recent topics include the Fourth of July, trash in America, and a history of surveillance.
5.
Criminal
is a true crime podcast that discusses a particular story in each episode. To quote their website they feature "stories of people who've done wrong, been wronged, or gotten caught somewhere in the middle."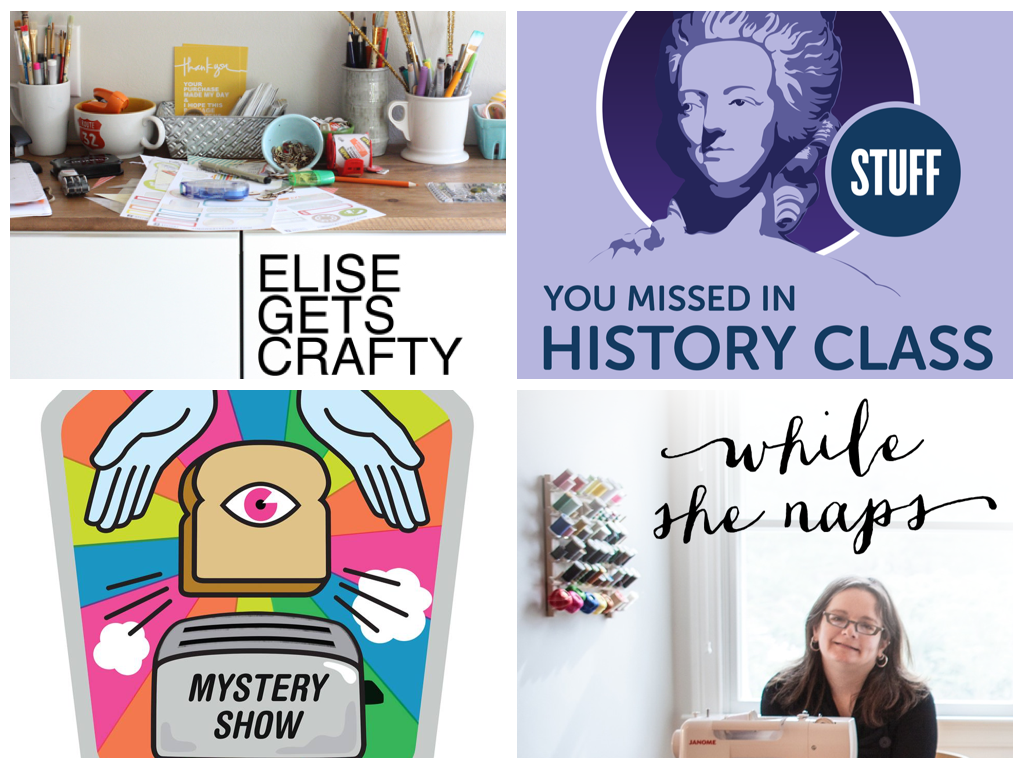 6.
Elise Gets Crafty
is a podcast by blogger Elise Blaha Cripe about running a creative business. She has guests for many of the episodes and they discuss marketing, goal setting, and blogging, among other topics. If you have or are thinking about starting a creative business (even a teeny tiny one like mine!) this podcast is really informative and inspirational.
7.
Stuff You Missed in History Class
is another history podcast run by two ladies. If I had to pick an all-time favorite podcast, this would probably be it. I've gone through and listened to just about every episode in their extensive archive.  They choose little-known topics (or give little-known information on well-known topics) from history and give you a rundown of what is known about it.
8.
Mystery Show
is one of the most recent podcasts I've started listening to. The host, Starlee, goes about solving mysteries for people (ones that can't be solved by a mere google search), like tracking down the owner of a belt buckle found 25 years ago and finding out Jake Gyllenhaal's true height. It's a really fun show and both Phillip and I are anxiously awaiting some new episodes.
9.
While She Naps
is another podcast about creative business. Blogger
Abby Glassenburg
interviews various people in creative industries about their jobs and their recommendations for things they're loving, siuch as app, books, etc. My favorites so far were the interviews with
Melody Miller
and
Christine Haynes
.
10.
Freakonomics Radio
is a podcast by the guys who wrote the
Freakonomics books
, and explores "the hidden side of everything." It's popular for a reason- most of the topics are really fascinating.
Ok, well that concludes my list of favorite podcasts. I'll try to re-visit this topic in a few months and see if this list has changed! Do you have any favorite podcasts? What would you recommend? I'm always on the lookout for new favorites!