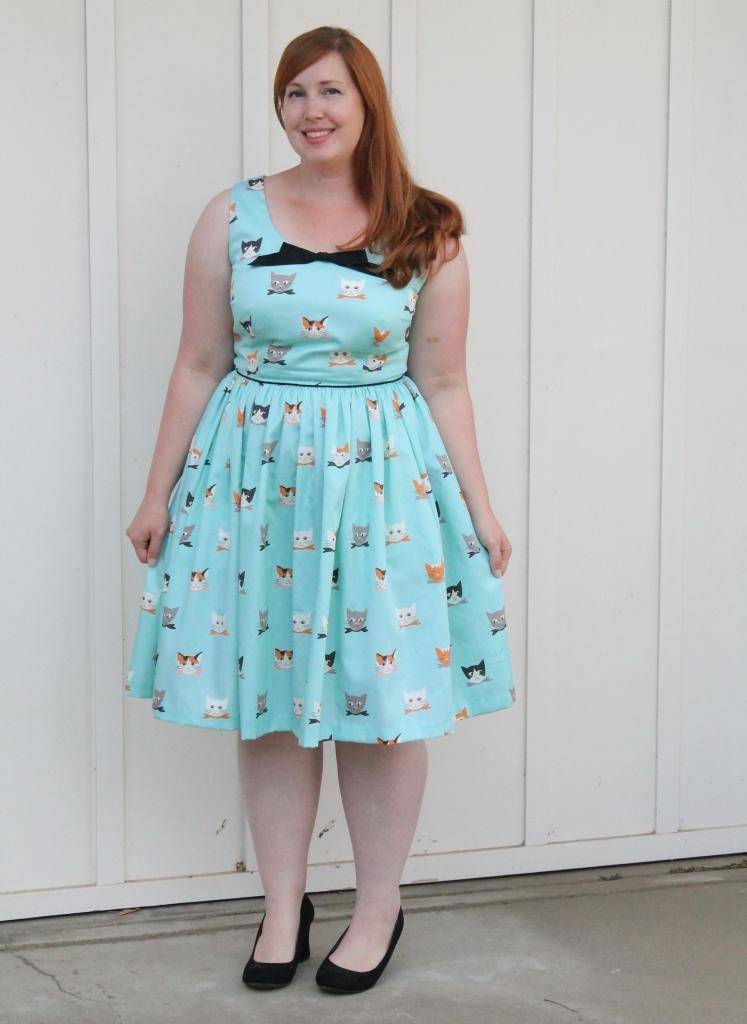 This dress is my submission for the
Cat Lady Sewing Challenge
, hosted by my friend Erin of
Miss Crayola Creepy
. This particular projects is even more special because I used my very first self-designed fabric! I thought it would be fun to make my own custom fabric for this project and utilize some of my newly-acquired Adobe Illustrator skills. I wanted to create a vintage-inspired design reminiscent of 1950's handkerchiefs. It took me about a week to draw out the design on paper, trace it in Illustrator, and create a printable design. Once I got it to my liking, I ordered some fabric swatches from
Spoonflower.
If anyone would like, I can post a more detailed description of how I created the design and the fabric printing process.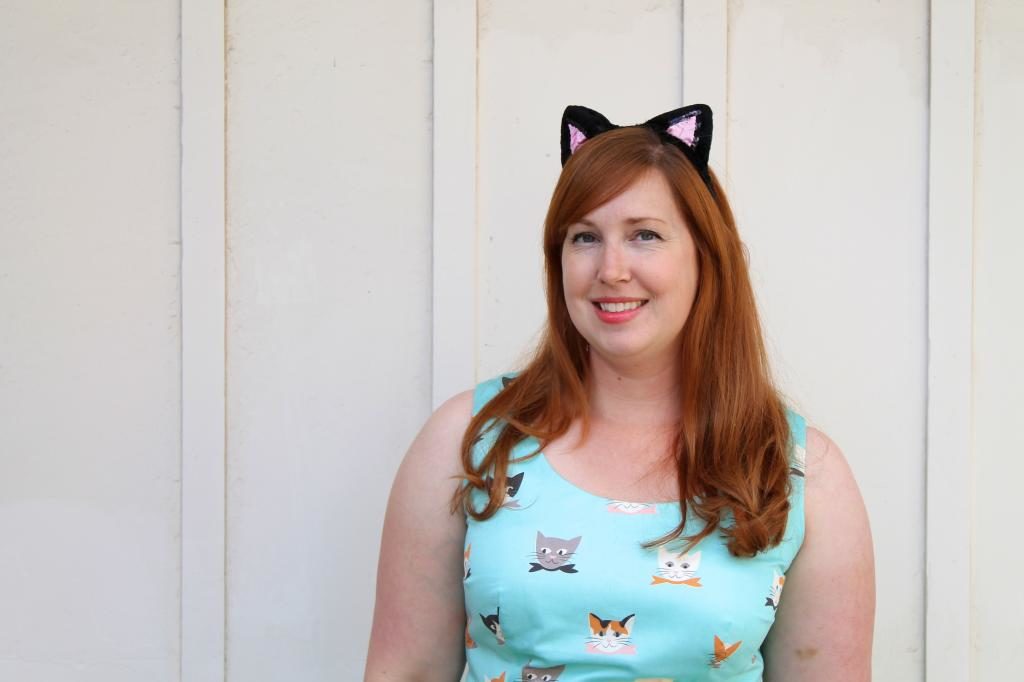 I chose this pattern,
McCall's 6955
for this dress, because I wanted a fairly simple design that wouldn't detract from the fabric. I'm happy with that choice, because this is a very straightforward pattern to sew and I think the shape is flattering on everyone. I did have to do a full bust adjustment on the bodice (another "first" for me) because the initial muslin was super tight around my chest. It took me a couple of tries, but now it fits very nicely. I added darts on the sides in the process and that really helped the fit.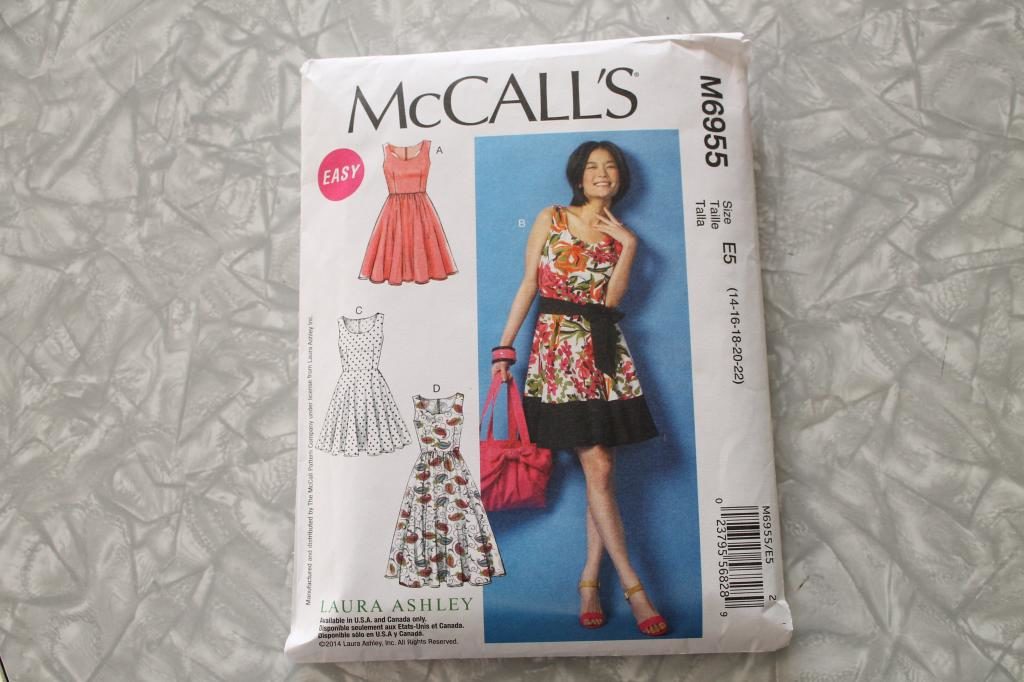 Here's a better view of the fabric: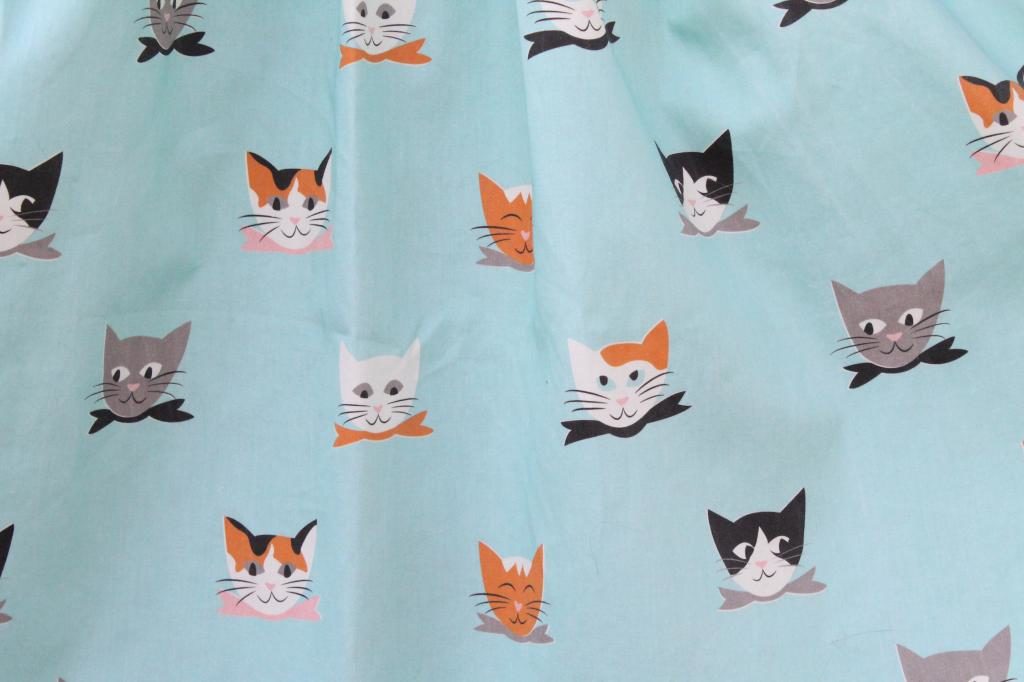 The pattern doesn't include pockets, but I decided to add them because pockets are awesome (especially on dresses). I used the pocket piece from the Sewaholic Cambie pattern, but I think I placed them a little bit too low. Oh well, they still work!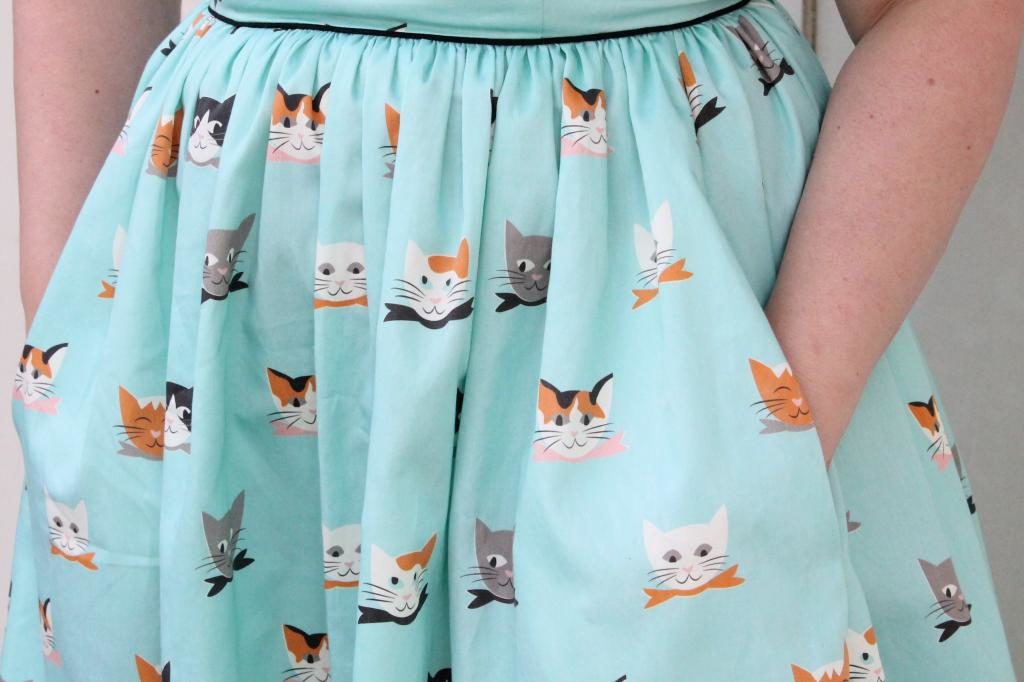 I have a bit of a thing for bows, so I tend to add them to everything. I wasn't sure if it really needs the bow in this case, so I made this one removable. What's your opinion- bow or no bow?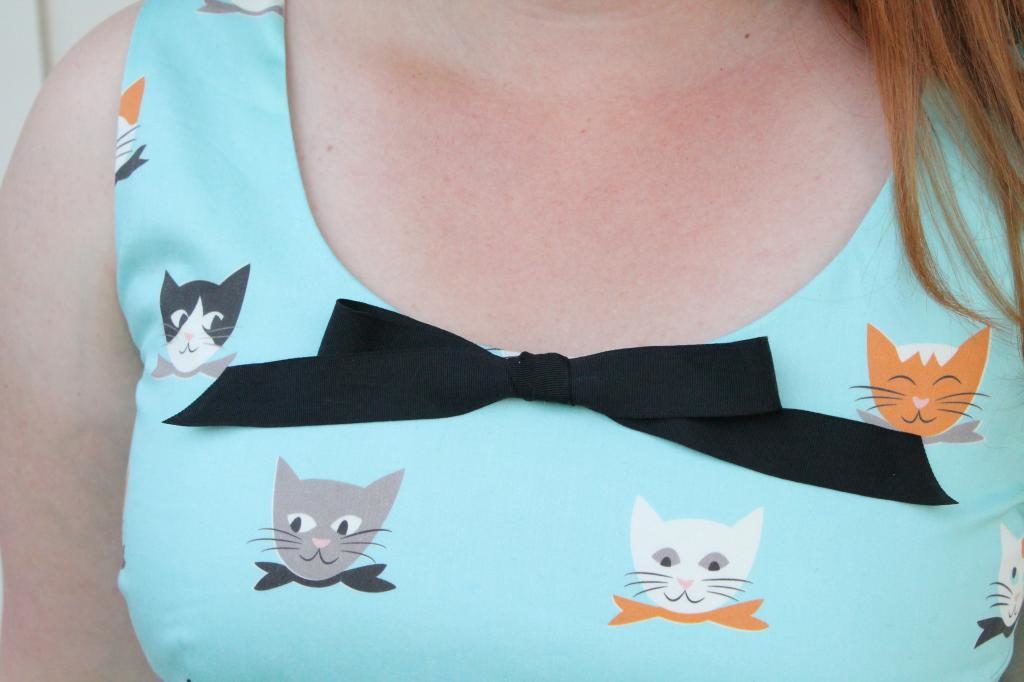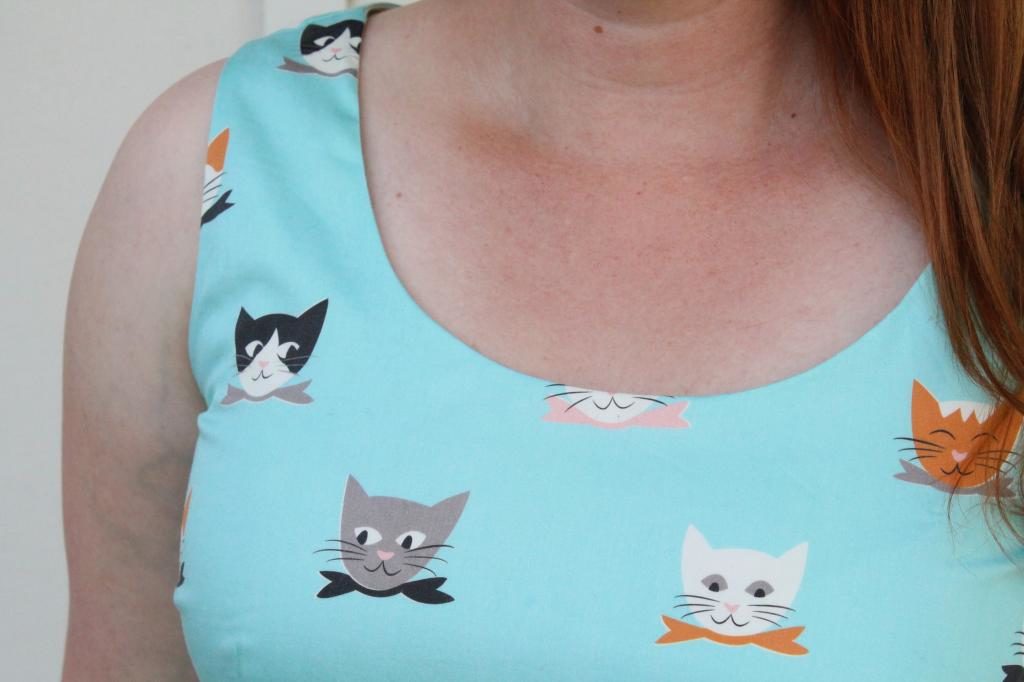 Naturally, I included Ruby and Bosley in the fabric design. Can you see the resemblance?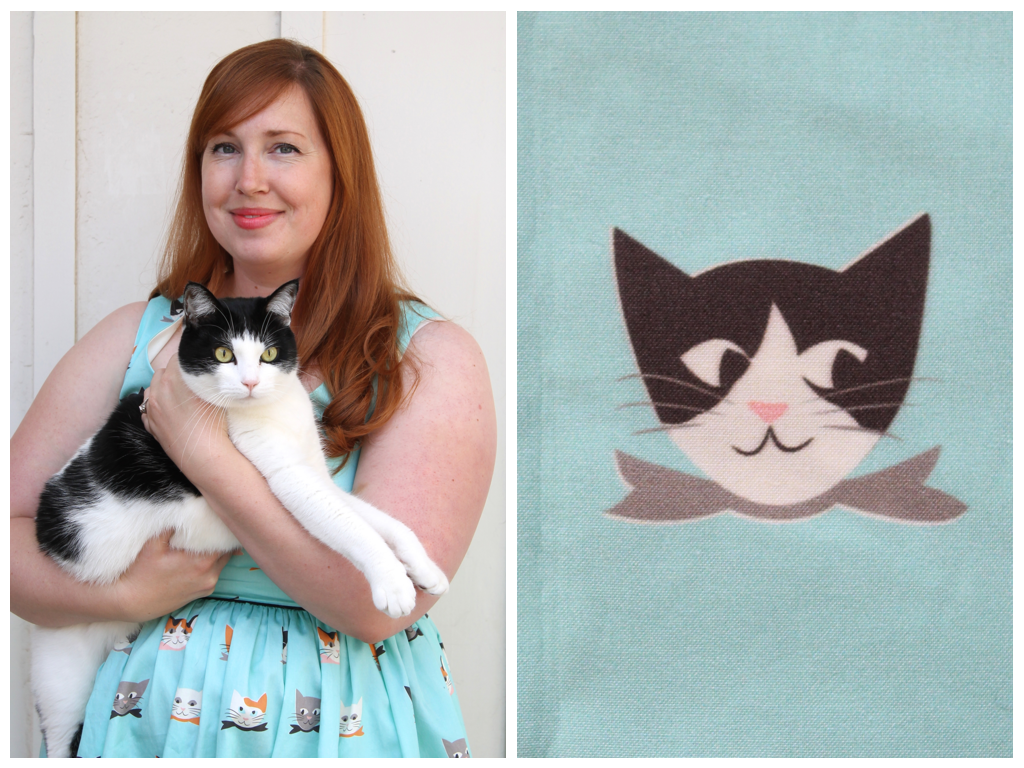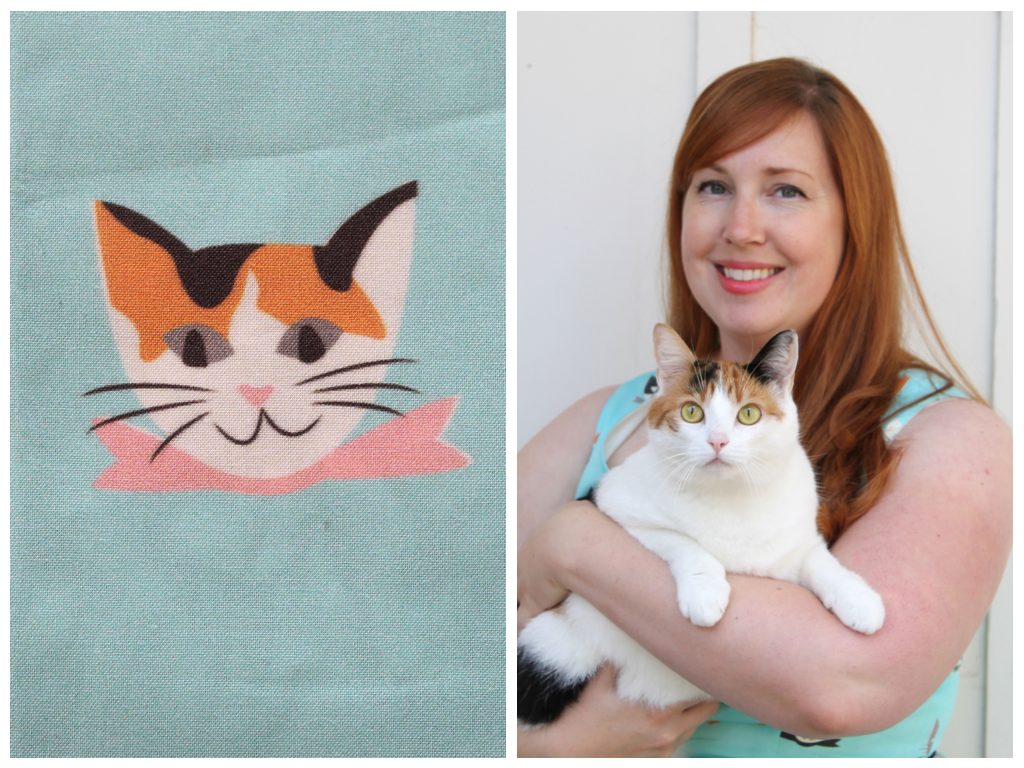 I also added some black piping to the waistband just to give it a little more detail. I originally wanted to add piping to the neckline and arm holes, but since the dress gets sewn together at the shoulders seemed like piping would get really bulky and hard to sew nicely.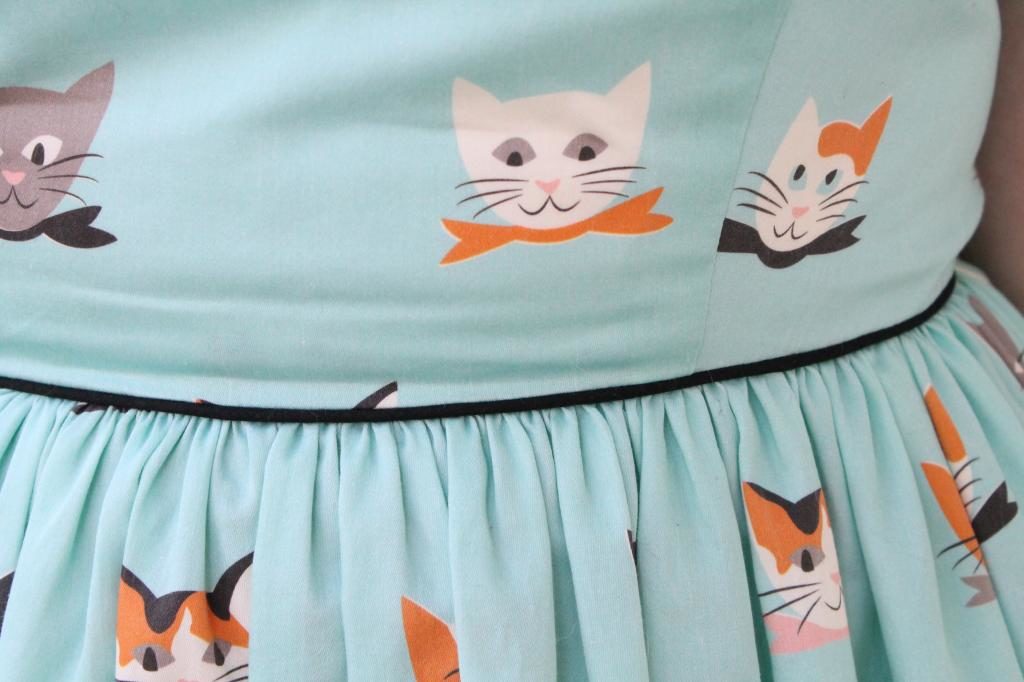 In fact, the piping did create a problem for me at the waistband. When I first sewed the invisible zipper in it was really, really hard to zip up where that section came together. Even after I finally got the zipper up it promptly came apart the first time I tried it on and I had to unpick all of the sitches and re-sew it. The second time, I sewed a bit farther away from the teeth on the section where the piping came together. The result is that the zipper shows quite a bit, but the dress is much easier to zip up, so I'm ok with it. Anyone have a better solution to this problem?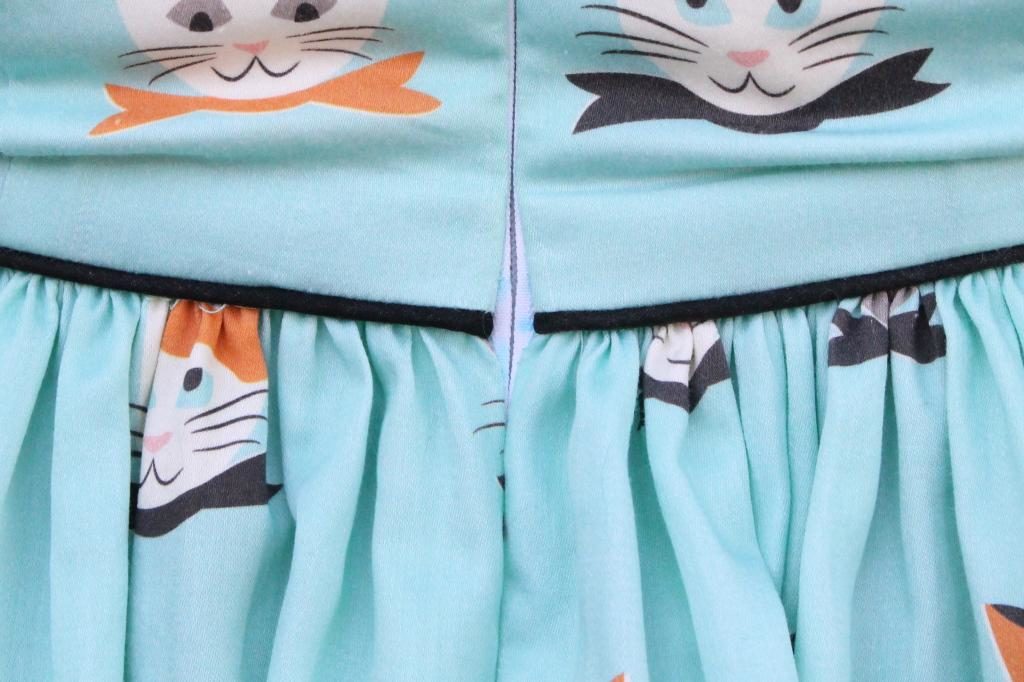 Pattern:
McCall's 6955
Fabric:
main:
Spoonflower
cotton sateen
lining: ivory cotton sateen
 Size: 16 (with full bust adjustment)
 Alterations: Added pockets, lengthened hem by 4 inches (version A), lowered back bodice
Trims: Piping and Petersham ribbon bow
Skill Level: Beginner to Intermediate
Thanks for stopping by! I can't wait to see everyone else's Cat Lady projects!