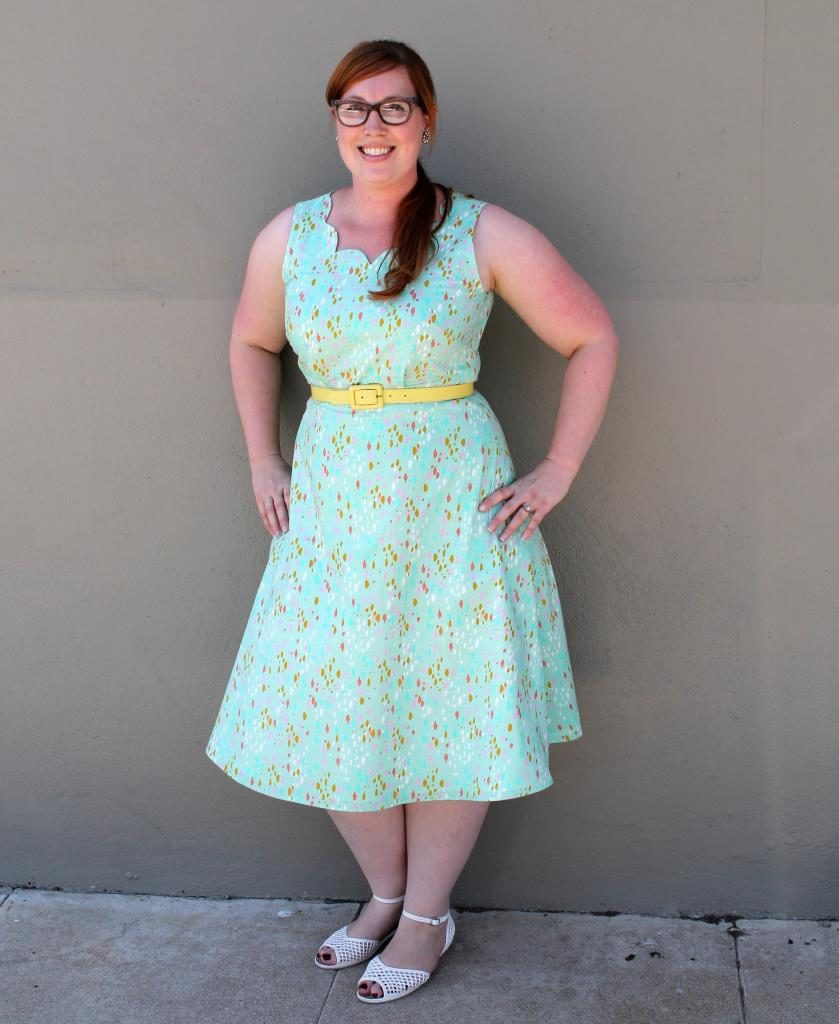 Hi guys, long time no see! I haven't posted for awhile but that doesn't mean I haven't been busy sewing. Today I wanted to share one of my latest projects- a vintage Advance pattern made up in some pretty Cotton and Steel lawn!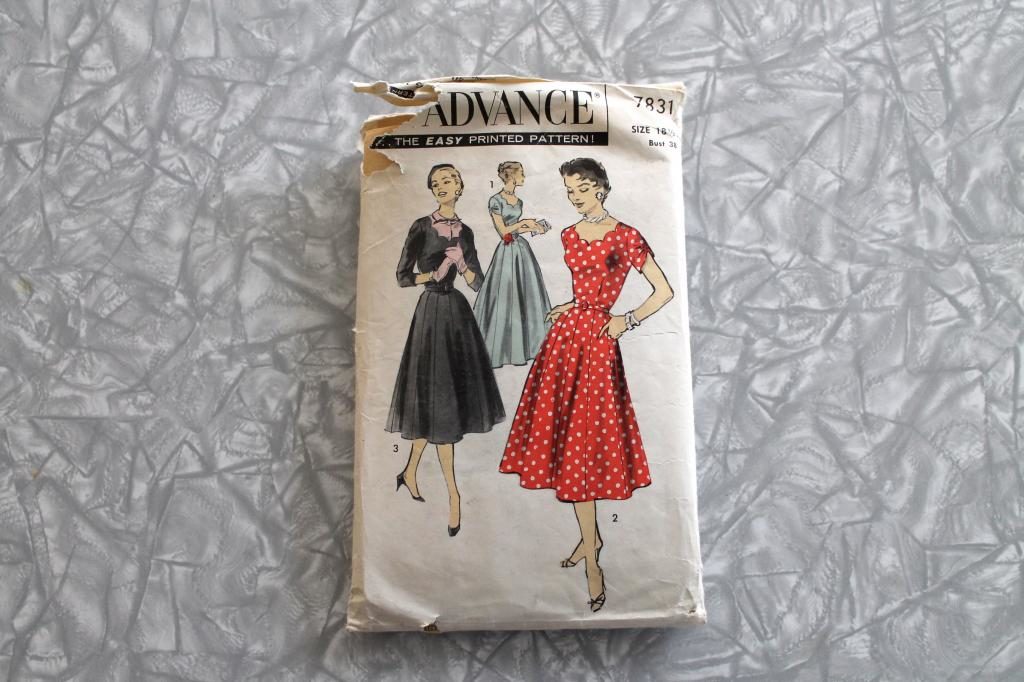 I'm usually not one to shop for vintage patterns online, since I already have such a ridiculously large stash of them already that I have yet to make. But when I was
searching for a wedding dress pattern
I came across this pattern on Ebay and I just had to buy it- I love the scalloped neckline and the fact that it was already my size and wouldn't require a bunch of grading.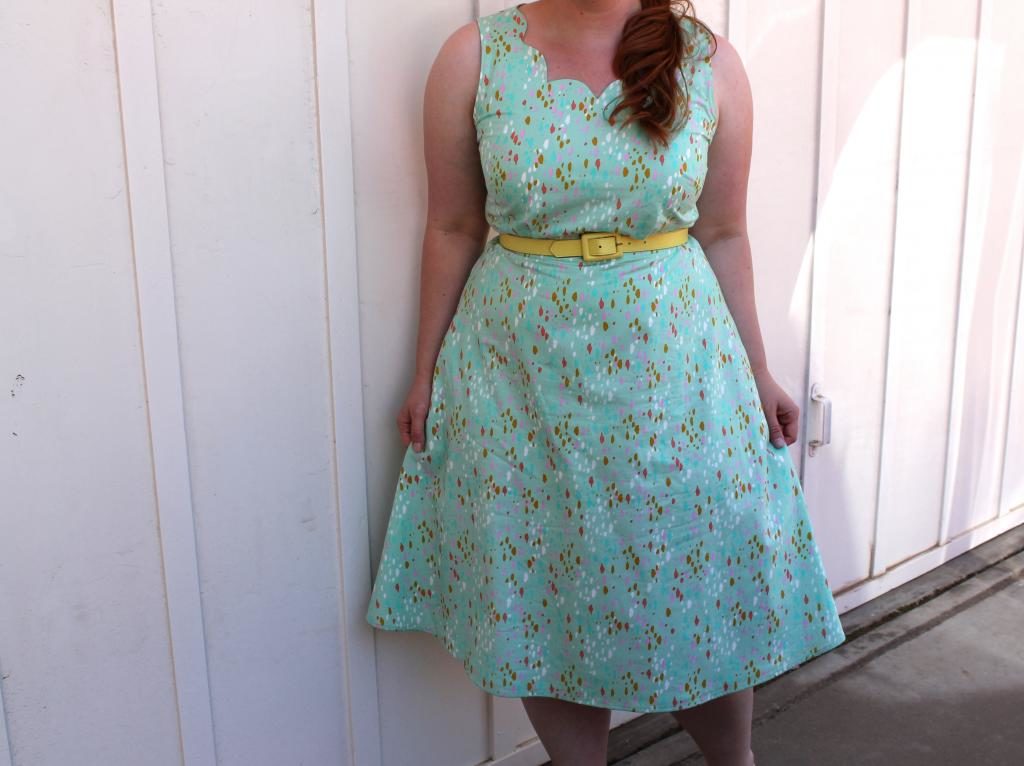 I'd been eying this mint green lawn ever since I saw the some sneak peeks of the
Cotton and Steel
collection online, so I knew it would be one of the few fabrics I would allow myself to splurge on. It's really pretty in person as well and has a nice, lightweight feel that's perfect for a summer dress.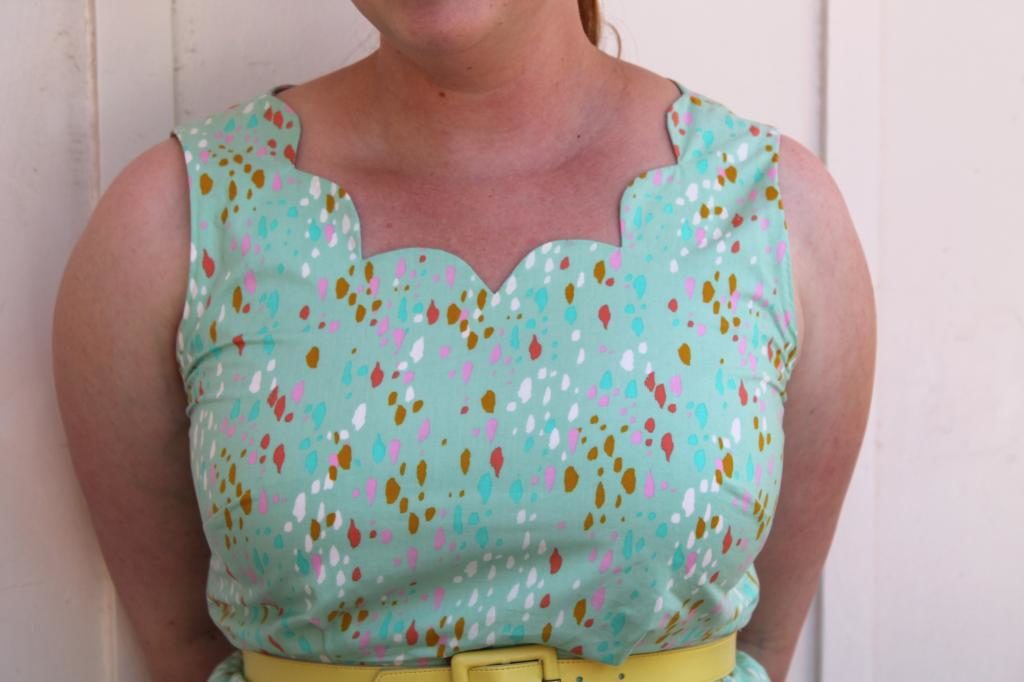 I ended up making a few different changes to the pattern. For one, you can see that I took off the sleeves. I had made the dress with the short gathered sleeves in the pattern photo and even spent some time adjusting them to fit, but once I had the dress together I felt like the sleeves kind of detracted from the scallop neckline detail and vice-versa. I think it would be cute to have either one of those design details but both on the same dress ended up being too much, so I opted to have a sleeveless dress and finished the armholes with some bias binding. I also changed the skirt. The one in the pattern was cute, but it consisted of eight separate gored pieces and I was pretty sure I wasn't going to have enough fabric if I did it that way. So I drafted my own simple flared skirt to go with the bodice using this simple method. I like how it turned out and the fact that, once again, the simplicity wouldn't detract from the scalloped neckline.
I ended up having to move the darts down on this pattern to fit properly (thanks to my sewing teacher for pointing that out!). That was the first time I had done this particular alteration and it really helped the fit on this dress. I used the method shown here and it was surprisingly simple. I was debating if I should have tried a full bust adjustment as well. I've never done one so I wasn't so sure. The dress fits my bustline but there is a teensy bit of extra room in the armholes. What do you more experienced sewists think? Should I try that next time?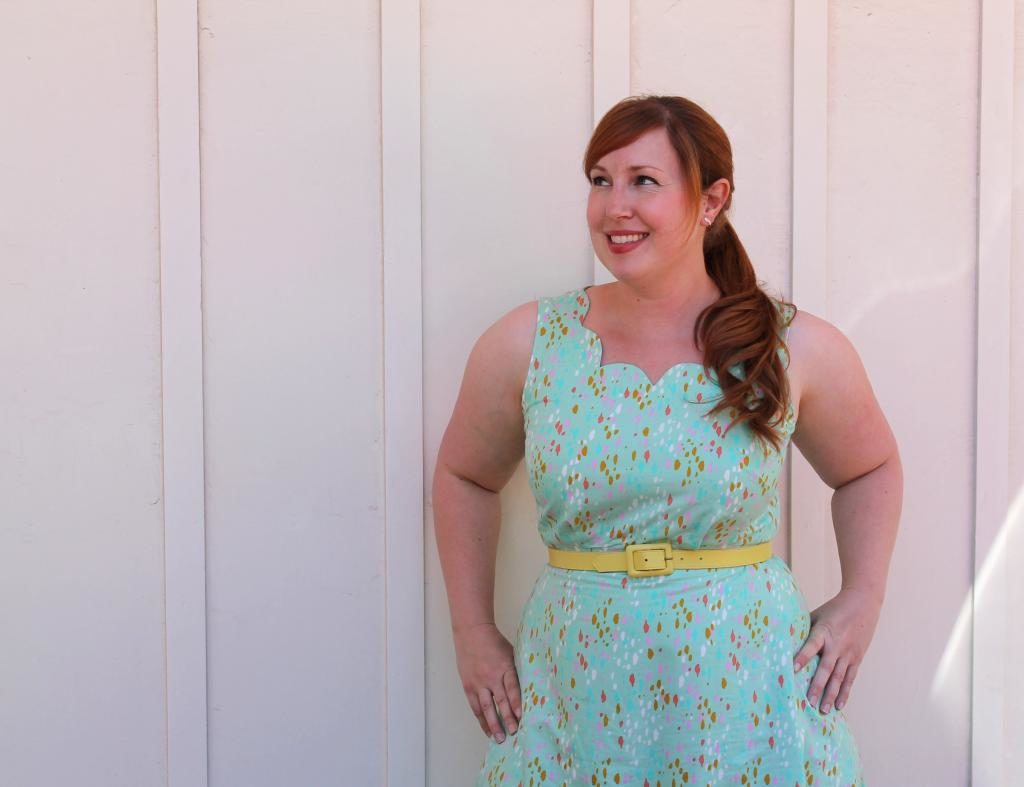 Size: 18 1/2  Bust 38 (vintage sizing)
 Alterations: Shortened hem by 4 inches, omitted sleeves, added full lining (rather than just a facing) and fusible interfacing on the lining around the scallops
I wore it for the first time to the Madonna Inn for some breakfast, so of course I had to take some photos! Have you ever been there? It's kitschy and adorable and reminds me of my grandma Mary Lou, who had a similar love of pink, roses, angels, and general maximal-ism in decorating.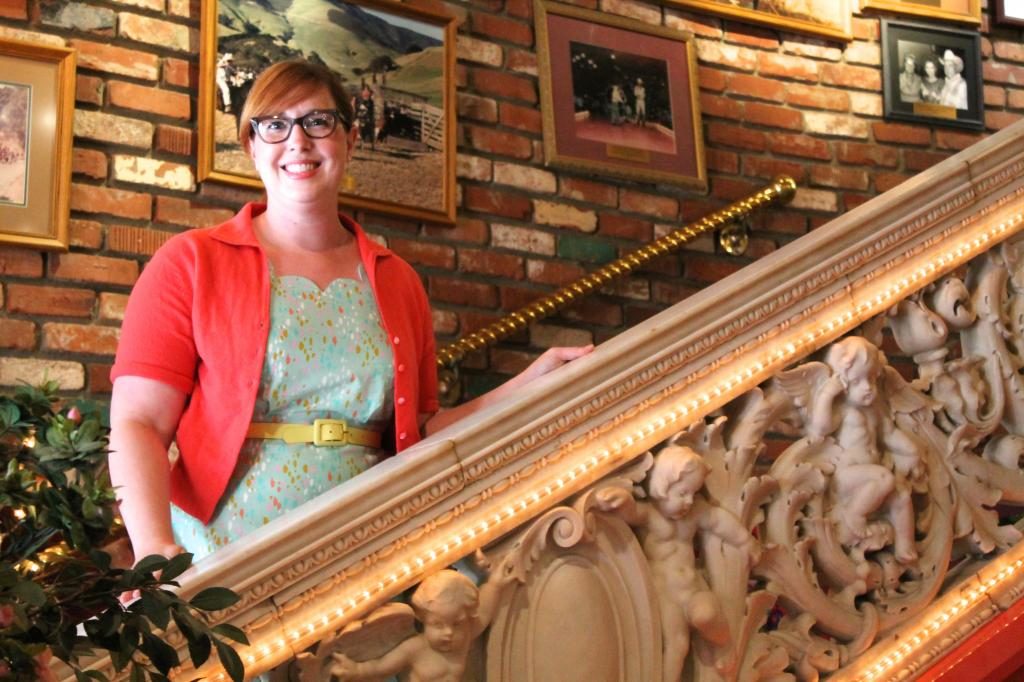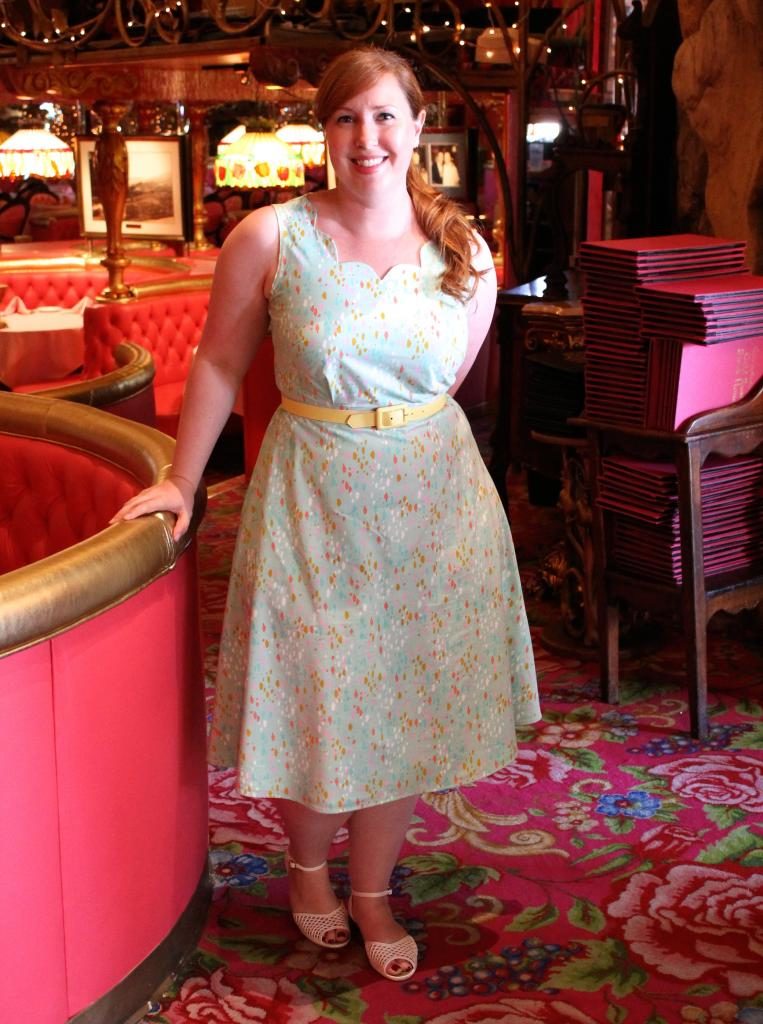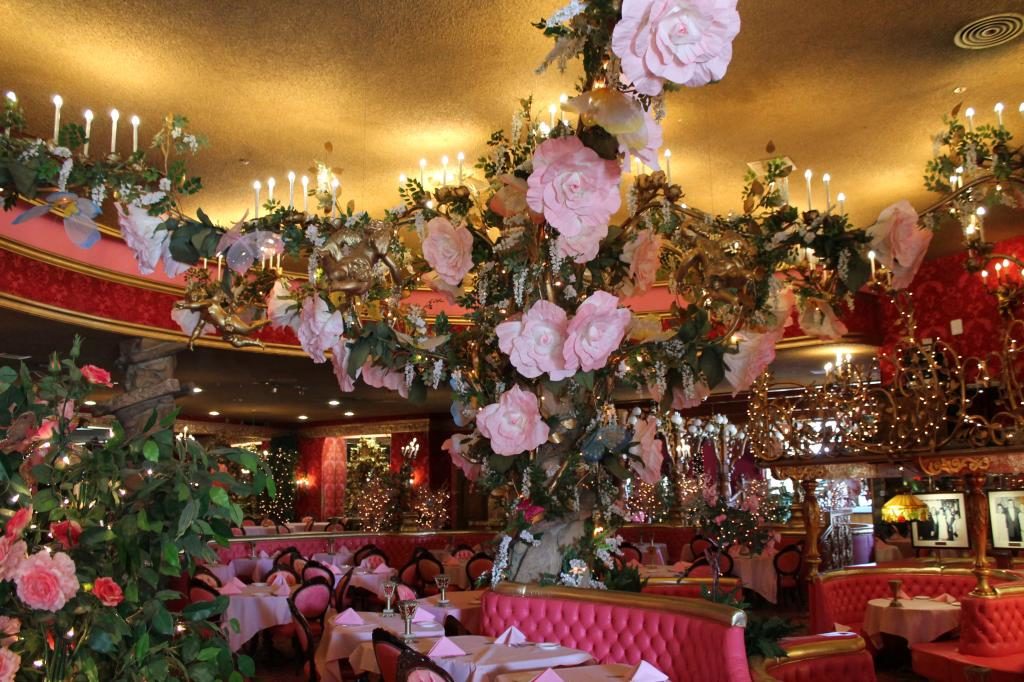 Thanks for stopping by!