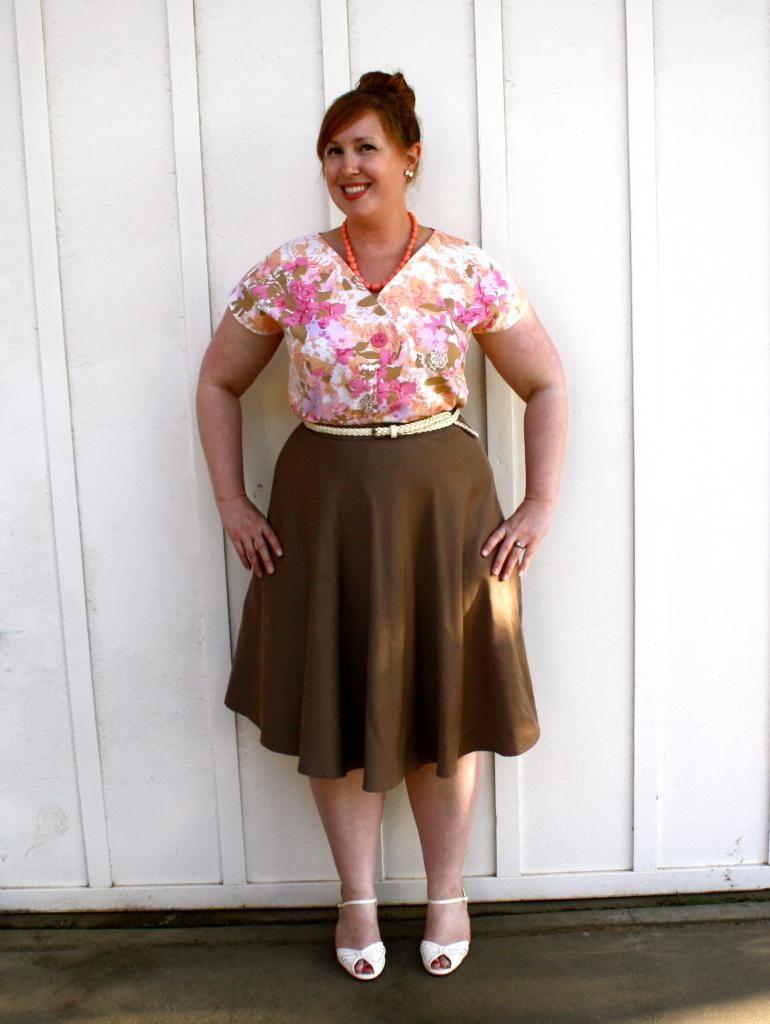 I was so tickled when Jen of
Jennifer Lauren Vintage
contacted me and asked if I would be a tester for her very first pattern release! I love Jen and her style and I knew it was going to be a great pattern, so I happily agreed.
The Afternoon blouse
is a very simple top that can be sewn in just a few hours, yet it has a pretty, vintage-inspired neckline detail (in two versions) that really takes it up a notch. I made two different versions- one in a simple cotton and one in a more drapey fabric with an added piping detail. They both sewed up nicely with very little fitting- all I did was take my measurements and make that size, which is rare for me- usually I have to adjust blouses for my curvy hips! In fact, it went together so well I was struggling to think of anything to give constructive feedback on as a tester!
Afternoon Blouse #1:
I decided to try out my first muslin version in a floral cotton sheet fabric I had on hand, just to make sure I got the fit right before I made a final version. Much to my delight, the blouse fit great without any alterations, and so my muslin became a wearable muslin! It has a fun, 1950's-ish vibe and I love how it looks tucked into a skirt.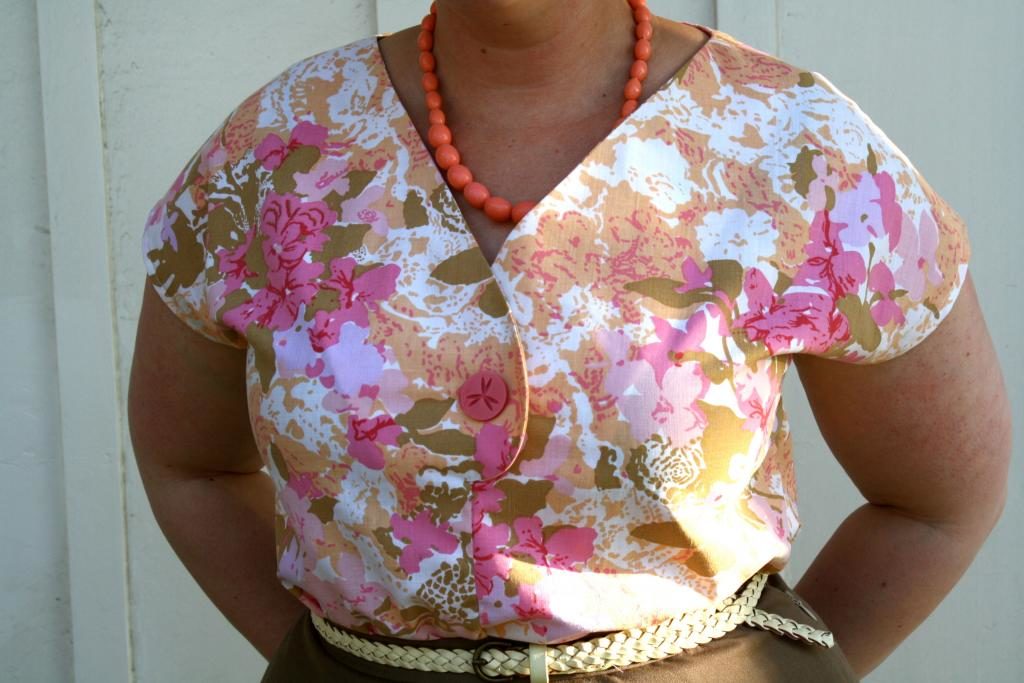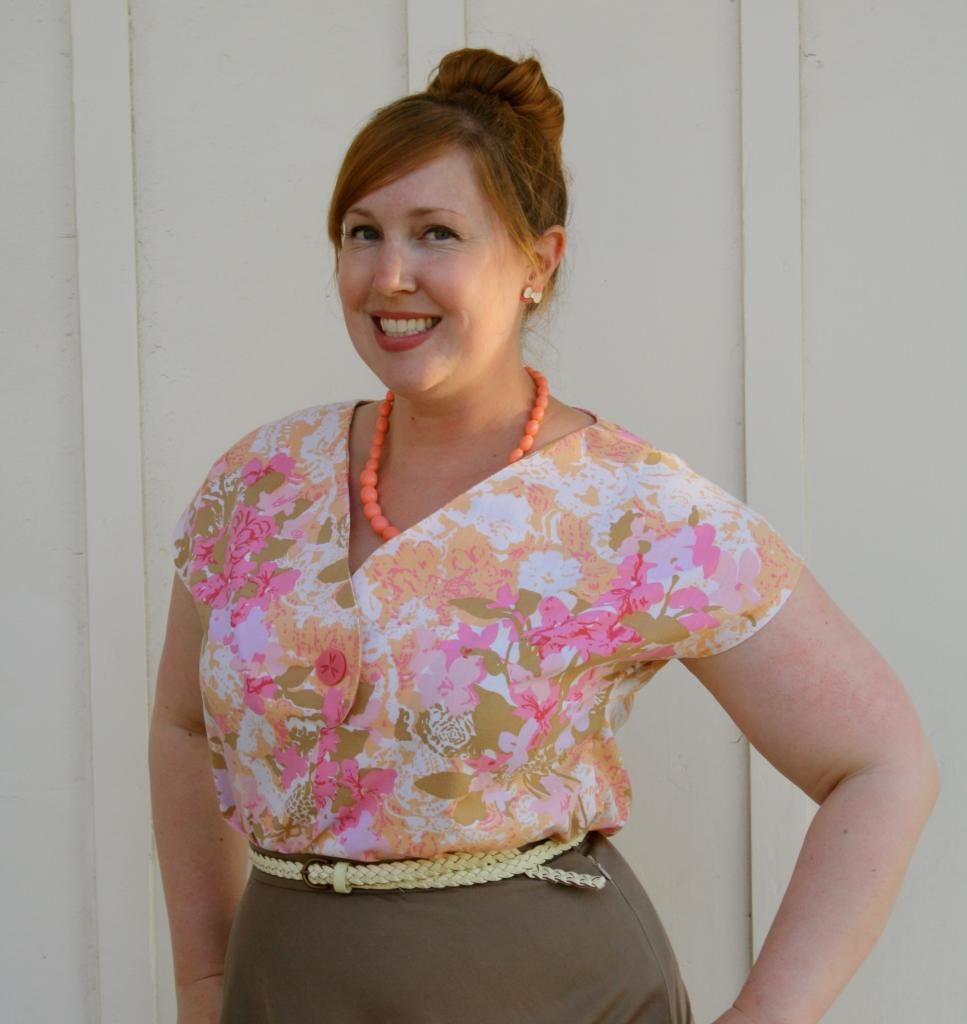 I finished it off with a pretty pink button I've had floating around in my stash forever: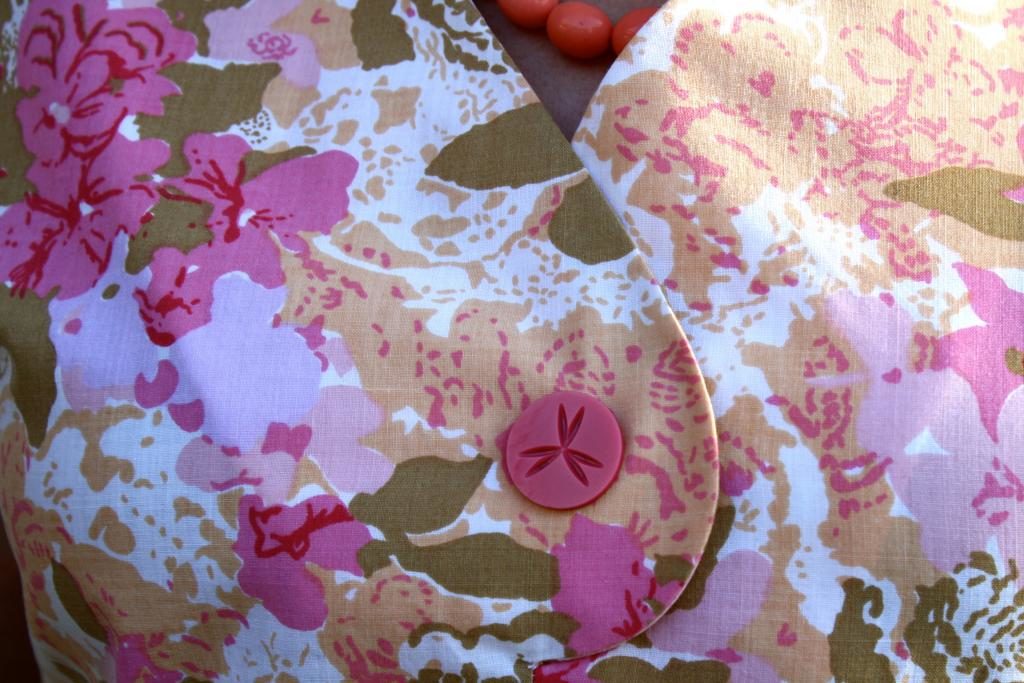 Afternoon Blouse #2:
I used a very different fabric for my next version- a silky, drapey teal and pink fabric which I picked up at an estate sale and am pretty sure is rayon. It was one of those serendipitous moments when I had exactly enough fabric for this pattern and no more to spare-it was meant to be! I really like the way the fancier fabric choice dresses up the pattern in this version. I also decided to add some piping to this one for a little added detail at the sleeves and neckline. This is something I could wear out to a nice dinner or drinks.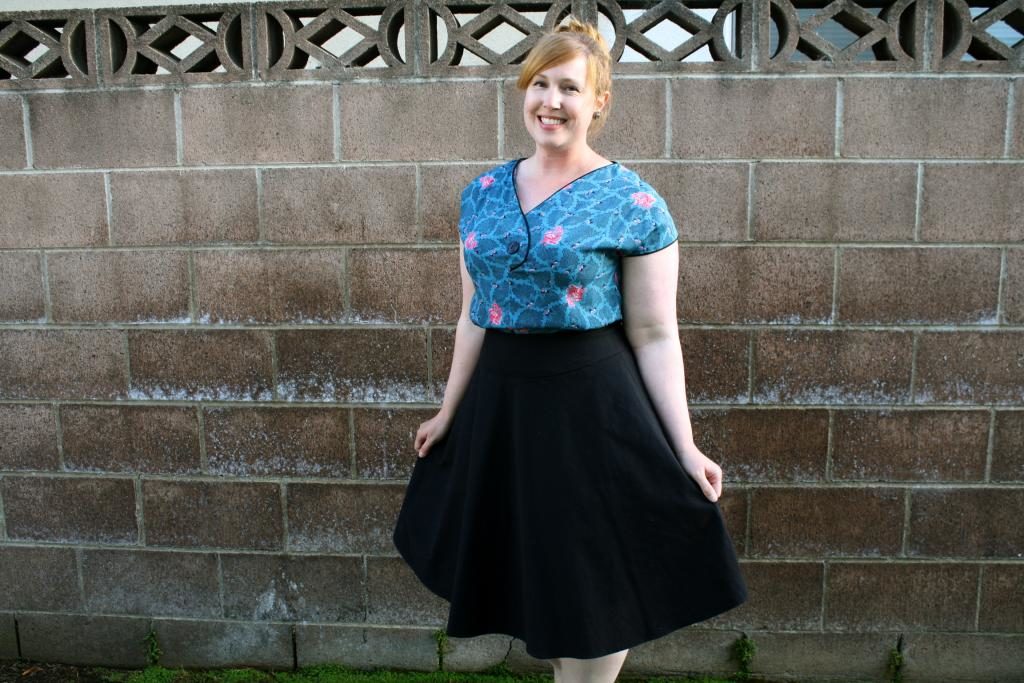 It also looks great un-tucked with my jeans, which are what I wear to work most of the time. Just add a black cardigan and flats and you're ready to go!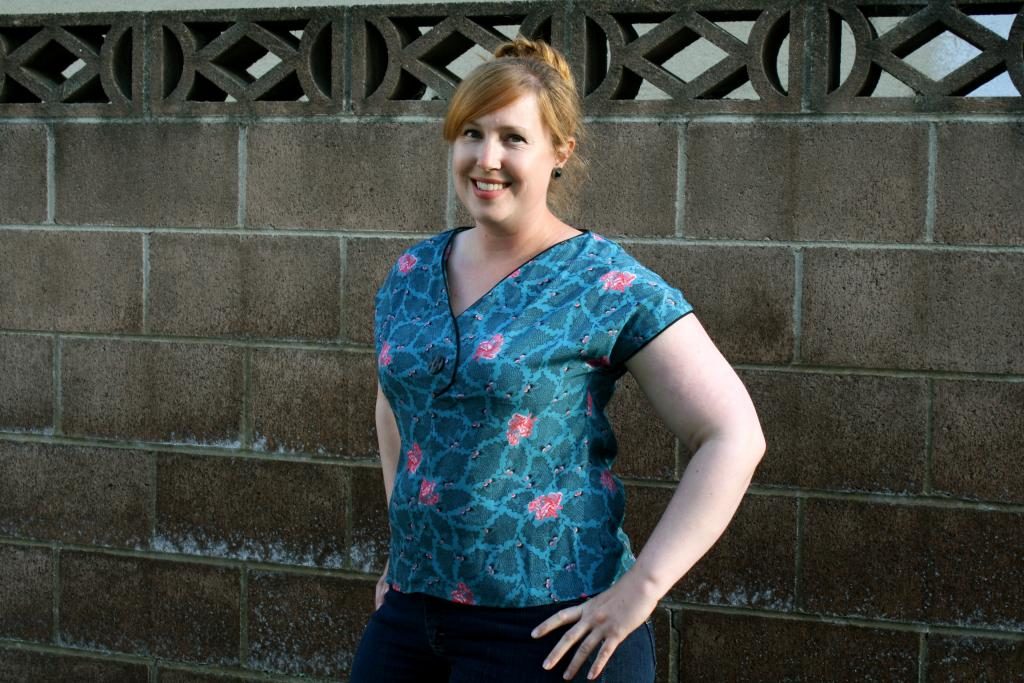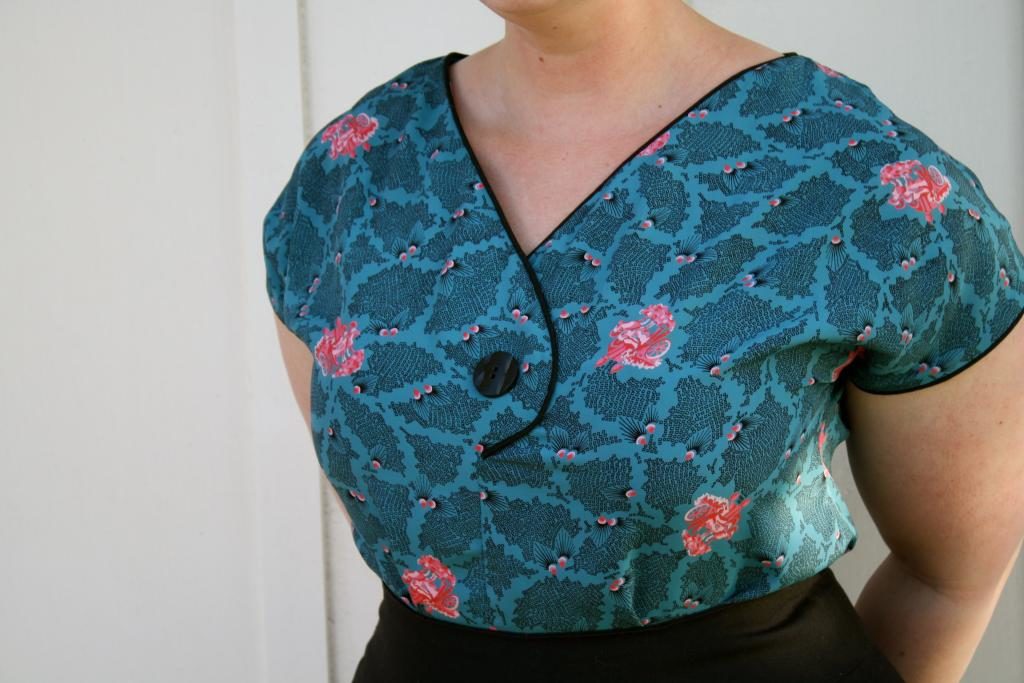 I used another vintage button for this version- it's such a great project to use a cool statement button and/or those "orphan" buttons that don't have any matches but are too pretty to get rid of! (Hope you don't mind an extreme boob closeup!)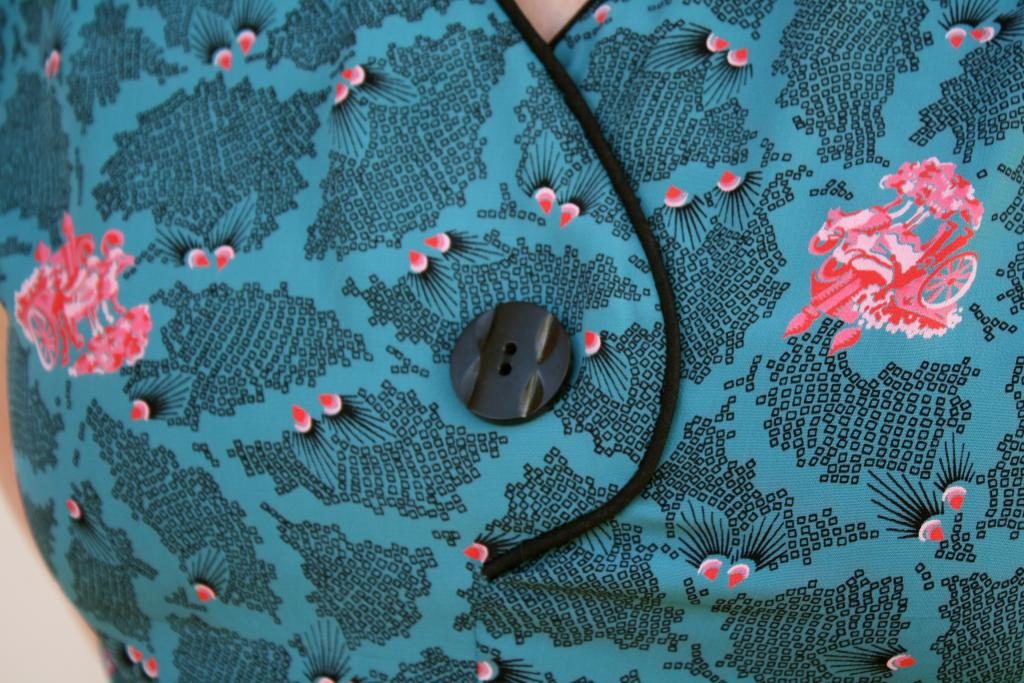 The Afternoon Blouse pattern is great because it's simplicity makes it really versatile. You can sew it up in a cute cotton for a casual summer top, or make it in a silky fabric for a more formal look. It looks great tucked into a skirt when you want a little waist definition and also just with jeans for everyday wear. It's a great pattern for beginners, though I think as an intermediate or advanced sewer you could have fun playing with fabrics and details, like the piping. I still need to try the other neckline version with the triangular neckline detail. I'm also contemplating trying out my own version with darts and adding a side zipper- so many possibilities!
Have any of you made the Afternoon Blouse yet? What did you think?