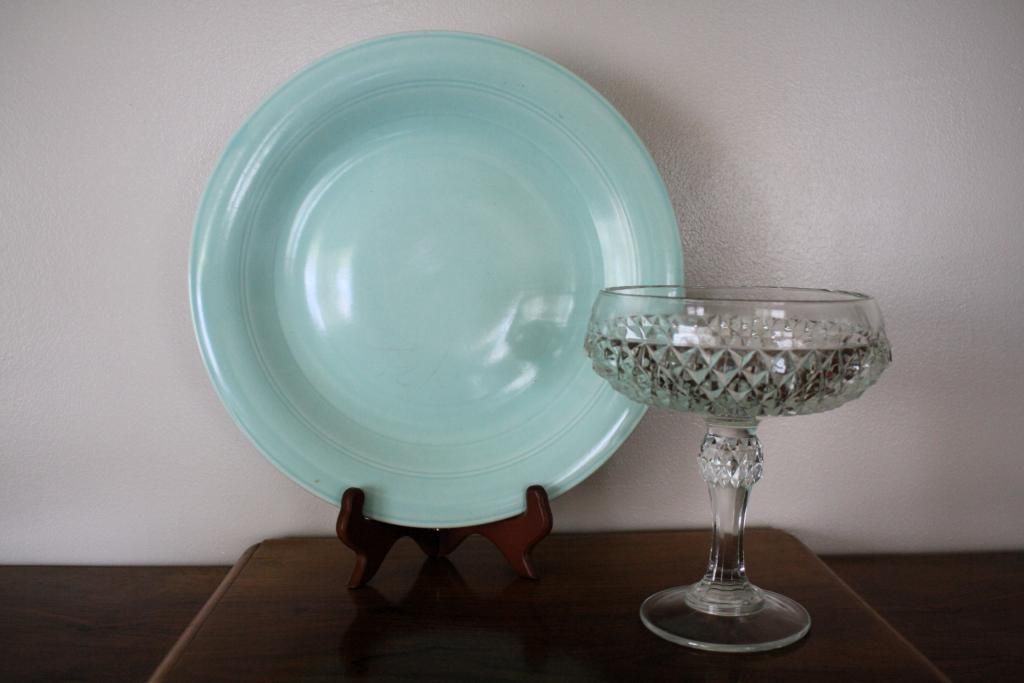 Hi everyone and welcome to this week's edition of Thrifty Thursday, where I share my weekly thrift store/swap meet/estate sale finds.
We had another great week of thrift and estate sale finds! First off, Phillip and I decided to stop by one of our favorite thrifts one day after work last week, and I'm pretty happy we did! I picked up the mint green platter above (Vernon of California) and the large goblet for a little wedding-related project: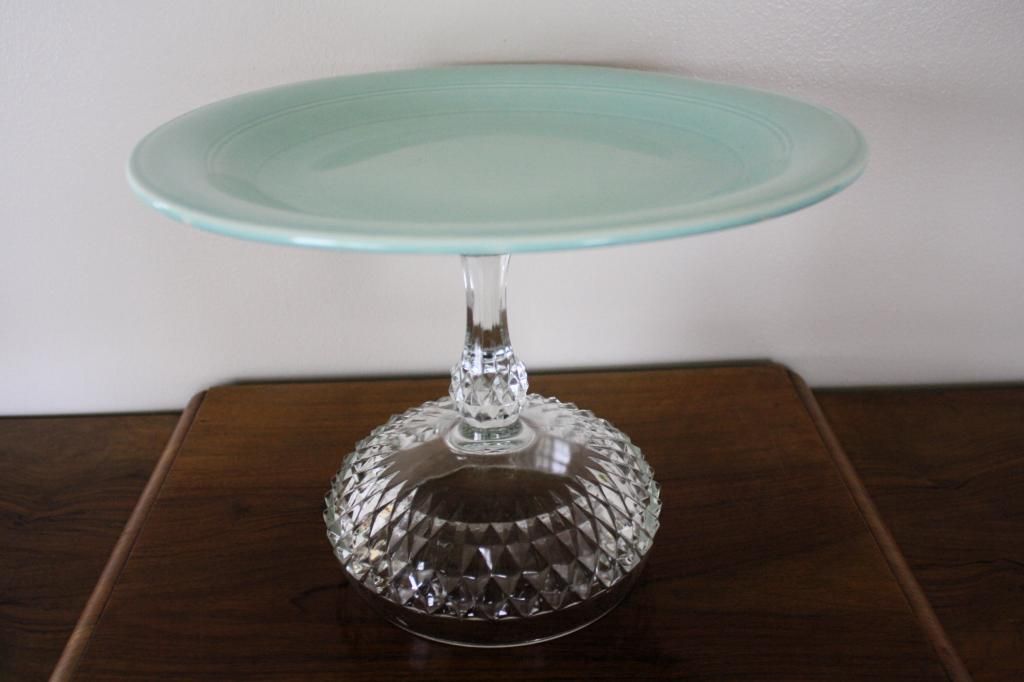 A super-cheap cake stand! I want to have a variety of smaller cakes instead of one big one, all on different cakes stands. The real deal is pretty pricy, even for non-vintage so I'm keeping my eye out for cute platters and goblets that I can attach together and make my own. I can even paint the goblet to match, but I'm kind of into this mixed-materials look.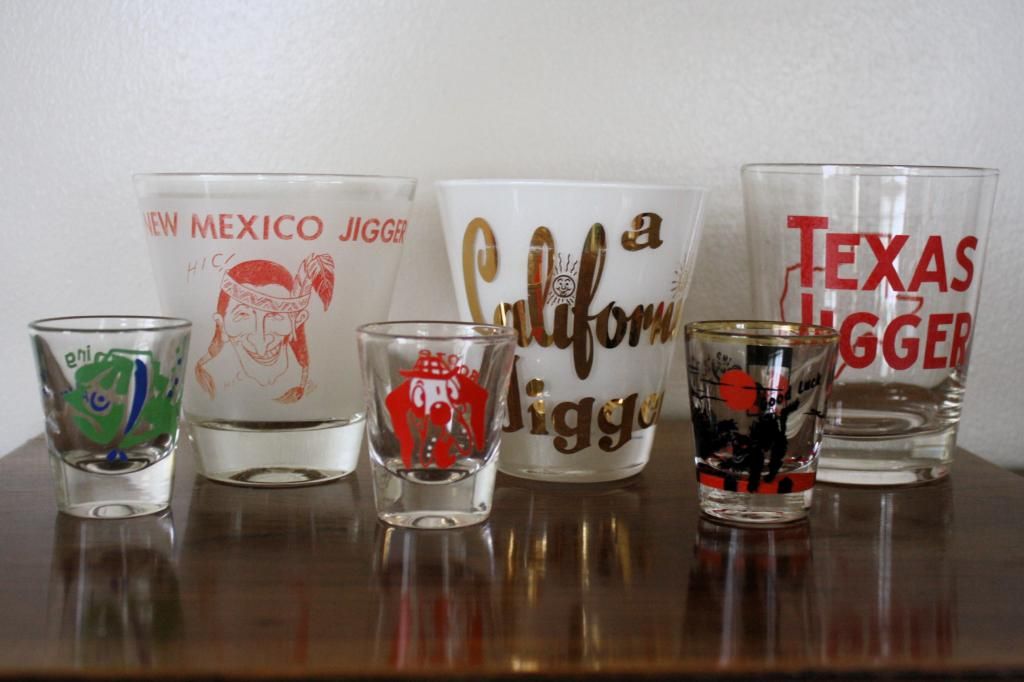 Some more great finds on the same thrifting trip: New Mexico, Texas, and California "jigger" glasses and some cool shot glasses too.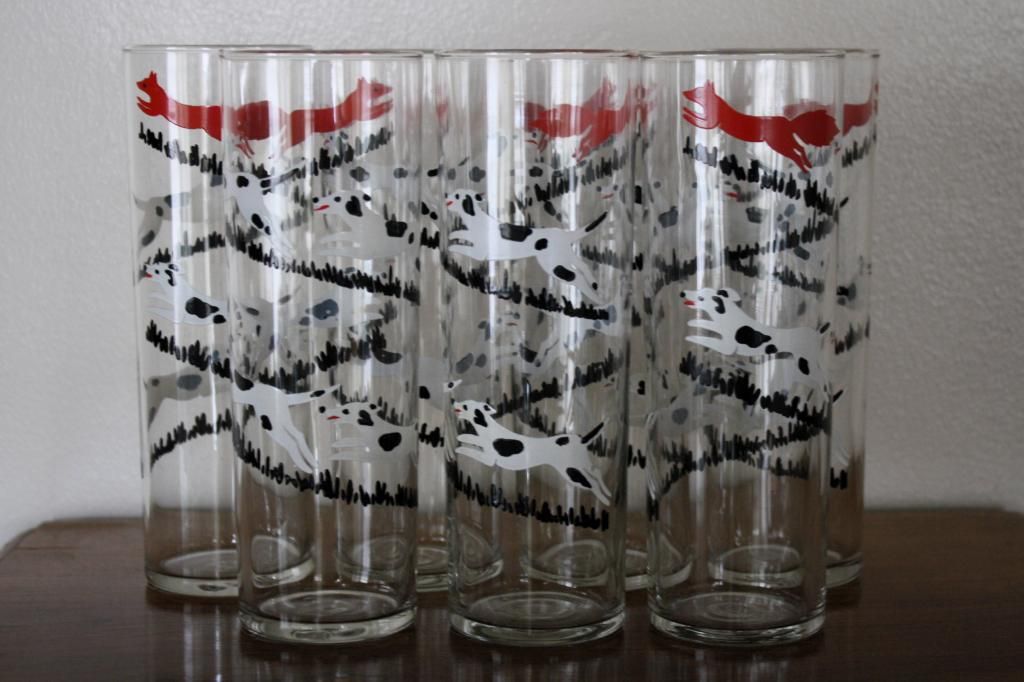 Keeping with the glassware theme that day: a set of Libbey "Tally Ho" glasses featuring dogs and foxes! Someone must have downsized a pretty amazing barware collection recently!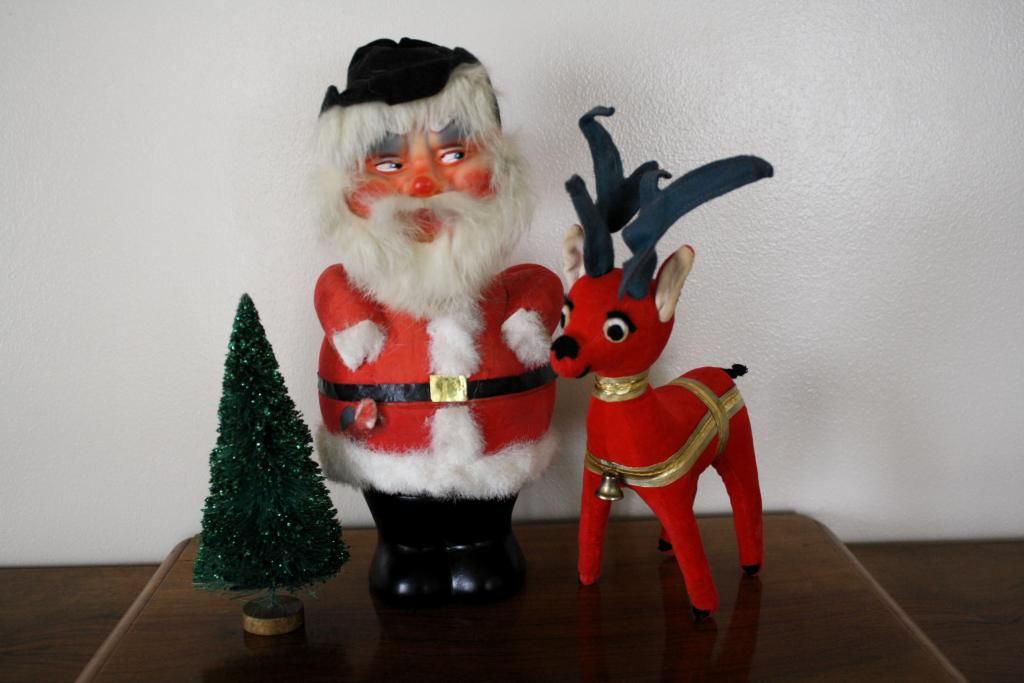 A day or two later, shopping on my lunch break, I found this awesome Santa! I know he's a little funky-looking (he looks kinda like a hobo or a salty old sailor), but I knew Phillip would totally dig him so I picked him up for our collection. He's actually a box- separating at the belt, and the only markings on him say "West Germany." Anyone know any more about him?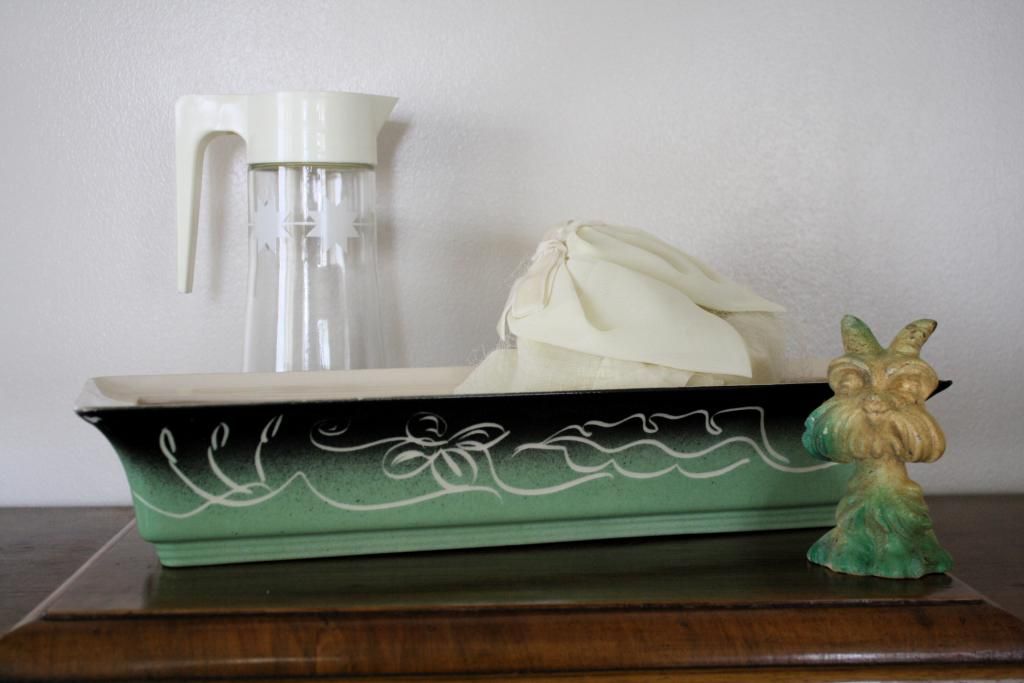 On Saturday, we went to a pretty great estate sale and one that was just ok. I picked up this cool planter, dog, and hat at the awesome one. I'm thinking the planter would be cool to use in the wedding somehow. The pitcher is one of the few things I picked up at the "just ok" sale.
We picked up these flour and sugar canisters at the great sale for $5 each, I love the colors! I was tempted to keep them but in the interest of making money and de-cluttering they went to the space.
We found even more of this gorgeous teal and white Samsonite luggage! Since I already have a set they're headed to the antique space.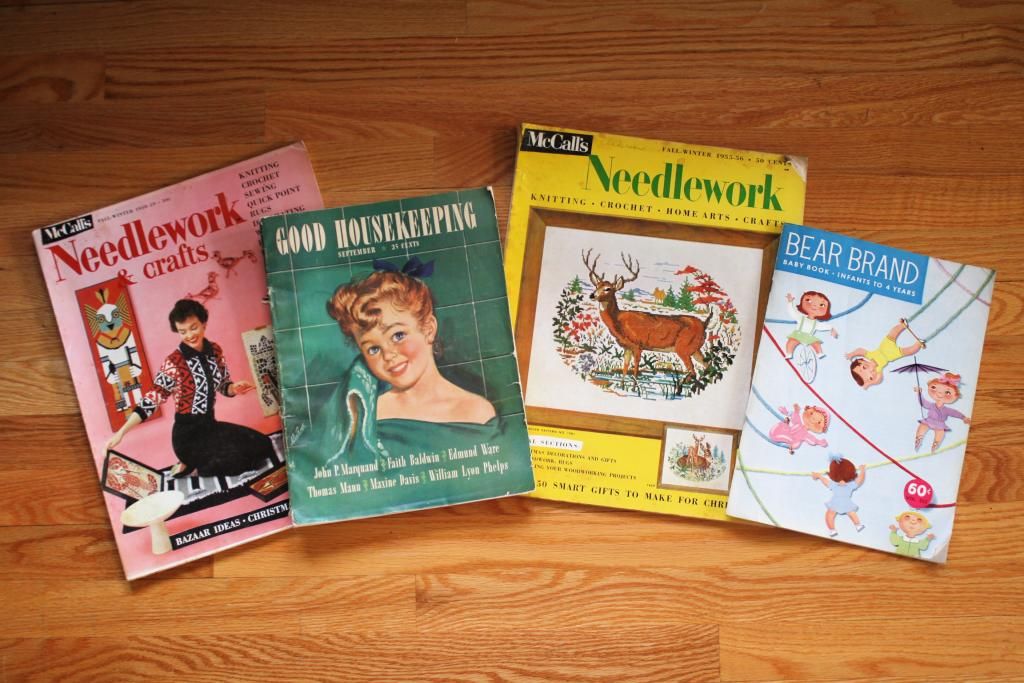 I missed out on a whole cabinet full of vintage patterns at the "just ok" sale! Someone had already bought the whole thing by the time I got there. Oh well…you win some, you lose some! I did manage to score some cool 40's and 50's magazines and a knitting book. The articles and advertisments are so fun to look at! I'll try to post some peeks inside soon.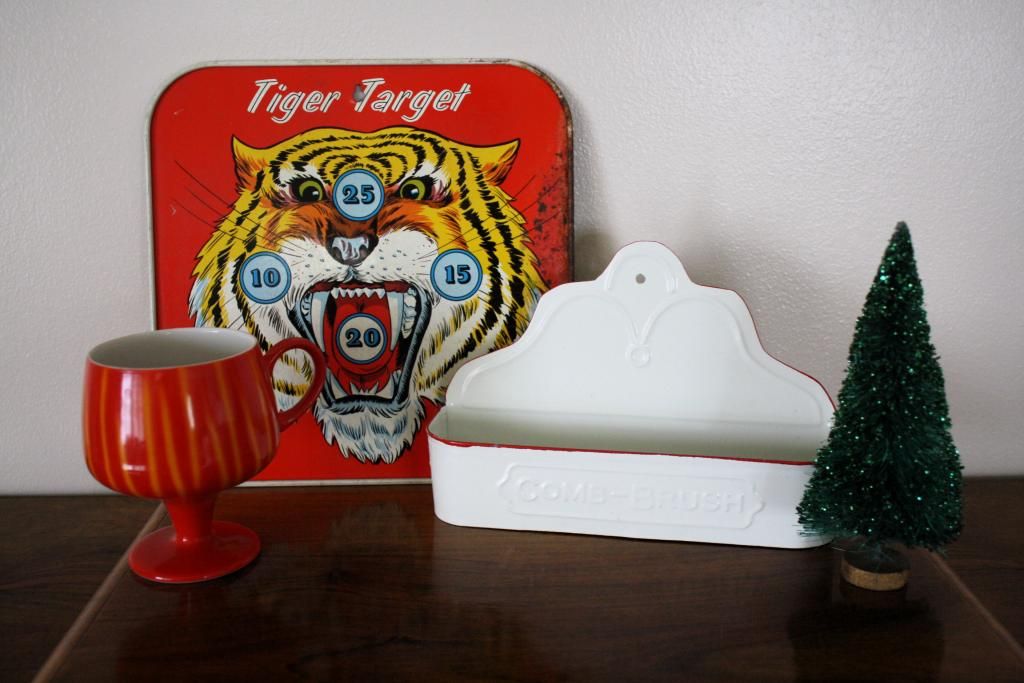 We did a bit more thrifting on Sunday and picked up some odds and ends, like this bright red stripey mug, a tin comb and brush holder, the "tiger target" and a little glittery Christmas tree.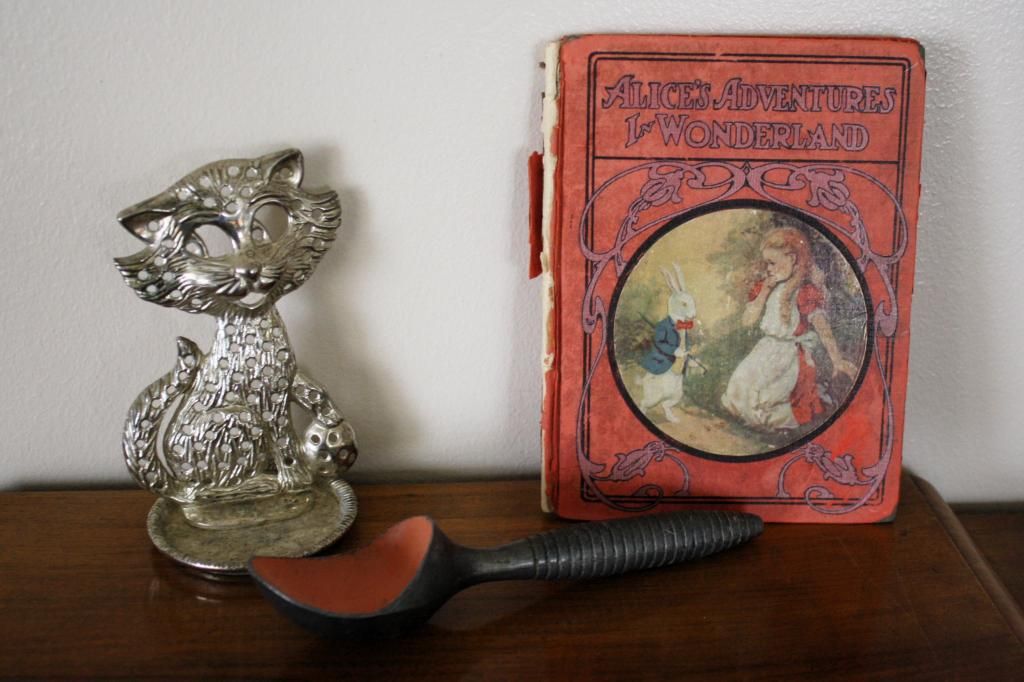 This silver cat earring holder was another thrift find, and the ice cream scoop and the book are from an estate sale we went to a couple of weeks ago. Those were pretty much the only good things there!
And last but not least, a thrift trip earlier this week yielded this glass piggy bank and "hillbilly" mug, both of which are destined for the antique space!