Hello everyone! I know there are a ton of dyed bottle brush tree tutorials floating around the Internet these days, but I thought some of my fellow vintage lovers might like to see my mid-century inspired version! I always lust after the adorable decorated trees I see in the antique stores, but the cheapskate in me is rarely willing to pay the high prices that are inevitably asked for them. I figured it would be pretty simple to make my own.
I actually began this project last Christmas, if you can believe it. I got as far as bleaching the trees but I never finished them. Now that I've finally gotten some time off I decided to finish what I started a year ago. I spent yesterday dyeing trees and last night decorating them all cutesy and sparkly. I know they might be a little tacky for some, but I love how they turned out!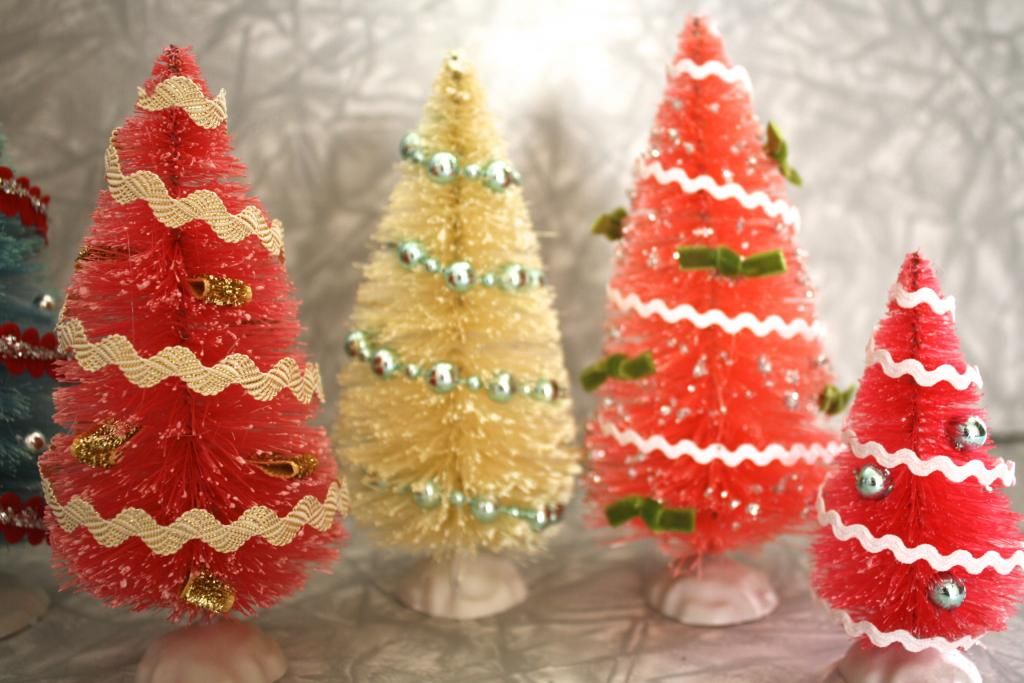 Here's how to make your own:
• Bottlebrush trees (you can find them at craft stores)
• Bleach
• RIT dye
• Decorations (bead garland, glitter, ribbon, rick-rack, mini ornaments, etc)
• Glue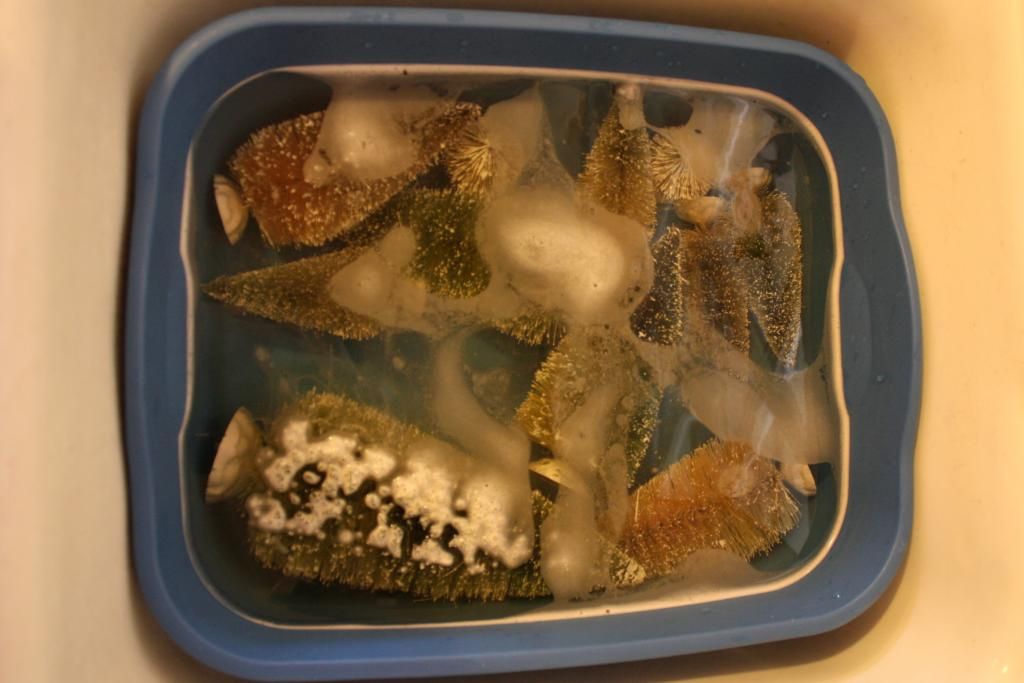 I bought a pack of bottle brush trees at Jo-Ann for $6 and also grabbed a couple of single ones. My sink doesn't hold water too well, so I bought a basin at the Dollar Store to soak them in. Begin filling the sink or basin with hot water and then add about a cup of bleach. Add water if you need to until the trees are just covered. The trees should pretty quickly begin bleaching out, like the photo above.
(Note: be careful when pouring the bleach! I actually got bleach in my eye when I was doing this. It was not fun. You might want to wear glasses/goggles or at least turn away while you pour)
Here are my trees about an hour later, almost finished bleaching. When they are done to your satisfaction (keep in mind that they probably won't get bright white, but more ivory). Drain the bleach water and rinse your trees thoroughly with fresh water.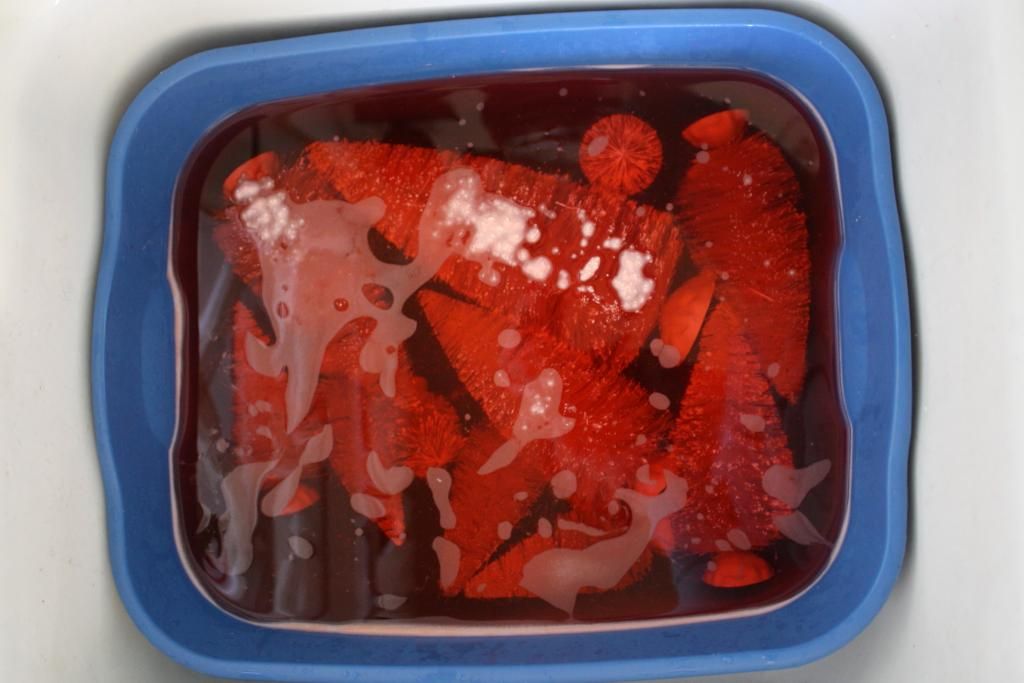 Fill the basin once again with hot water and add your dye. I added about four tablespoons or so. I dried the first batch of trees before dyeing them, but not the second, and they both absorbed the color well so I don't think drying between steps is necessary. I only had my trees in the dye for about 5 minutes- it works really fast! Once the color is how you like it, take your trees out and rinse them well with fresh water once again. Put them on a rag to dry (don't use a nice dish towel as some dye will inevitably get on it).
Here are the colors I used and below is a picture of how the dyes turned out: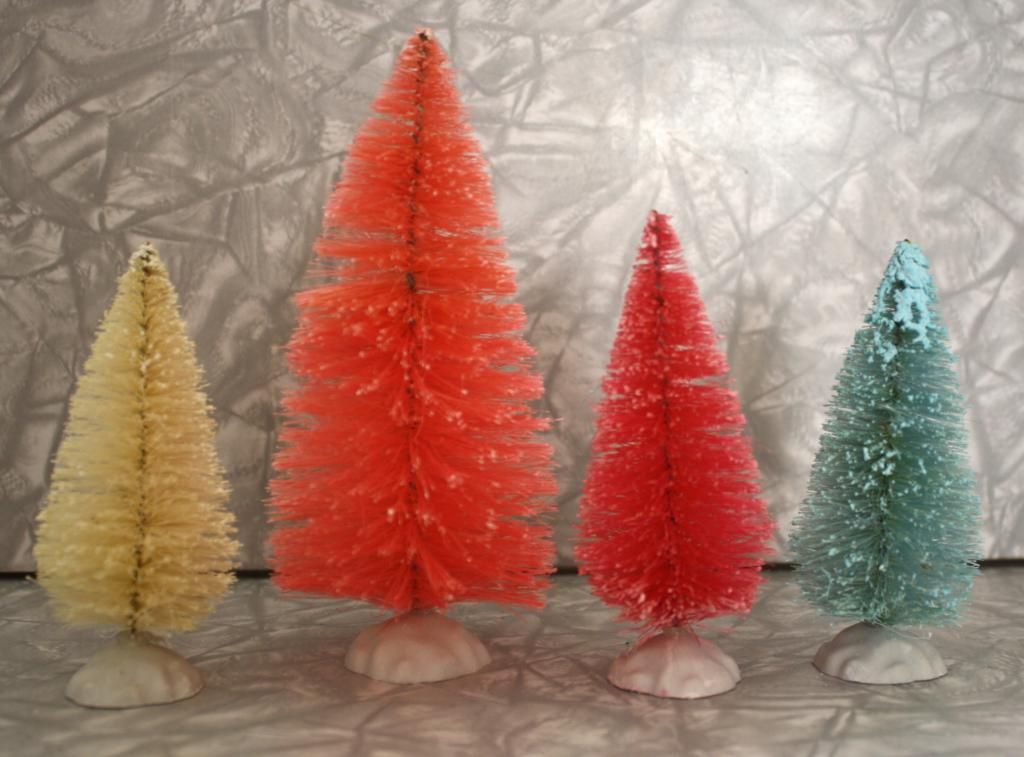 From left to right: un-dyed, petal pink, fuchsia, and aquamarine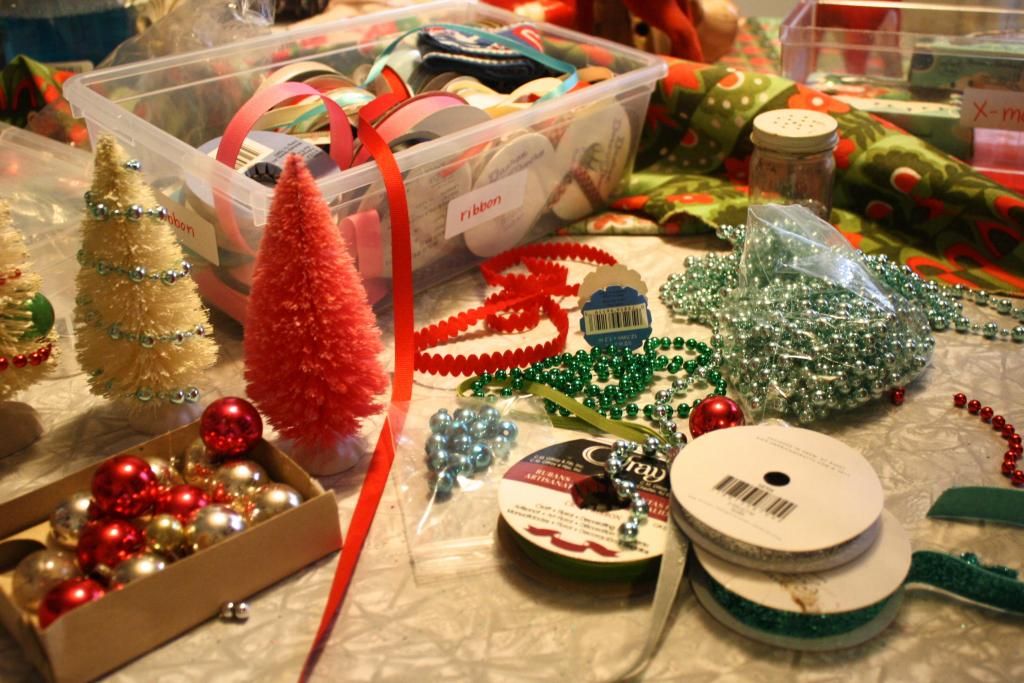 Here you can see my table as it looked while I decorated my trees. I used some things I had on hand:
• Vintage mini-Shiny Brite ornaments
• Ribbon (sparkly ones are from Jo-Ann)
• Bead garland
• Glass beads
• Glitter
I used both hot glue and Tacky glue. If you're accident-prone like me you might want to stick to the Tacky glue!
I hope you enjoyed this tutorial! If you make your own post them and leave a link in the comments. I'd love to see what you come up with!
I hope you're all having a wonderful holiday season 🙂