I don't have a whole lot of items for this week's Thrifty Thursday. It has been kind of a bad week for thrifting and both me and Phillip only found a few items worth bringing home (and most of them were found yesterday). We just started selling in a new space at the Village Antique Mart in the village of Arroyo Grande (more on that soon!). It's just a shelf, but between our two spaces at the Depot in Los Alamos and this new one, we found ourselves in the unusual situation of not having enough stuff! So we were anxious to find some good items to stock our new space, and it seemed like there was very little to be found. Isn't that always the way these things go?

Most of these were actually found yesterday, when we did a little bit of thrifting after I got off of work. Phillip found the owl lamp above at Shamrock Thrift shop for just $3! It has been repaired, but it's still awesome! Here's what it looks like all lit up: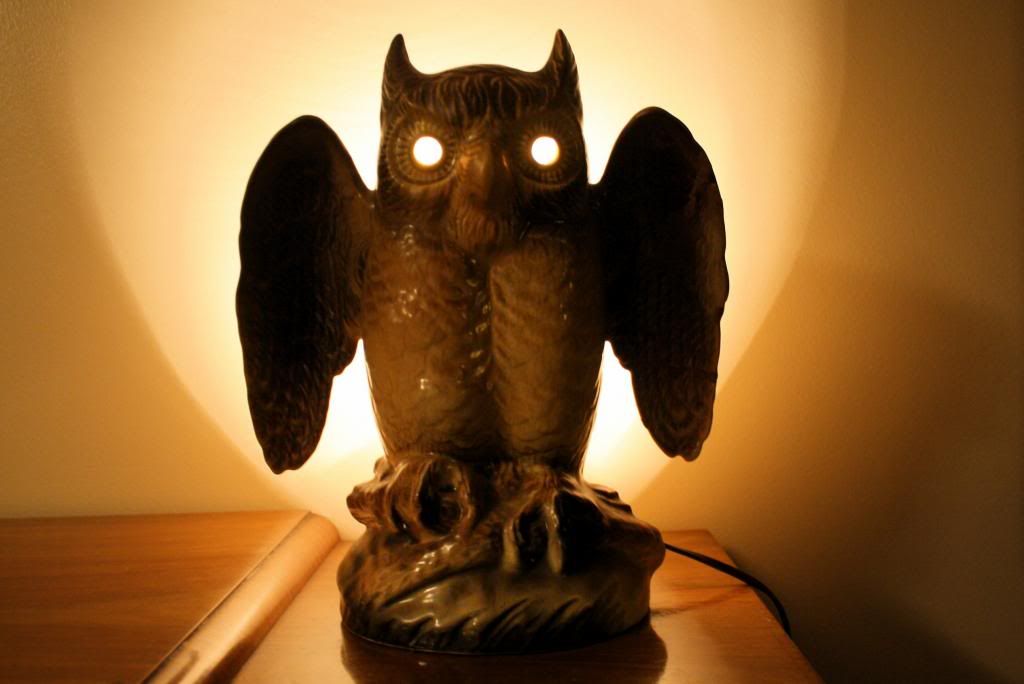 Phillip is kind of in love with it, so we won't be selling this one! I think it would be awesome to put in a window around Halloween time.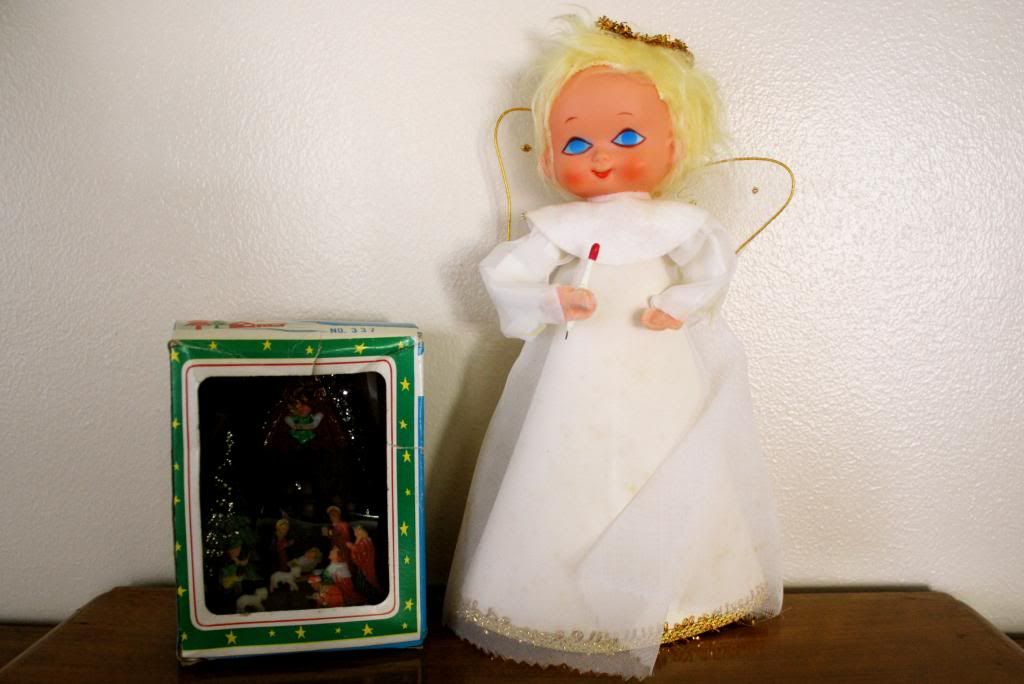 A couple of Christmas items, both of which are from Family Thrift in Grover Beach. One is a nativity ornament in the original box and the other is a (slightly creepy) sixties angel tree topper.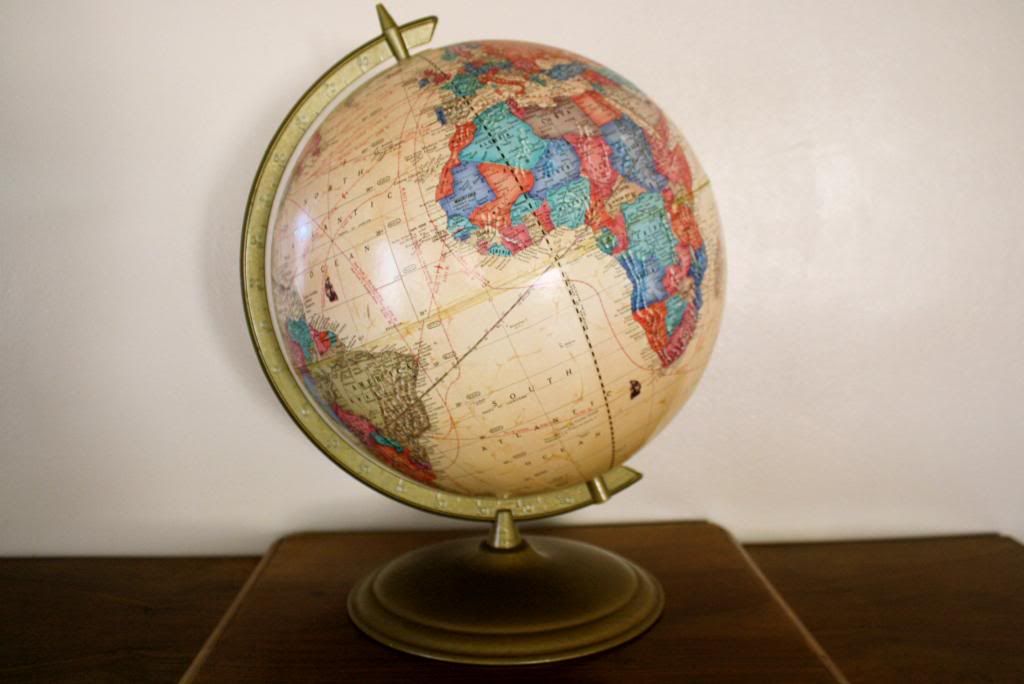 We found this globe at the Goodwill in Grover Beach yesterday for a whopping $2.25. That place has been getting more and more overpriced lately so I was pretty stoked to find a globe for such a great price. It has a kind of pinkish tint to it which is pretty unusual.
Phillip found me this cool vintage sewing pattern at New Image in Santa Maria. It's definitely got a cool retro/tiki bar vibe. Unfortunately, none of the men in my life wear Hawaiian shirts, so I'll probably be putting it in my Etsy shop soon.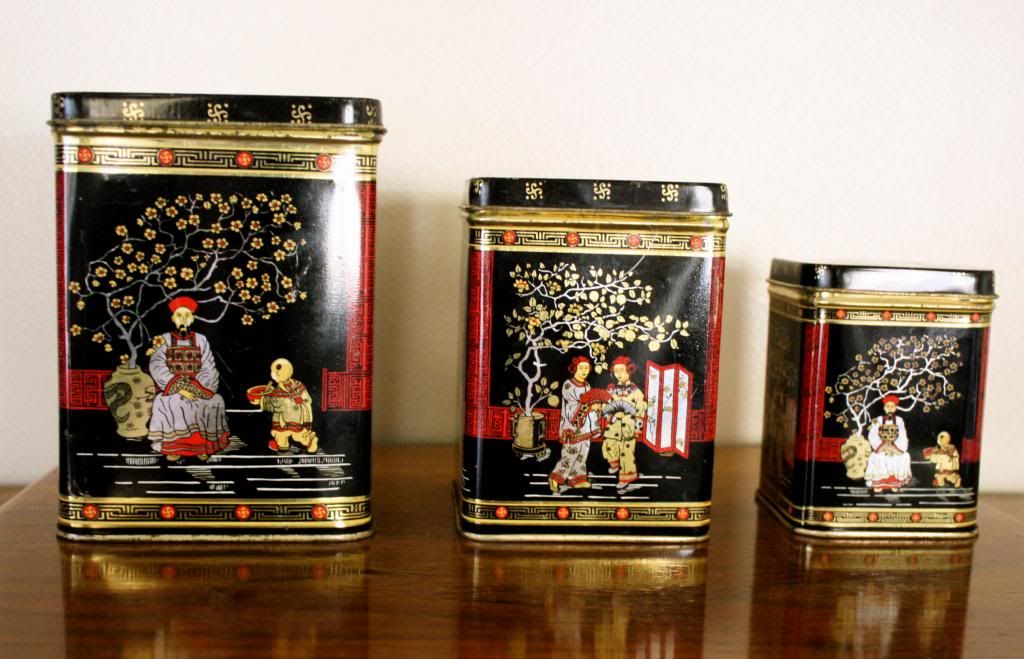 This set of Asian-motif tins was another one of today's Goodwill finds. They'd be perfect for storing tea or spices.
I found these two vintage silk scarves at Family Thrift today for 85 cents apiece. I love finding new Vera scarves! Anyone else collect them?
I had been eying this colorful turkey platter at Family Thrift for weeks, but it had the outrageous price of $19.99 on it so I didn't consider buying it. The other day I noticed it was gone from the shelf where it was and thought "wow, somebody actually paid 20 bucks for that tray!" Today after work I saw it again in another spot and for the much more reasonable price of $5. It's mine now! I can't wait to put it out at Thanksgiving!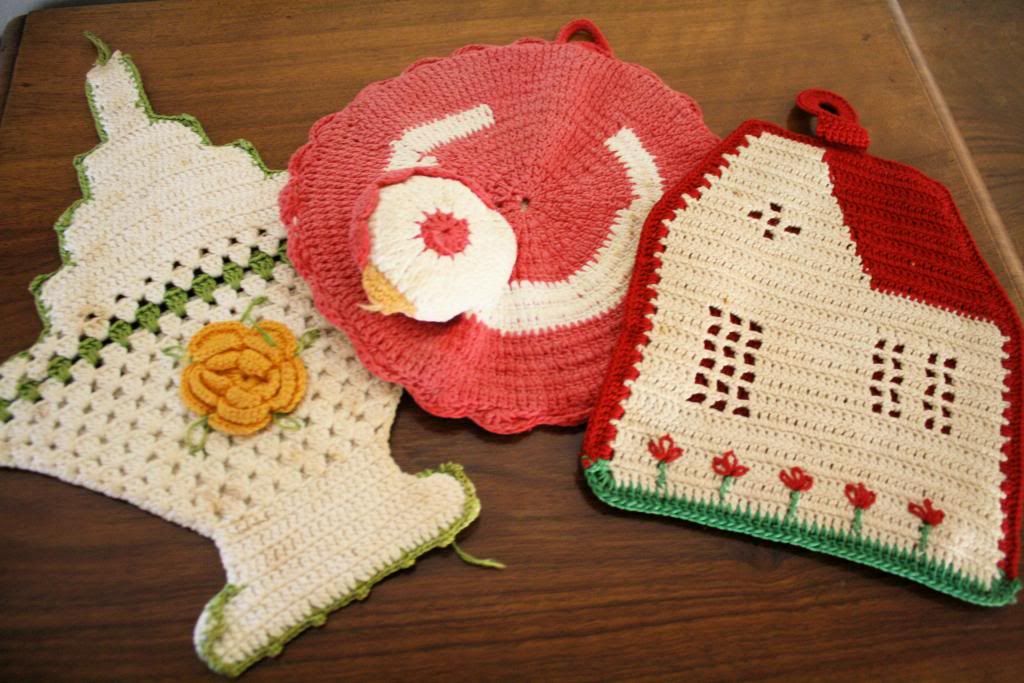 The last thing I found was these cute little crochet pot holders. If you can't tell, the one in the center is a chicken! These are destined for the antique space (I'm not sure which one though).

Thanks for stopping by! I'll be linking up at Apron Thrift Girl, A Living Space, Sir Thrift A Lot, Joyful Treasure Hunting, and Young Heart. Head on over and check out all of the finds for this week!