Hi everyone, here's a bird-themed installment of my thrifting finds for today! My grandma was always a "bird lady" and lately I've also been noticing I'm drawn to bird stuff as well. Could I be following in her footsteps? Anyway, here you go!:
A pretty pink vintage parrot figurine.
The face on this (1970s?) owl mug is really interesting to me.
I've been finding a lot of these black ceramic figurines with painted highlights. Anyone know much about them?
Another owl, this time in the form of a napkin holder.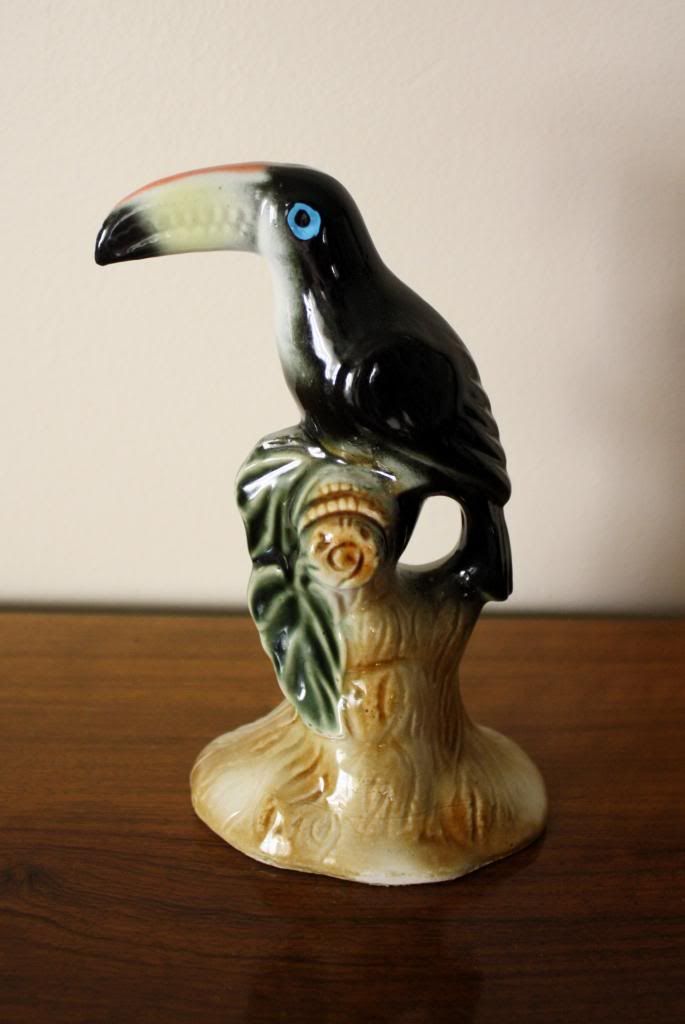 A cute little toucan statue.
I almost kept these bird-themed Fire King mugs, but ended up selling them in my Etsy shop.
Yet another ceramic bird statue!
A little trinket box in the form of a gold and black swan.
I framed this pretty illustration from a vintage book. I love the way it turned out with the blue paper background!
I bought this bird statue as a joke one Christmas because it resembles an annoying (and scary!) parrot that my grandma had for quite a few years. It's come back to me now and is currently for sale in the antique space. Phillip thinks nobody will want it, but I think otherwise. We'll see who's right!
Lastly, what I think is an ashtray or maybe a trinket dish with a bronze partridge. To me, it looks like something for a hunting lodge or maybe a manly study.
PS: Sorry for my lack of Thrifty Thursday post last week, I've had a lot of things going on (good things, luckily!) that have been keeping me very busy. I'll explain more in my next post!