A much more personal post today than my usual thrift finds and creative projects- hopefully you all don't mind too much!


My mom made me these cupcakes for my "Welcome Home" party.

Last Monday, November 19th, marked the one-year anniversary of my homecoming after living for 2 years in Tonga as a Peace Corps Volunteer. Getting to that milestone really made me reflect on the last year and how much I've changed and grown. Although I am so thankful I had the opportunity to serve in the Peace Corps and I really value the experiences I had there, by the time November 19th, 2011 rolled around I was incredibly eager to come home. I missed my friends and family and my country. I couldn't wait to be amidst the comforts of home again and to start a new chapter in my life.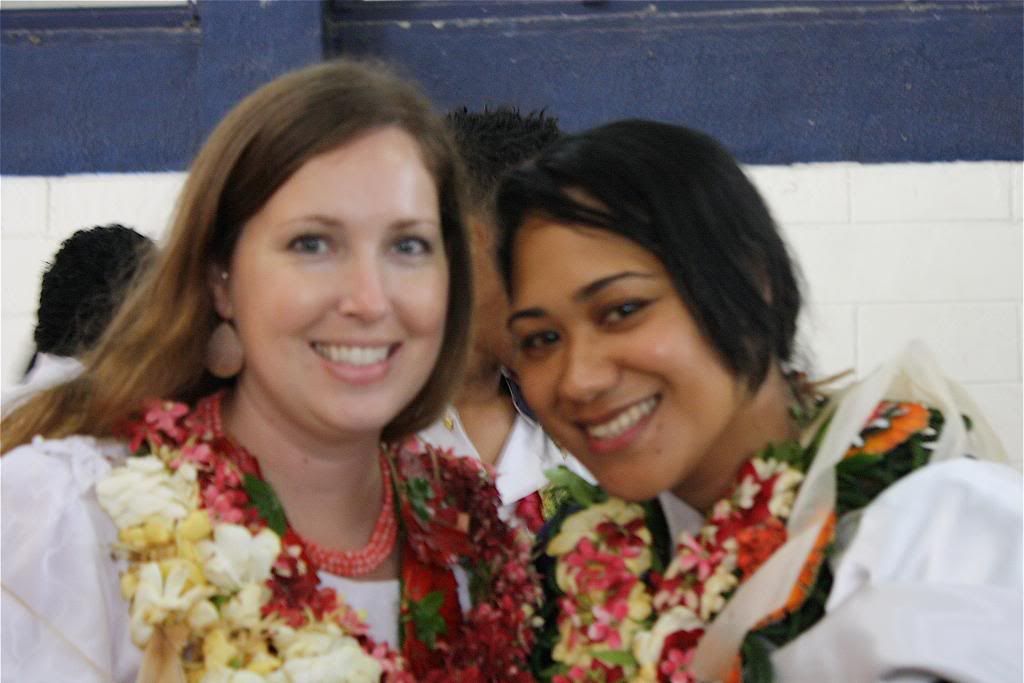 One of my very last days in Tonga at the school's Prize-giving ceremony with my friend Hina. (Sorry for the blurry picture- my camera lens was broken at the time!)

As returned Peace Corps volunteers will often tell you, as hard as the adjustment was to your host country, re-adjustment to life back in the states is even harder. You worked so hard to adapt to the culture and build a life in your host country, that coming home all of a sudden seems very abrupt. Add that with the fact that you basically have to start from scratch now that you're back, and it can really be a difficult transitional time. There are so many important decisions to be made at once, and the choices can seem overwhelming: worrying about car insurance, health insurance, deadlines, grad school, bills, debts, finding a home, finding a job, which town/city/state to live in, and that constantly nagging question "what am I going to do with my life?"

I definitely have gone through a re-adjustment period since I came home. It's been a year of ups and downs mentally and emotionally. When I was coming home, another returned volunteer said it took them a full year to feel completely at home again, so I took that as a guideline of how long the re-adjustment would take. When that anniversary arrived and I reflected back on the past year, I realized just how much has happened in those last twelve months. However, I can really see how far I've come and that makes me feel great!

Here's a short summary of the past year. I…

1. Left my life in Tonga and came home!
After a week of hectic packing, school events, tearful goodbyes, and a very long plane ride, it felt so good to finally get off that plane in LAX!

2. Moved back in with my parents
So grateful for that option, but it was hard after living alone for two years!

3. Had about 100 "What am I doing with my life?" panic attacks
I still get them from time to time but I am happy to say they have steadily decreased in frequency!

4. Went through a breakup
The relationship I was in all through the 2 years of Peace Corps ended- it was hard to let go even though I knew even at the time that it was for the best (and now I really, really do!)

5. Found a new job
I was lucky that didn't have to look for that long, but learning a new job is always a challenge- I hate that "new person" period!

6. Traveled across the US twice for Peace Corps friend weddings
Expensive but worth it, and it was so great to reconnect with friends and to be part of Farfum and Marie's special days.

7. Tried online dating
I'm really shy so putting myself out there was such a terrifying thing for me! I'm obviously so glad I did it because I met Phillip, but I'm also extremely glad to not have to do it any more!

8. Volunteered at a museum
Something I had always wanted to try and I learned a lot even though my time there was brief, and I made a cool new friend out of it!

9. Turned 28
Wow, am I really this old already? Two years away from 30?

10. Met and started dating Phillip
I had no idea there was a boy version of myself out there! But there is and it's been the best relationship ever.

11. Finally started a blog
Something I had wanted to do for about a year, but was afraid to try. So glad I finally just did it because I really enjoy it and I love sharing and connecting with so many people who love the same things I do.

12. Switched jobs within the company
A great improvement in my schedule and hours, but here we go again with being "the new girl"… when can I just relax?

13. Opened my Etsy shop
Like the blog, something I had contemplated for a long time but was scared to pull the trigger on! It certainly hasn't made me a millionaire, but I'm so excited to be finally selling my crafts and vintage finds. I feel so inspired with new ideas and energized to do my very best work.

14. Moved out of my parent's house and in with Phillip
Wow, kind of scary at first, but it's ended up being great for us, and living independently really improved my relationship with my parents and made me feel proud of myself.

15. Started researching grad programs
Hopefully a first of many steps to a new and fullfilling career!

I'm happy to report that at this one-year mark, things are going really well! I feel like I'm where I need to be and don't have the anxiety I had before about what direction to go in. For any of you who happen to be newly returned volunteers: it gets better!

How about you? Has anyone served in the Peace Corps or had a similar experience with re-adjustment? What was your experience?